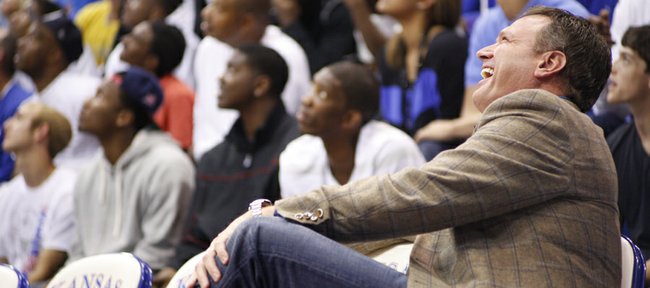 Kansas City, Mo. — The Kansas men's basketball team is ranked No. 7 in the preseason USA Today coaches poll released Wednesday.
Indiana took the top spot with 21 first-place votes, followed by Louisville (five first-place votes) and Kentucky (five first-place votes).
"It's preseason so it doesn't mean too much, but it is definitely an honor to be ranked seventh," senior center Jeff Withey said.
Ohio State and Michigan rounded out the top five, followed by N.C. State, KU, Duke, Syracuse and Florida.
Baylor (No. 18) and Texas (No. 25) were the only other Big 12 schools to make the rankings.
USA Today preseason coaches poll
Indiana (21)
Louisville (5)
Kentucky (5)
Ohio St.
Michigan
N.C. State
Kansas
Duke
Syracuse
Florida
Arizona
North Carolina
UCLA
Michigan St.
Creighton
Memphis
Missouri
Baylor
UNLV
San Diego St.
Wisconsin
Gonzaga
Notre Dame
Florida St.
Texas
Others Receiving Votes — Saint Louis 58, VCU 40, Cincinnati 33, Murray St. 30, Kansas St. 13, St. Mary's 11, Tennessee 10, New Mexico 10, Pittsburgh 9, Minnesota 9, Marquette 8, Stanford 7, Butler 6, Oklahoma St. 6, Colorado St. 4, Middle Tenn. St. 3, St. Joseph's 2, Miami (FL) 2, Drexel 2, Georgia 2, Marshall 1.
Senior class: KU senior point guard Elijah Johnson is a big fan of Jayhawk seniors Travis Releford, Jeff Withey and Kevin Young.
"There's no negative energy," he said. "The only negative energy that came from the seniors was coming from me before we went to Europe (in August for four games). Coach nipped it in the bud. I feel I learned lessons about me being an older person wanting to help our freshman class."
Johnson's mistake earlier this summer was "wanting to be positive so bad that it turned negative. I wanted my message to get through to people so bad that I was attacking them rather than coaching them. They (freshmen) didn't know. I didn't know when I first got to Kansas. Coach said, 'That's not the way we do it.' He didn't have to say much to me. I think he said one thing to me, and I cleaned it up."
Of Johnson, Self said: "He is a different guy from a leadership standpoint. Elijah is ridiculously bright and a deep thinker. He gets it. The next step he has to take obviously is from a vocal leadership, being positive. I think it's just a matter of time before he gets comfortable in those shoes."
Bill Self on team chemistry: "Our older guys like our younger guys. They (freshmen) defer. They are the most unselfish group to a fault."
Self on his contract extension: "I can't see myself coaching anywhere else right now, in college for sure. As far as the NBA goes, there's only 30 jobs. I hate to say this: I've got a better job than three-fourths of them. I've got one of the best jobs basketball has to offer. I can't see wanting to be anywhere else."
Withey on wearing his letterman's jacket to Media Day: "I knew we were going to get dressed up a little bit. I knew it was going to get cold in the Sprint Center. I thought I'd put the old letterman jacket on. It's more for special occasions, I'd say. When I first got it a couple years ago, I wore it around campus but it's been in the back of the closet."
Travel woes: West Virginia coach Bob Huggins on geographic difficulties his team faces: "They asked me who our rivalry in the conference was going to be, and said it's probably Iowa State. They are the closest. Only 853 air miles. We came out to Wichita last year and had mechanical problems on the plane and didn't get in until 4:30 Wichita time, 5:30 our time, then played the next day, played a heck of a game, an overtime game. Then we had some problems getting back. We didn't get back until 5 a.m., and that was a Thursday night. Then we turned around and played Miami at 1:30 Saturday afternoon at home and were fortunate enough to win both games."
Graduation: Self indicated that fifth-year senior Releford will graduate in December.
"He's improved his stroke. His confidence level is sky-high. He can guard anybody. He's the best around at stealing extra possessions and everybody loves him. That's not a bad combination for a kid" Self said. "He'll go down as one of the most fun kids I've coached."