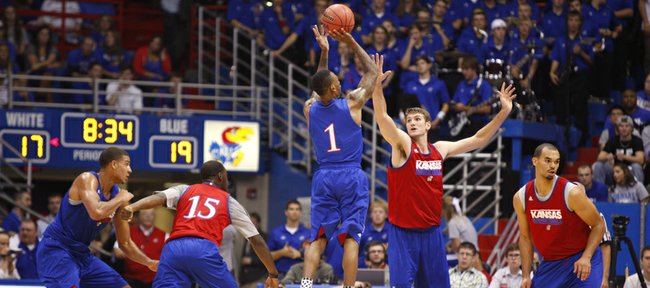 It was not an actor or a rapper but a banner that stole the show at the 28th annual Late Night in the Phog on Friday night in jam-packed Allen Fieldhouse.
Videos
Late Night, including quick highlights
Late Night videos, including quick highlights, from the festivities on Oct. 12, 2012.
A 9:14 p.m. unveiling of KU's 2012 Final Four flag, located in the rafters just north of the center videoboard, had 16,300 fans stomping their feet in a rumble that rivaled the 2008 Late Night when the NCAA title banner was unfurled.
"I thought it was pretty cool. To do the 'Dream On' video that long (prior to banner unveiling) and be able to highlight that kind of stuff ... I think that's pretty nice," said KU coach Bill Self, who was thoroughly impressed with the fans' reaction throughout the three-hour, 15-minute show.
"The biggest highlight of the night was the crowd. That you could turn away people to watch that practice, I think, is pretty cool. People can talk about their respective schools and how good they've got it. Nobody's got it as good as we do right here in Lawrence, Kansas," Self added.
KU officials indicated that 200 to 300 fans had to be turned away after the arena was deemed filled to capacity. It was the first time in several years some fans were denied entry.
The fans on hand were treated to a show with more of a local flavor than recent years. There was no Rob Riggle or Victor Ortiz to perform like last year, leaving a dance number by KU's seniors as this year's highlight.
Elijah Johnson, Travis Releford , Kevin Young and Jeff Withey wore powder blue sports jackets, white shirts, black bow ties and sunglasses in dancing to viral internet hit "Gangnam Style" by artist PSY.
"The dancing obviously was real fun, a tradition," Withey said.
"I think they give us the dance so late (to rehearse) so it looks so bad," Johnson added with a smile.
KU's freshmen players performed a dance number in which they wore all black outfits, with black KU caps worn backward. The number ended with Perry Ellis and Zach Peters picking up walk-on Tyler Self and throwing him into the air in a gymnastics-like dismount.
The second-year players and juniors, who wore white jerseys, ended their dance number when Naadir Tharpe removed a shoe and fired it to Niko Roberts who caught it and used it as a phone.
"I thought it was hilarious personally," Self stated, making a face to show he was joking. "I thought they were OK. I don't know the music and I don't know the dances and I don't know all that stuff like younger people probably do. I thought all of them did fine."
He said he especially enjoyed a video of fans celebrating during games last season and postseason.
"We never get to see that stuff, how the fans get into it at the local bars. To me that was cool," Self said. "If I'm a recruit, that to me was the most impressive thing. I thought it was all good."
The players concluded the night with a 20-minute intrasquad scrimmage.
Seniors Johnson and Withey scored 11 and 10 points respectively to pace the Crimson team to a 36-28 victory over the Blue squad. Senior Young had nine points, while red-shirt freshmen Ben McLemore and Jamari Traylor had six points each for the Blue team. Withey had seven rebounds and Young four.
"Pretty athletic," Self said of what he thought of the action. "We didn't shoot it well (Crimson team 53.6 percent; Blue team 41.4). I didn't anticipate we would. It was fine. We'll never watch the video or anything. It's not real ball. The guys did fine."
As far as the freshmen ... "I think they were nervous," Self said. "Ben (McLemore, 3-8 shooting) is so nervous. I think it's good to get it out of their system. Hopefully when we play the first exhibition game it'll be a more relaxed feel. They've never been in front of a crowd like that. To do that when they feel they are on the stage ... it looks easy from the cheap seats, but it's a little harder than people think."