A whopping nine Kansas University basketball newcomers will be playing before a crowd in Allen Fieldhouse for the first time tonight.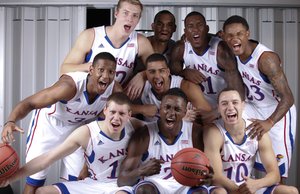 Five true freshmen scholarship players — Rio Adams, Perry Ellis, Landen Lucas, Zach Peters and Andrew White III — will be joined by two red-shirts from the Class of 2011 (Ben McLemore, Jamari Traylor) and two incoming frosh walk-ons (Evan Manning, Tyler Self).
It's a party of nine that impressed 10th-year KU coach Bill Self on his team's summertime tour of Switzerland and France.
"We've got a good group of freshmen ... you've got to throw Ben (McLemore) and Jamari (Traylor) in there, too," Self said of red-shirts ineligible to participate in Late Night a year ago. "It is a young group, but I think a pretty talented group. I think it can go down three or four years from now as one of our better recruiting classes. But it still remains to be seen how soon they'll be able to deliver. I'm hopeful soon because we are going to need them to play," Self added.
KU's latest version of the Fab Five includes McDonald's All-American Ellis, ranked 24th nationally by Rivals.com in the Class of 2012, as well as White (No. 51), Adams (No. 98), Peters (No. 137) and Lucas (unranked).
McLemore and Traylor were ranked Nos. 17 and 141 in the Class of 2011, while Manning and Self are the unrated, non-scholarship walk-ons joining the program.
"Bill Self has put together a solid five-man class with the five-star, four-time state champion and player of the year Ellis leading the charge," Rivals.com wrote in announcing its final team rankings last April.
"White, a four-star wing, is an excellent shooter while Adams is a physical, slashing, four-star combo guard. A pair of physical big men, Peters and Lucas, round out the (10th rated) class," Rivals.com assessed.
Here's a quick look at the Jayhawk newcomers. ...
Perry Ellis, 6-8, 225, Wichita Heights: Ellis, the state's first McDonald's All-American since Wayne Simien, averaged 19.2 points and 11.7 rebounds per game as a freshman, 22.2 points and 10.4 rebounds as a sophomore, 22.1 points and 7.9 rebounds as a junior and 25.8 points, 9.4 rebounds, 1.6 assists, one steal and one block per game as a senior. His team won state all four years.
"Perry has been highly-touted, but a pleasant surprise. He can score. This is what this team needs," Self said.
Andrew White III, 6-6, 210, Chester, Va.: White, who averaged 22.9 points and 10 rebounds a game for (20-10) Miller School last season, is known for his long-range marksmanship.
"Yes, Andrew can shoot. We need that losing Conner (Teahan)," Self said. "Andrew is going to be a good player He's still figuring things out. He is a tall guard ... 6-6 guys who can shoot it ... they are fun to have."
Rio Adams, 6-3, 180, Seattle: Adams, who averaged 21.0 points, 6.0 assists and 5.0 rebounds a game for 27-3 state champion Rainier Beach High, has been compared to Dwyane Wade of the Miami Heat.
"I think Rio has a lot of talent. He just has to figure it out," Self said of the state of Washington's AP Player of the Year. "He's a really good athlete. I think he'll give us an element of toughness, too. He's capable of being an elite guard."
Zach Peters, 6-9, 240, Plano, Texas: Peters, who averaged 14.7 points and 7.2 rebounds last season for state championship team Prestonwood Christian Academy, reminds some of former University of Texas standout Brad Buckman.
"He's a legit 6-9, 240-pound high school senior that can really shoot the basketball," Self said. "He's big and rugged. We can play him to where he's big enough to defend the five (post) or skilled enough to play in at the four (power forward)."
Peters, who committed to KU with two years remaining in high school, likes KU's crop of freshmen.
"I think there's nine of us, a ton of freshmen," he said. "We are extremely underrated first of all, actually very underrated. I think we're going to surprise a lot of people."
Peters won't play tonight. He's out four to six weeks with a rotator cuff injury.
Landen Lucas, 6-10, 230, Portland: Lucas averaged 19.3 points, 13.5 rebounds, 2.8 blocks and 1.8 assists per game last season for 18-7 Westview High.
"Landen has been a pleasant surprise," Self said. "He can shoot it. He can pass it. He understands the game like the big guys we've had here in the past, such as Sasha (Kaun) and Darnell (Jackson) that really have a great feel on how to play."
Of college ball, Lucas said: "The biggest adjustment will be the size difference. Everyone is big. Everyone is quick. You can usually find a weakness in a big in high school. Everyone is talented around here. Getting adjusted to the tempo ... that'll eventually come with just playing. It'll take a little time, but I'll get it."
Ben McLemore, 6-5, 185, St. Louis: McLemore had to sit out last season after being deemed a partial qualifier by the NCAA.
"Ben should be as good as anybody we've ever had at stealing us extra possessions. I think he'll be the best defender we've ever had. I also think he's as athletic as anybody we've ever had and he can shoot," Self said. "Fitting in the pieces and getting him to understand how to play, he's not quite there obviously."
McLemore said he loves the incoming recruiting class. "I think the freshmen are great. All are great athletes, great players they will fit in and play a big role for us," McLemore said. "Coming in as freshmen, they show a lot of skill work. They're coming in strong and really wanting to get out there and play."
Jamari Traylor, 6-8, 215, Chicago: Traylor is a bruising power forward, who is known as a great rebounder. He also was ineligible a year ago.
"Jamari's raw, raw, raw, but he's like a shorter version of Thomas (Robinson) when he got here," Self said. "He's maybe more explosive than Thomas. He doesn't have the physical strength Thomas has, but he is a warrior."
Evan Manning, 6-3, 170, Lawrence; Tyler Self, 6-2, 165, Lawrence: Manning, a Free State High graduate who went to New Hampton Prep last year, is son of former KU great Danny Manning, who happens to be leading scorer and rebounder in school history. Self, another Firebird, is son of KU coach Bill Self.
"Evan has played well. Knowing the kid ever since we moved back here (10 years ago) ... he and Tyler have been buddies. They're great kids. Tyler ... I'm biased. I think it'll be so much fun being able to hang out with my son on a daily basis. Those two are nothing but positive. Niko, another coach's son is also in the program," he added of junior Niko Roberts, son of KU assistant Norm Roberts. "If anything, if we were able to take an IQ basketball test compared to others out there, hopefully those three would fare very well."