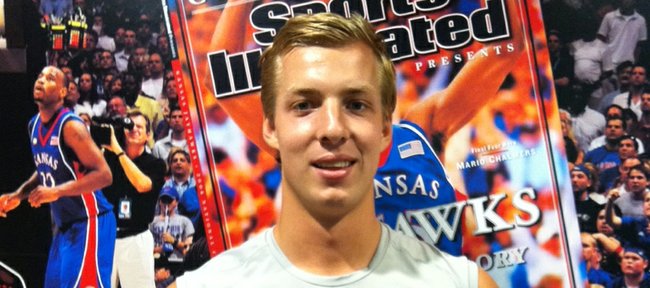 Kansas University freshman basketball forward Zach Peters will be out four to six weeks because of a left shoulder injury, KU coach Bill Self reported at Thursday's Media Day in Allen Fieldhouse.
Peters, a 6-foot-9 freshman out of Plano, Texas, has a rotator cuff injury that will not require surgery.
"He will be held out of all contact," Self said. "We are hopeful that he'll be back on the practice court sooner rather than later. Zach will still be participating in other team activities. It's been a nagging injury that has been bothering him over time that has affected his ability to play on the court. We feel he should make a full recovery with time and rehab."
Self indicated that he truly has no idea when Peters will return. KU's first big game is against Michigan State on Nov. 13 following two exhibitions and the Nov. 9 opener versus game SE Missouri State.
"This deal has me all confused on Zach. He's doing so good, but he complained of shoulder problems. He can't rebound. He can't do this. He can't do that," Self said. "We tried giving him time off; it didn't work. We tried rehabbing and it hasn't worked. One thing about Zach is he's going to play a certain way. He won't be able to help us over time if he keeps injuring himself. He needs to be healthy. We're going to give him some time. I don't know how long it'll be. I am hopeful not long. Time and rehab based on what I've been told from our medical staff should take care of it. But it may be an extended period of time. We definitely don't want to go the surgical route. He'd be out for the season. Hopefully ... I don't want to put too much of a guesstimate on it, but we're probably looking at four to six weeks, which would put him way behind, but we'd have him ready to go by conference play if it lines up right."
As far as a possible red-shirt season, Self said: "I won't make that decision now. He was one of our better players in Europe. I do think we need him, but it'll give some other guys some opportunities too. So you don't know how that'll play out when he comes back. If he's far behind, maybe that's a possibility. I'm not even thinking that far ahead. To me I'm looking at it like he's got a high ankle sprain and will be out four to six weeks."
First in poll: KU is the unanimous pick to win its ninth consecutive Big 12 regular-season conference title, according to the preseason coaches poll that was released Thursday.
KU (81 points) garnered all nine first-place votes, as coaches were not allowed to vote for their own teams. It's the 11th time in Big 12 history that KU has been at least tied for first in the poll. Baylor (63 points) was accorded KU coach Bill Self's first-place vote and placed second, its highest finish ever in the preseason poll. Oklahoma State (60), Texas (58) and Kansas State (54) were next in the predictions, followed by West Virginia (45), Oklahoma (34), Iowa State (28), Texas Tech (18) and TCU (9).
"I was probably more surprised with us being picked first this year than I was us in the past. We lost three of our top six and two of them were pretty good," Self said of NBA players Tyshawn Taylor and Thomas Robinson. "Those two guys combined for 36-plus points a game in league play. I mean, they scored half our points. So we lost a lot and everybody is going to have a new role, but I do think we have a chance to be good by the end. But our league will be good and Baylor's loaded and I think that Oklahoma State in my opinion may be the sleeper team of them all. I love their talent level and their roster, but it is going to be a really good league. K-State to me, they returned really good players and two real good players and Texas — what was Texas fifth and West Virginia sixth? — and these are really good teams. Then there are other teams that will be much improved. I think that was a little high for us, but hey, we will welcome it and our guys will take pride in that."
This, that: Evan Manning, who missed about a month with a severely sprained ankle, said he should be able to play in tonight's Late Night in the Phog scrimmage. Ben McLemore, who suffered a hip flexor injury in August and played sparingly during two of KU's four games in Switzerland and France, said he's close to 100 percent. He said he hoped to be able to ram a dunk or two for the fans at Late Night. Doors open at 5:30 p.m., today, with the show to begin at 6:30 p.m. ... High school junior prospects to attend Late Night: Clayton Custer, a 6-0 point guard from Blue Valley Northwest, ranked No. 100 by Rivals.com; Lourawls Nairn, a 5-9 guard from Sunrise Christian Academy in Wichita ranked No. 79 and Elbert Robinson, a 6-10 forward from Lakeview Centennial in Garland, Texas ranked No. 43. ... James Young, a 6-6 senior from Rochester, Mich., on Thursday orally committed to Kentucky over KU, Syracuse and Michigan State.