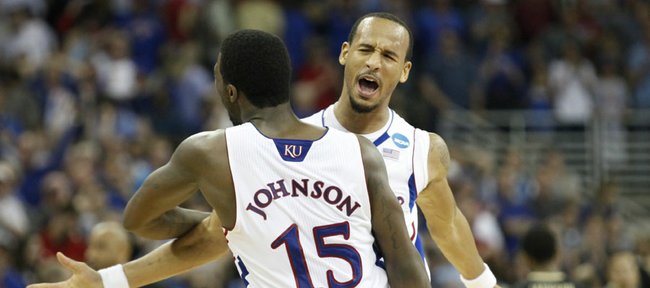 The Kansas men's basketball team is the unanimous pick to win the Big 12 conference according to the preseason coaches poll that was released Thursday.
KU picked up all nine first-place votes, as coaches were not allowed to vote for their own teams. It's the 11th time in Big 12 history that KU has been at least tied for first in the poll.
Baylor picked up the other first-place vote and was selected second, its highest finish ever in the preseason poll.
Oklahoma State, Texas and Kansas State were next in the predictions, followed by West Virginia, Oklahoma, Iowa State, Texas Tech and TCU.
The Big 12 will hold its preseason media day on Wednesday at Sprint Center in Kansas City, Mo., which also is the site of the 2013 Big 12 tournament.
2012-13 Big 12 preseason coaches poll
Team (First-place votes) Points
Kansas (9)* 81
Baylor (1) 63
Oklahoma State 60
Texas 58
Kansas State 54
West Virginia 45
Oklahoma 34
Iowa State 28
Texas Tech 18
TCU 9