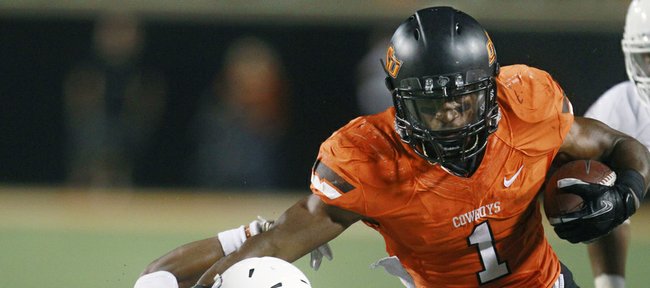 All season, Kansas University football coach Charlie Weis has gushed about KU sophomore Tony Pierson and his ability to score from anywhere on the field at any time.
Saturday, when the Jayhawks play host to Oklahoma State at 2:30 p.m. at Memorial Stadium, they'll face a similar back: Wichita native Joseph Randle.
"He kind of reminds me of a grown Pierson," KU safety Bradley McDougald said, "because he's just so fast, and he can take it to the house any play."
While Pierson, KU's speed back from East St. Louis, Ill., stands 5-foot-11 and weighs 178 pounds, the 6-1, 200-pound Randle — younger brother of former KU running back John Randle (2003-04) — weighs and plays a few pounds heavier.
"Tony is a home run hitter," Weis said. "But when you are 30 pounds bigger, it makes a big difference. Look, I love Tony, and I would not trade him for anybody, but it is easy to recognize a really good football player, and this kid is a really good football player."
So good, in fact, that Randle currently leads the Big 12 in rushing with 534 yards on 75 attempts, good for averages of 7.1 yards per carry and 133.5 yards per game. Those numbers, which include six touchdowns in four games, have anchored the best offense in the country, as the Cowboys' up-tempo attack has averaged a nation's-best 659 yards per contest.
"It all starts with Joseph Randle," Weis said. "Somebody told me that KU offered him (a scholarship) in fourth grade. Well, they should have offered him in third grade. He's a really, really good running back."
Pierson expected to play
KU's starting running back wore a bulky brace on his left elbow during Wednesday's practice but said it was more of a precaution than a sign of any lingering injury.
"Everything's good," said Pierson, who said he was 90-95 percent healthy. "I'm planning on playing."
Pierson said it was devastating to be forced to sit on the sideline unable to help his team against Kansas State.
"I just tried to brace myself when I fell, and my arm went a weird way," he said. "Scary. First time something happened to me like that, and I didn't know what was gonna happen in the future."
Pierson tried to talk his way back onto the field, but when he was asked how Weis and the trainers reacted to his pleas, Pierson simply smiled and shook his head.