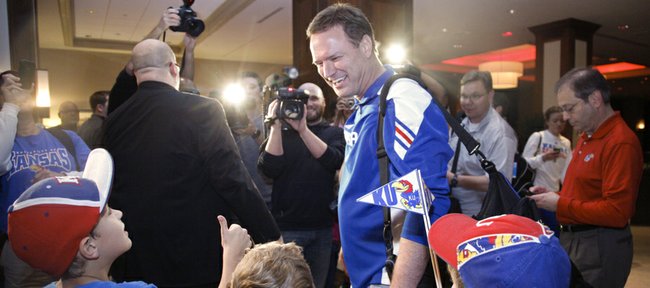 Kansas basketball coach Bill Self will be awarded the John R. Wooden Award's "Legends of Coaching" honor in 2013, Coach Wooden's daughter, Nan Wooden Muehlhausen, announced Wednesday at the annual Los Angeles Athletic Club Wooden Award tipoff luncheon.
The award recognizes coaches who exemplify Wooden's high standards of coaching success and personal integrity.
The "Legends of Coaching" award was adopted by the Wooden Award Committee in 1999, as North Carolina's Dean Smith was the first recipient.
"This is a great honor and humbling, but non-deserving; plus it's a legends which makes me sound even older than what I am," Self said. "I had a chance to meet coach Wooden and get to know him fairly well back in the year 2000 because of an award we received. Cindy and I were able to spend a weekend with him and his family. That was a cool experience. To be thought of in this regard with some of the coaches that have won this in the past is pretty humbling."
Honorees are selected based on character, success on the court, graduation rates of student-athletes, coaching philosophy and identification with the goals of the John R. Wooden Award.
Self will be recognized, along with the men's and women's 2013 John R. Wooden Award winners and the Wooden Award All-America teams, at the Los Angeles Athletic Club during the weekend of April 11-13, 2013.
"Coach Wooden would have been honored to present this award to coach Self in recognition not only of his coaching excellence, but also his character and commitments off the court," said Greg Wooden, coach Wooden's grandson.
Self has won eight straight Big 12 regular-season titles and five league tournament championships in his nine seasons with the Jayhawks. His KU record is 269-53 and his 83.5 winning percentage with the Jayhawks is the highest in program history.
Overall, Self is in his 19th season as a coach with a 476-158 (.751 percent) record. His KU teams have reached at least the Sweet 16 six times in his nine years at KU, which includes two Final Fours and a national championship in 2008.
Away from the court, Self devotes time to his "Assists Foundation," which directs funds to help children in a variety of ways, including scholarships and grants to school-based, private and public agencies.
In the classroom, KU has achieved an Academic Progress Rate (APR) score of a perfect 1,000 in each of the last six years under Self. In the Self era, Kansas has had 25 Academic All-Big 12 selections, which is best in the conference, and 26 of 27 four-year players at KU have earned their degrees.
Self is the third Big 12 coach to receive the Wooden Award Legends of Coaching honor and the second KU coach chosen. Roy Williams, now at North Carolina, was the recipient during his time at KU in 2003, while Texas' Rick Barnes was the winner in 2009.
Legends of Coaching Honorees
2013 — Bill Self, Kansas
2012 — Geno Auriemma, Connecticut
2011 — Tom Izzo, Michigan State
2010 — Billy Donovan, Florida; Rick Barnes, Texas
2008 — Pat Summitt, Tennessee; Gene Keady, Purdue; Jim Boeheim, Syracuse
2005 — Jim Calhoun, Connecticut
2004 — Mike Montgomery, Stanford
2003 — Roy Williams, Kansas
2002 — Denny Crum, Louisville
2001 — Lute Olson, Arizona; Mike Krzyzewski, Duke
1999 — Dean Smith, North Carolina
Georgetown series coming: KU and Georgetown are negotiating to play a home-and-home series starting in the 2013-14 season. KU officials indicated that no contract has yet been signed. Next year's game will be in Allen Fieldhouse, the 2014-15 contest at Verizon Center in Washington, D.C.
This, that: No. 8-rated James Young, a 6-foot-6 senior guard/forward from Rochester (Mich.) High, is expected to commit orally to Kentucky today over KU, Michigan State and Syracuse. ... Clayton Custer, a 6-foot junior from Blue Valley Northwest High, will attend Friday's Late Night in the Phog on an unofficial recruiting visit, Rivals.com reports. He is ranked No. 100 in the class of 2014. No. 43-ranked Elbert Robinson, a 6-10 junior forward from Lakeview Centennial High in Garland, Texas, also will attend. Seniors to attend include No. 5 Aaron Gordon, 6-8 forward, Archibishop Mitty High, San Jose, Calif.; No. 23 Wayne Selden, 6-5 guard, Tilton (N.H.) High; and unranked Joel Embiid, 7-foot center, Rock School, Gainesville, Fla. … Late Night will begin at 6:30 p.m. Friday in Allen Fieldhouse, with doors opening at 5:30 p.m. ... KU will hold its annual basketball media day this afternoon in the fieldhouse.