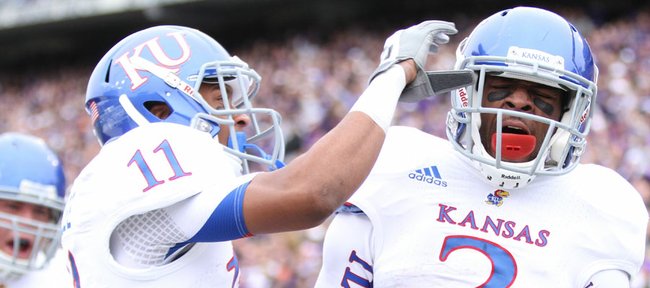 Kansas University football coach Charlie Weis said Sunday night that sophomore tailback Tony Pierson practiced Sunday and was not expected to miss any playing time because of an injured elbow that kept him out of the final three quarters of Saturday's 56-16 loss at Kansas State.

"The x-ray was negative," Weis said. "Now, he had a sore elbow, but the way they were talking to me, I thought, for sure, we were talking an extended period of time. He actually went out there and practiced today."
Pierson's status certainly represents good news for the Jayhawks. Through five games, Pierson leads KU in rushing (319 yards on 59 carries) and also ranks second on the team with 198 receiving yards on 15 receptions. He also has scored three touchdowns.
Pierson was off to a hot start Saturday, hauling in six passes for 63 yards in the first quarter alone before the injury sent him to the bench for the rest of the day.
The Jayhawks (1-4 overall, 0-2 Big 12) play host to Oklahoma State at 2:30 p.m. Saturday at Memorial Stadium.