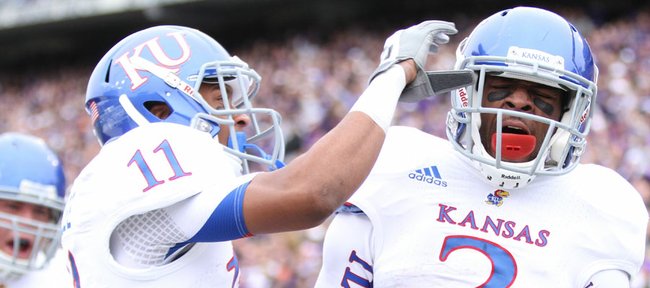 Podcast episode
Kansas coach Charlie Weis talks to reporters following the Jayhawks' 56-16 loss to Kansas State on Oct. 6, 2012.
Box score
Manhattan — The fourth quarter of Saturday's 56-16 loss to Kansas State proved to be the answer to the question that many Kansas University football fans had been asking: When would KU coach Charlie Weis replace quarterback Dayne Crist?
But even though red-shirt freshman Michael Cummings ran the Jayhawks offense during the fourth quarter for the first time this season, Weis cautioned against making too much of the move.
"He's gonna have to get some playing time to see what we've got," Weis said of Cummings. "I'm glad we got him in there and he got an opportunity to throw the ball a couple times and go ahead and run the offense. But, right now, I wouldn't read anything into changes in positions and depth charts and everything. I think I have to be objective and look at every position, and quarterback's gotta be included along with everything else."
Cummings' snaps were largely meaningless, but the Jayhawks did move the ball fairly well against the Wildcats' first-team D when he was on the field. Even though most of Cummings' duties consisted of handing off to junior tailback Taylor Cox, he did complete two of the four passes he threw and, more importantly, got his first live action.
"It felt good to finally get into the game for the first time and get that first game hit out of the way," Cummings said.
Asked if it was difficult to take the field with the scoreboard stacked against him, Cummings offered the classic backup QB answer.
"My job is to be ready when they call on me," he said. "And I was ready. That's all I can do."
Pierson injured
After a fast start that included a 19-yard touchdown reception and six catches for 63 yards in the first quarter alone, KU sophomore Tony Pierson left the game with an undisclosed injury and did not return.
His status for next week is unclear.
"They'll X-ray him and stuff when we get back," Weis said after the game.
While the specifics of Pierson's injury were vague, one thing that was clear was the importance of his role within KU's offense.
"Tony's one of our few home-run hitters," Weis said. "You saw on the screen pass. Most other guys would get 10 yards, but Tony makes guys miss in the open field and that's, as much as anything, the key ingredient."
Cox (10 rushes, 43 yards) and James Sims (28-115) received the most work with Pierson's absence. Senior wide receiver D.J. Beshears also finished with a couple of carries.
"It isn't like you haven't practiced other guys to do the same jobs," Weis said. "But they're not the same player. It definitely hurts you."
Sims streak snapped
Saturday's loss marked the first time in Sims' three-year career that Jayhawks lost when he topped the 100-yard mark. Sims' big day was his first 100-yard outing since gaining 110 yards against Northern Illinois in 2011 and also was the first time a player topped the century mark against the K-State defense since Texas A&M;'s Cyrus Gray did it last November.
QBs galore
Four different Jayhawks took snaps during Saturday's loss, with Crist working as KU's starter, Cummings coming on in relief and senior wideout Kale Pick and junior wideout Christian Matthews both taking snaps in KU's "Jayhawk" formation.
Notable firsts
Tre' Parmalee's 19-yard catch in the second quarter marked his first career reception; fullback Nick Sizemore also hauled in his first career reception in the fourth quarter; sophomore wide receiver Andrew Turzilli's five receptions were a career high; sophomore linebacker Ben Heeney's game-high 14 tackles also were a career high; offensive linemen Randall Dent (right guard) and Aslam Sterling (right tackle) started alongside one another for the first time this season; KU's opening-drive touchdown was the first against a BIll Snyder-coached team since 2004 and the first for the Jayhawks this season.
This and that ...
The Jayhawks won Saturday's opening coin toss and elected to defer their choice to the second half. K-State chose to receive the opening kickoff. ... Sophomore linebacker Victor Simmons served as the team's fourth captain after being voted by KU's coaches as the top special teams performer against Northern Illinois. ... Temperature at kickoff was 44 degrees under cloudy skies with winds of 7 mph out of the north.