Kate Schwindel's goal in the 43rd minute gave No. 16 West Virginia a 1-0 victory over Kansas University in a Big 12 soccer match Friday at Jayhawk Soccer Complex.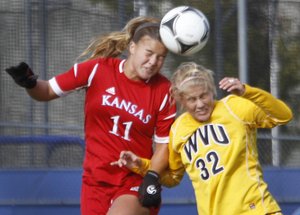 WVU moved to 8-3-3 overall and 4-0 in the Big 12, while Kansas fell to 8-4-1 and 1-2.
KU lost despite a 23-14 advantage in shots, including a 7-4 edge in shots on goal.
The Jayhawks will play against No. 12 Wake Forest at 11 a.m. Sunday in Winston-Salem, N.C.