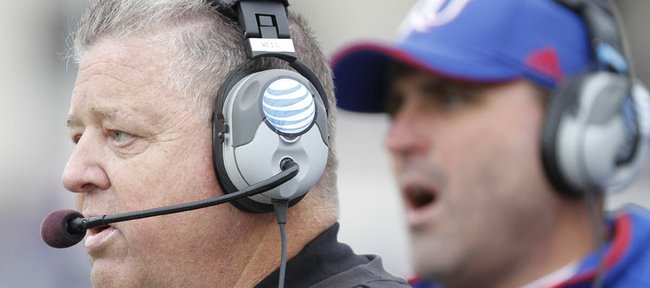 Podcast episode
Kansas coach Charlie Weis talks to reporters following the Jayhawks' 56-16 loss to Kansas State on Oct. 6, 2012.
Box score
Discussing the present state of Kansas University's football team is too depressing, so before looking into the future for potential relief, a look into the distant past is in order.
On Halloween in 1891, before sixth-year senior tight end Mike Ragone started his college football career, Kansas defeated Missouri by a couple of touchdowns to even its all-time record at 2-2. The next week, Kansas won at Washburn and has had more wins than losses ever since.
Until now.
Kansas State's latest domination of Kansas, 56-16, Saturday in Bill Snyder Family Stadium made KU's all-time mark 573-573-58.
A loss Saturday in Memorial Stadium against Oklahoma State would give Kansas more losses than wins for the first time since its all-time record was 1-2 in the three-game 1890 season, with a loss at Baker, a victory at KC YMCA and a revenge victory against Baker.
Kansas went into a Nov. 22, 1952 game at Missouri with 80 more victories than losses, lost that one, 20-19, began a steady decline, but still managed to keep a winning record until now.
So Mark Mangino wasn't entirely accurate when he uttered his famous quote, "Anyone can have a bad century." It was more like a bad half-century that with the exception of much of Mark Mangino's seven-year reign spilled into the 21st century.
After a second half in which K-State outscored Kansas, 35-2, it came as something of a relief when a reporter asked first-year coach Charlie Weis how the latest loss to the in-state rival could impact recruiting. It enabled him to talk about the future, which always seems to be easier to view with optimism than the present.
"Well, if I were a recruit I would want to come play for us," Weis said. "Could get on the field pretty quick, don't you think? I mean there are two angles when you look at recruiting now. One angle is how the teams are doing. The other angle is, you want to play? I mean, you watched the game, right? Come on, let's go."
Weis makes a good point. Other coaches have winning traditions to sell, but that doesn't always have the allure of immediate playing time.
Any elite high school offensive lineman could see immediate playing time for himself after watching KU senior quarterback Dayne Crist follow his best half with a second half in which he was sacked more times (three) than he threw completions and completed as many passes (two) to defenders as teammates.
Ditto for every other position aside from running back and quarterback, where redshirt Jake Heaps is the starter in waiting.
"I mean, it really doesn't have to be that difficult sometimes in recruiting," Weis said. "These guys all want an opportunity to come in and play and they want to be difference makers. You watched out there today. There should be plenty of positions that I should have people standing in line. Maybe they'll even be calling me. I might not even have to call them."
Barring Weis stringing together a series of phenomenal recruiting classes, it could be a long while, if ever, until Kansas regains a winning all-time record, given the outrageously explosive state of the Big 12.
The favorite doesn't win every game in college football, but if it wins the remaining seven on KU's schedule, the Jayhawks will finish 1-11. No other conclusion could be reached when the game ended, and it started with so much promise.
In the first half alone, a defensive end caught a pass and a holder completed one. A punter ran for a first down and a receiver took several snaps at quarterback. Clever play-calling repeatedly sucked the defense in one direction to set up an opportunity on the opposite side of the field.
For one entertaining half of football, a hazy view of a better future for the KU football program headed by Weis snuck its way into the present. The second half turned it into a cruel tease, but a welcome tease nonetheless, as was Weis pointing out a silver lining on the recruiting front.