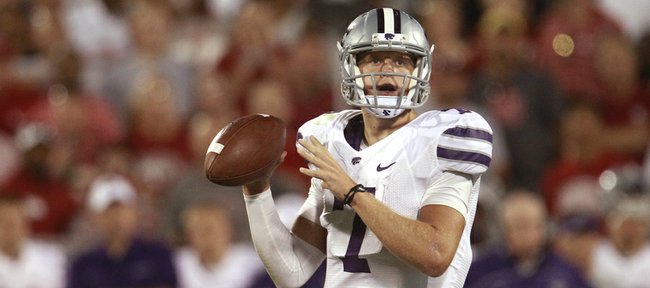 Manhattan — Let's get one thing straight right off the bat.
Kansas State quarterback Collin Klein can throw the football.
The ball may not come out of his hand the way it leaves Tom Brady's, and his passes might not have the same zip that Aaron Rodgers gets. But Klein can throw. He did it successfully 161 times out of 281 attempts (57.3 percent) a season ago and enters today's 11 a.m. match-up with Kansas (1-3) in Manhattan having completed 56 of 80 passes for 758 yards, five touchdowns and two interceptions this season.
Included in this year's numbers are a couple of crucial third-down passes in the Wildcats' upset of No. 6 Oklahoma two weeks ago in Norman, Okla. Because the Kansas State senior is so accomplished as a runner, many have looked at it as a victory when they have forced Klein to throw. But that's not the case any longer.
"I think that's a simple way of looking at it because I've seen them be pretty successful throwing the ball," KU defensive coordinator Dave Campo said. "I think the victory is when they don't get in the end zone. That's what we're trying to accomplish."
So now that we've established that the myth of Klein existing only as a runner is false, we can move on and focus on what it is about his wheels that makes him so effective with the ball tucked under his right arm instead of trickling off the finger tips of his right hand.
KU coach Charlie Weis had a few ideas.
"(He is) one of the most interesting quarterbacks that you can study in college football today," Weis said, "because in today's game, where everyone is slinging it all over the place or everyone is running the read option, he really does not do any one of those things. He is a power runner."
Klein tips the scales at 6-foot-5, 226 pounds and has great balance, better vision and even greater desire. Rarely does he go down on first contact or let a couple of stops by the defense frustrate him into doing something out of character or making a bad decision. The Jayhawks know that, and they're preparing for a dog fight.
"As far as I know, football games don't last six or seven plays long," senior co-captain Toben Opurum. "You've gotta be able to compete every play, every minute and every quarter. So, while I'd be happy if we could bring him down six or seven times in a row, we understand what he's capable of, and we gotta do it all game."
For Weis and Campo, the danger of Klein as a competent passer lies in the fact that it can be all too tempting to stack the defense to stop the run. So it becomes a pick-your-poison scenario, except, with Klein, it often seems more like pick-your-punishment.
"You have to spend so much time trying to stop him as a runner, it obviously exposes you in the pass game because of play-action," Weis said. "Sometimes they get some really easy money (in the passing game), because you have to come up and stop (the run). But if you do not stop him, you really do not have much of a chance."
Klein, as a concept, is almost a fish out of water in the pass-happy Big 12. During the past several years, spread offenses have dominated the league, but the powerful Powercat who has started for two seasons often has been one of the most physical players on the field — offense or defense.
"That's very unusual," said Campo, the former Dallas Cowboys head coach. "The only one that I can really compare him to is (Pittsburgh Steelers QB Ben) Roethlisberger. I can remember three or four games where we had (Roethlisberger) sacked and he made a play because he was able to keep you off him. And that's what Collin has. He has ability to make it very difficult for you to tackle, and he's able to make some plays from that alone."
Weis compares Klein to another pro quarterback.
"He reminds me a little bit of (Tim) Tebow," Weis said of the former Florida star and current New York Jet.
Like Tebow, who won the Heisman Trophy in 2007, Klein's production through the first four weeks of 2012 put him on pace to be in the Heisman conversation. However, after what West Virginia quarterback Geno Smith accomplished last week against Baylor (656 yards and eight TDs), anyone not named Smith gunning for Heisman recognition is likely to wind up in a fight for second place.
Not that Klein would care much.
The Loveland, Colo., native has been something of a thorn in the side of the Jayhawks during the past three seasons. In 2010, after he was inserted late in the game to spell starter Carson Coffman, Klein delivered a 51-yard touchdown run with 1:13 to play while essentially trying to kill the clock on a 59-7 rout.
A year later, during K-State's 59-21 beatdown of the Jayhawks, Klein rushed for 92 yards and four scores and threw for 195 and one TD. Perhaps the scariest part about either of those performances is KSU coach Bill Snyder's take on where Klein has gone from there.
"I think he has grown in every aspect of the game," Snyder said. "... Collin is just adamant about improving all aspects of his game and certainly works diligently to do that."
There are dozens of ways to prepare for a quarterback like Klein, and it's a safe bet that Campo and Weis have tapped into all of them during the two weeks that led up to today's Sunflower Showdown. But whether guys are in the right spots or make the right reads is irrelevant if they don't take care of one key detail.
"You gotta get him on the ground," Campo said. "He's an excellent athlete. He's not a make-a-bunch-of-people-miss (guy), but you have to tackle. He's like a running back playing quarterback, and a big running back."