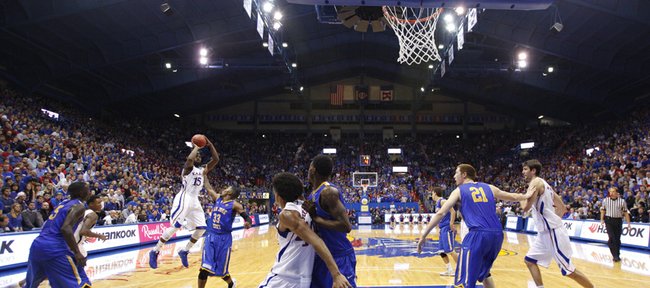 Photo Gallery
KU basketball v. San Jose State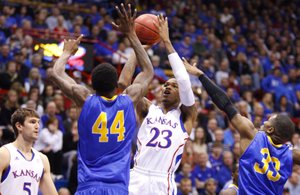 Images from Monday night's game against San Jose State.
Podcast episode
Kansas coach Bill Self talks to reporters following the Jayhawks' 70-57 victory over San Jose State on Nov. 26, 2012.
Podcast episode
Jeff Withey, Elijah Johnson and Travis Releford talk to reporters following the Jayhawks' 70-57 victory over San Jose State on Nov. 26, 2012.
At one point during San Jose State senior James Kinney's 30-point explosion at Allen Fieldhouse on Monday, the hot-shooting guard and Kansas University coach Bill Self enjoyed a fun-filled exchange of words.
"It wasn't trash talk at all," said Kinney, a 6-foot-2-inch guard from Champaign, Ill., who provided most of the offense for the visitors during a 70-57 KU victory. "I'm familiar with coach Self because he coached at Illinois, but there wasn't any trash talk. It was all just friendly. It wasn't anything major. I'll always remember that. This is the most historic place I've ever played, and you remember moments like this."
There's little doubting that the Jayhawks also will remember Kinney, who shot 11 for 26 for the game, including four of 12 from three-point range, and added seven rebounds and five steals during a relentless second-half onslaught that turned a 24-point Kansas lead into an eight-point advantage with just under four minutes remaining.
At one point, with KU leading 60-36 and 11:42 to play, Kinney scored 10 straight points to bring the Spartans (2-3) back from the dead while making things a little uncomfortable for the home team on a night in which senior center Jeff Withey posted a triple-double.
"I never doubt my abilities," said Kinney, the only SJSU player in double figures. "Give Kansas credit. They're a great team, a great defensive team. They got size, athletes, everything. I wasn't gonna give up. I'm not gonna get embarrassed out here."
The second-half comeback, in which the Spartans responded to an 18-0 KU run with a 16-0 run of their own, actually was the second time Kinney and company took a shot from the Jayhawks and kept going. Kansas' 9-1 run in the first half that pushed the Jayhawks' lead from 31-24 to 40-25 was answered by a 9-0 run from San Jose State that included the final seven points of the first half and the first two of the second.
"I just don't think we have any fold in us," SJSU coach George Nessman said. "It's just not who we are. We didn't come here to play for a while; we came here to play the full 40 minutes."
Although he could not help but smile about his own performance after the loss, Kinney said the more important thing was that his teammates learned they could compete with anybody.
"This is just one game of a long season," said Kinney, who, prior to Monday, listed Pittsburgh's Petersen Events Center, which features the "Oakland Zoo" cheering section as the toughest place he had played. "We played the game, we didn't come out with the result that we wanted, but we're gonna put this one behind us."
As for how Allen Fieldhouse stacked up to the home floor at Pitt: "The environment wasn't as hectic as here. The only place I can compare to this is probably Utah State. I mean, when we walked in for shoot-around and practice (Sunday) night, the first thing I saw was the national championship banners, and you realize you're in a building where many great players have played. Paul Pierce, everybody. (Kirk) Hinrich, (Nick) Collison, all the NBA guys. So it's a special opportunity to come in here and compete."