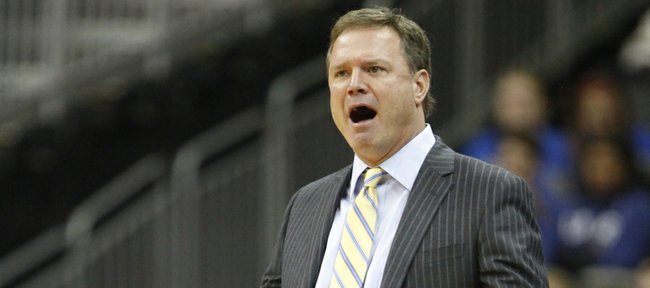 It was tough for Kansas University's basketball players to play as fast as coach Bill Self wants them to play at practice the day after Thanksgiving.
"Practice was fine. It was as fine as can be after three turkeys, sweet potatoes and marshmallows, green bean casserole, cream corn and ham and everything else," said Self, whose family hosted 19 individuals, including "six or seven players," on Turkey Day.
While there may have been a reason for some lethargic play on Friday, there will be no excuses during today's 8 p.m. nonconference clash against San Jose State and ensuing games on the slate, Self said.
"I think we play way too slow," Self said Sunday. "I don't think our guards are creating near the pace the game needs to be played at. We need Elijah (Johnson) and Naadir (Tharpe) to create the pace.
"It's amazing to me. I tell these guys all the time, 'Everybody wants to go to a place where they play fast, they get there, and they don't want to commit to playing fast.' It takes energy to play fast. Elijah more so than anybody ... he is not putting pressure on the defense the way Tyshawn (Taylor) put pressure on the defense. If you take it hard 10 possessions, you may get two free points you didn't have to earn. We are not taking it hard 10 possessions. His mind-set is, I think, to get us into offense," Self added, noting starting point guard Johnson at times should decide to "go make a play."
As far as backup point guard Tharpe ... "He is playing better. He can create havoc and do some things," Self said. "If you are a little guard and don't create havoc, people will pick on you eventually. He has to have that mind-set .... 'Hey, if I am the littlest guy out there, I have to make sure I'm the toughest guy out there and create havoc.' He improved on that (in wins over Washington State and Saint Louis last week in K.C.)."
Self said senior forward Kevin Young will start his third straight game at power forward tonight versus the Spartans (2-2) of the Western Athletic Conference.
"Our team was better in Kansas City with Kevin playing," Self said. "I'm not saying it'll stay that way forever. I am happy with what Kevin does. I'd like us to be able to get more scoring out of that spot. The natural person would be Perry (Ellis) if that happens. He (Ellis) has to go at a pace where he is comfortable, too. He will get there. I just want everybody getting there by Jan. 1.
"Perry is going to be outstanding. We got spoiled a couple games he got 15 where they were easy 15s (15 vs. both Emporia State and SE Missouri State). Against real guys, you don't get those easy baskets. He has to get where he can score against real guys. I think he's improving."
Self said Young has been able to set up senior Jeff Withey for some easy hoops. Withey tied a career high with 25 points in KU's last game, a 73-59 victory over Saint Louis.
"The ball moves. He'll throw it to him (Withey)," Self said. "He (Young) is not scared to make a mistake. He understands better where to look for Jeff. I think no question Kevin's presence helps Jeff."
San Jose State is coming off a 94-54 home victory over UC Santa Cruz on Nov. 20. Eighth-year coach George Nessman's Spartans also defeated Weber State (68-67, OT) and lost to Houston (77-75) and at New Orleans (72-68). Senior guard James Kinney averages 21.0 ppg and 6.5 rpg.
San Jose State senior La Vanne Pennington is a former teammate of KU's Young in summer basketball and also at Barstow College.
"He told me he's coming off surgery," Young said of the 6-foot-4 guard who averages 5.3 points a game.
Sophomore guard Nick Grieves played in his first game of the season against UC Santa Cruz. He hit six threes and scored 18 points in 11 minutes. Junior forward Chris Cunningham averages a team-leading 9.0 rebounds per game to go with his 12.0 scoring average. Sophomore guard D.J. Brown averages 12.0 ppg.
"They play fast. They've got one cat that can really score. He's from Champaign, of all places," former University of Illinois coach Self said of 6-2 senior Kinney. "They play mainly man, sprinkle in a little bit of zone. We've been working against a lot of things the last few days. Hopefully we've got some stuff that will make us more effective as well."
Young on his hair: Young, whose afro hairstyle is expanding at a rapid rate, said of his next scheduled haircut: "You just don't tell anybody. You go and get it down."
When should people expect him to get a trim? "Not anytime soon ... I'm not expecting it," he said with a smile.
Good eats: Freshman forward Ellis, on practice the day after Thanksgiving: "It was pretty tough. It's all right, though. We had to work off some of that food."