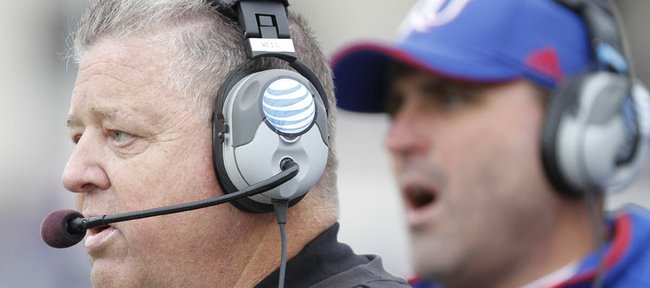 Throughout the season, Kansas University football coach Charlie Weis and his players have prided themselves on shaking off tough losses by Sunday night and focusing on the week ahead with a fresh and ferocious attitude.
With the Jayhawks (1-10 overall and 0-8 in Big 12 play) set for their second off week of the season this Saturday, Weis said he believed bye No. 2 came at a perfect time.
"I think it would be really tough, after all we put into that last game and as disappointing as it was, if we were playing this week," Weis said. "But fortunately we're not playing, and that gives us this week to kind of get that out of the way."
The Jayhawks, who lost to Iowa State 51-23 in their home finale Saturday, will get a few days off after practicing through Wednesday this week.
"We worked through the first bye," Weis said of KU's week off in late September. "But, to me, when you don't have a game, you go home for Thanksgiving. That's the purpose of Thanksgiving, to be around family and friends."
Until that point, Weis said the Jayhawks would spend half of this week's practices looking ahead toward their Dec. 1 finale at West Virginia and the other half working on player development.
"Just getting better ourselves," Weis said. "Going offense against defense and pounding each other a little bit, which I think fundamentally and technically we obviously need that work. ... We can work 'em real hard for a few days then let 'em spend time with their family and friends over Thanksgiving and then get back to a true game week come Monday."
West Virginia (5-5, 2-5) will play at Iowa State on Friday.
KU-WVU to kick off at 1:30 p.m.
The Big 12 announced Monday that KU's season finale at WVU would kick off at 1:30 p.m. Saturday, Dec. 1, and would be televised by Fox Sports Net.
The match-up will mark Kansas' first meeting with West Virginia as a member of the Big 12 Conference and the first since 1941.