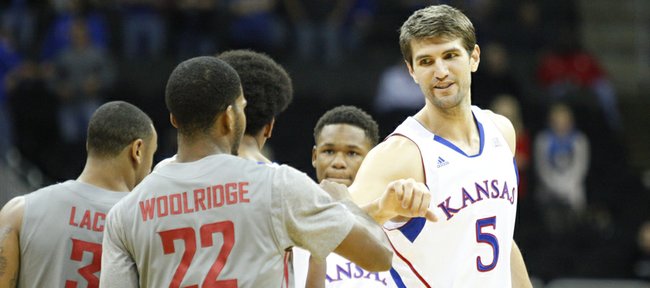 Kansas City, Mo. — Washington State guard Royce Woolridge, who transferred after playing one year at Kansas University, said he didn't have to work hard to convince his Cougars teammates they were facing a good team.
"It's obvious. It's Kansas. They're always a really good school," Woolridge said in a Sprint Center hallway outside the locker room following WSU's 78-41 loss to KU on Monday night.
Just after answering, Woolridge looked up, saying hello to KU staff member Brennan Bechard and shaking hands with KU assistant coach Joe Dooley as they passed by on their way to the team bus.
Woolridge, who played a team-high 33 minutes, finished with five points on 2-for-6 shooting with one assist and five turnovers.
Wearing a black backpack with white headphones around his neck, Woolridge couldn't hide his disappointment following the rout.
"I know we weren't expected to win or anything, but to get blown out by 40 ... that hurts," Woolridge said. "It doesn't matter if it's Kansas or anybody else. Just losing by a lot, it's going to hurt definitely."
The 6-foot-3 Woolridge did have one standout play, swishing a three-pointer with 10:31 left in the first half over KU guard Elijah Johnson.
"I should have hit a couple more," Woolridge said, "but it happens."
The Phoenix native met up with quite a few of his former KU teammates before the game. That included Johnson, who wished him good luck before asking him if he was ready to go.
Woolridge made sure to tell him that he was.
"Those are my friends," Woolridge said. "I miss them, so it was definitely good to see them and talk to them."
The sophomore admitted that he had looked forward to Monday's game for a while, even if it didn't turn out as he had hoped.
"Kansas came, and they played well," Woolridge said. "There's not really much I can say. I wanted to play (better), but their scout was really good. They knew where we were going and what we were doing.
"It was just hard to make things happen for all of us."