Monday, November 19, 2012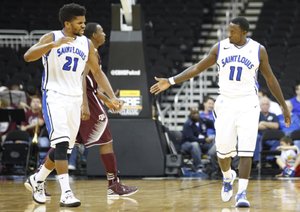 Kansas City, Mo. — Bill Self had hoped to visit with, and maybe even coach against, popular Saint Louis University mentor Rick Majerus during this week's CBE Hall of Fame Classic in Sprint Center.
"He's been really good to me," Self said of Majerus, whose serious health problems resulted in Friday's announcement that the 64-year-old legend will not return to coach Billiken basketball, where he compiled a 95-69 record in five seasons, including last year's run to the NCAA Tournament Sweet 16.
"I think everybody in coaching is concerned about his well-being," Self added.
Interim coach Jim Crews will lead the Billikens (2-1) against the Jayhawks (3-1) during today's CBE finals, set for an 8:30 p.m. tipoff, with a live telecast on ESPNU (Knology Cable channels 35, 235).
SLU clobbered Texas A&M, 70-49, in Monday's other semifinal contest.
According to the St. Louis Post-Dispatch, Majerus missed six games at SLU over his five-year tenure — once because of food poisoning; once when he took the wrong combination of medicine, was feeling dizzy and was taken to the hospital for evaluation; three times because of a leg infection; and another when his girlfriend was in an automobile accident.
Prior to coming to SLU, Majerus had seven heart bypasses. He had a stint put in two summers ago.
"Coach Majerus is not only a colleague, but a dear friend, so this is a difficult time," Crews said when it was announced Majerus would miss the season. "We are fortunate to have a group of outstanding young men. This past year, they have been a delight to work with, and our staff is excited to serve them. Hopefully, our fans will rally behind this team."
Crews has a 356-349 career record at Army, Evansville and SLU. He was a four-year player under Bob Knight at Indiana and was a senior on IU's 1975-76 team that went 32-0. He also worked on Knight's IU staff.
Crews' first SLU team opened the season with a victory over USC Upstate (76-59) to go with a loss to Santa Clara (74-62).
The Billikens have started the season without standout guard Kwamain Mitchell, who had foot surgery in mid October. Also, Cory Remekun, a 6-8 senior, missed the first two games because of injury. He returned to start and score 12 points off 5-of-6 shooting versus A&M.
Dwayne Evans, a 6-5 junior forward from Bolingbrook, Ill., exploded for 21 points off 8-of-10 shooting against the Aggies. He averaged 15.0 points and 8.0 rebounds in the first two games. Junior guard Mike McCall had 13 points off 5-of-9 shooting (three of four threes), while senior forward Cody Ellis had 10 points off 3-of-10 shooting against the Aggies. Ellis, Jett and McCall had 13.0 ppg, 11.0 and 10.0 averages entering the K.C. tournament.
Blue Ribbon Yearbook predicted the Billikens, who had just 12 turnovers versus A&M to the Aggies' 19, would vie for the Atlantic-10 title and could claim a top-five seed in the NCAAs. Saint Louis was picked second in the A-10 behind Temple in the preseason coaches poll.
KU leads the all-time series with Saint Louis, 12-3, dating to 1943. The Jayhawks beat the Billikens, 71-60, in the last meeting between the schools on Dec. 30, 1999. KU won the first three meetings in the series from 1943-52, then Saint Louis claimed the next two victories. From 1967-83, KU rolled off eight straight victories.