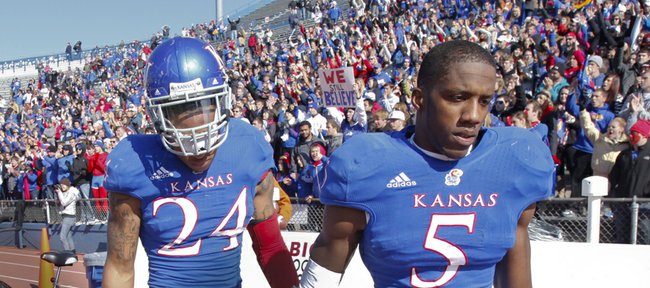 After a sluggish start to the season in which the Kansas University football team opened with a 1-4 record and lost two games to non-Big 12 Conference opponents, the rest of KU's season has followed a distinct pattern.
Unfortunately for the Jayhawks, that pattern has been consistently inconsistent.
Beginning with a 56-16 loss at Kansas State on Oct. 6 and continuing through last Saturday's 51-23 drubbing by Iowa State at home, the Jayhawks (1-10 overall and 0-8 in Big 12 play) have become an every-other-week ballclub, getting rocked one week and taking a team to the wire the next.
"I would point out the fact that we haven't performed well on the road," said senior Toben Opurum when asked about the pattern. "But then we came back home and laid an egg. It's just inconsistent football, guys having a difficult time finishing and executing their plays. Staying consistent throughout the game, that's really our biggest issue."
In the Big 12, where the Jayhawks have faced nationally-ranked teams and high-powered offenses nearly every week, inconsistency has been a killer.
With one game remaining — Dec. 1, at West Virginia — KU's up-and-down pattern has unfolded like this: The 56-16 loss at K-State was followed by a near-victory at home against Oklahoma State; a 52-7 beating at Oklahoma was followed by a home loss to Texas in the final 12 seconds; a 41-14 loss at Baylor was followed by a 41-34 double-overtime loss at Texas Tech; and that close call produced Saturday's struggle versus Iowa State.
Logic, or perhpas mathematics, would suggest then that the Jayhawks are due for a close call in the season finale against West Virginia. KU coach Charlie Weis, however, does not see it that way.
"First of all, at home there haven't been too many lopsided (games)," Weis said. "But I only look at one week at a time. I never ever tie weeks together. I live in one-week entities.... It hasn't just been hot and cold every other week. The players know that each week there's gonna be a newness to the gameplan. We might do hardly any of that stuff we did this week against West Virginia because West Virginia's a whole different defense and a whole different mentality."
Jayhawks land oral commitments from Juco LB, WR
In case you missed it earlier, two junior college prospects orally committed to the Jayhawks over the weekend, bringing the total number of commitments in KU's current recruiting class to 13. Weis said last week the Jayhawks could sign as many as 27 players in this year's class.