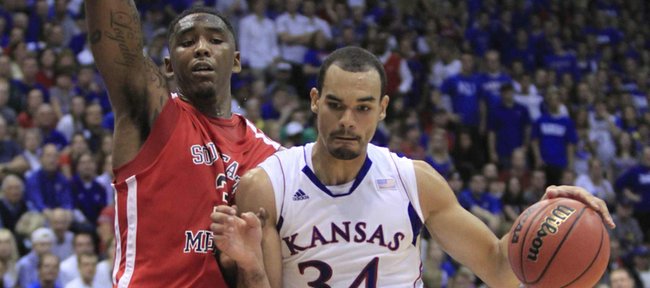 Podcast episode
KU coach Bill Self talks after his team's 74-55 win over Southeast Missouri on Nov. 9, 2012.
Podcast episode
Kansas players Jeff Withey, Perry Ellis and Naadir Tharpe talk after KU's 74-55 victory over Southeast Missouri on Nov. 9, 2012.
Box score
Kansas University freshman forward Perry Ellis scored 15 points in the Jayhawks' 74-55 victory over SE Missouri State on Friday night in Allen Fieldhouse. It marked the most points scored in a debut by a Jayhawk newcomer since Josh Selby's 21 points versus USC on Dec. 18, 2010.
Ellis hit five of nine shots and five of five free throws and had eight boards in 23 minutes.
Ellis played before a cheering section of about 20 family members and friends, including his grandmother, Ruth Terpstra of Rock Valley, Iowa. Perry's grandfather, Floyd Terpstra, died in September and had planned on attending the game.
"I'm glad she got a chance to be here. Through the tough times I'm thankful she came out to support me," Ellis said. "I'm looking forward to seeing her after signing autographs," he added.
Freshman guard Ben McLemore grabbed 12 rebounds in his KU debut, becoming the first Jayhawk with double-digit rebounds in a debut since Markieff Morris' 15 versus UMKC on Nov. 16, 2008. McLemore's five assists were most in a KU debut since Aaron Miles' five versus Ball State on Nov. 19, 2001.
"He needs to be more aggressive. He can drive it," Self said of McLemore, who scored nine points off 3-of-8 shooting with 12 rebounds, five assists and three blocks. "He wants to please so much. He'll continue to get better and better."
Injuries, cramps: Elijah Johnson suffered a case of the cramps in the second half. "He didn't play near that many minutes ... only 22. If he's cramping after 22 then we got real issues. I think he's going to be fine," Self said.
Of Johnson's four fouls, Self said: "They were awful. Travis (Releford) got him his fourth foul (with 12:30 left) by making a bad play. Elijah knows better than to foul. At the end (in fouling out at with four minutes left) he went in and reached from the help position. I'm not sure that's all bad either. He has to learn to be smarter than that."
Jamari Traylor left the court with his finger bleeding with about five minutes to play.
"I think he pulled his fingernail off," Self said. "I went and looked and it was still attached. I think it was pretty loose. That's all that happened there. I thought Jamari played pretty well (five points, one rebound, 16 minutes).
Fun facts: Ellis and McLemore became the first duo of first-year KU players to start a season opener since the 1969-70 season when sophomores Bud Stallworth and Aubrey Nash started against Marshall (freshmen were not immediately eligible upon entering college at that time). ... KU late in the game had players wearing jersey numbers 1, 2, 3, 4 and 5 on the floor. They are: Naadir Tharpe, Rio Adams, Andrew White III, Justin Wesley and Jeff Withey.
Red-shirt talk: Self said there was no final decision on red-shirting Landen Lucas, who did not suit up for the game. However, Self said KU was seriously considering having the Portland native practice but not play in games this season.
This, that: KU has won 40 straight Allen Fieldhouse season-opening games, dating back to the 1973-74 season. ... KU has won 11 consecutive season-openers, dating to the 2001-02 campaign, including a 10-0 mark in the Bill Self era. ... KU is now 19-0 against the current members of the Ohio Valley Conference. ... KU owns a 23-game home-court winning streak, which entered the game as the fourth-longest in NCAA Division I. ... KU extended its streak to 244 games without consecutive losses, which is the longest active streak in NCAA Division I.