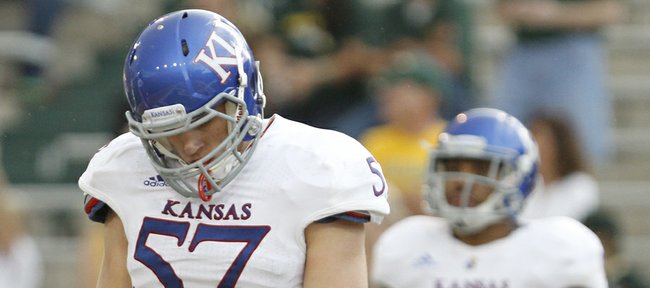 During last week's loss to Baylor, Kansas University's football defense was burned for 666 yards of total offense, 367 coming in the passing game and the other 299 coming on the ground.
The total was the ninth most ever surrendered by a Kansas defense and was just 12 yards fewer than Baylor recorded during its 2010 rout of the Jayhawks at the same stadium.
In both instances, the tempo of Baylor's offense proved problematic for the KU defense, and with the Jayhawks slated to face a similar style Saturday when they travel to Texas Tech for an 11 a.m. kickoff in Lubbock, Texas, much of the focus this week has been on finding a way to slow the Red Raiders down. It's been tough.
"No matter what you do, you still can't create the tempo and get the same look," KU coach Charlie Weis said. "You can do one or the other. You could either get the look or you can get tempo. You can run plays as fast as you want, but it's not going to look anything like what you're getting ready for. So, I think it's a catch-22 there."
Baylor's offensive explosion marked the first time this season that a KU opponent had topped the 500-yard mark. Even Oklahoma, which routed the Jayhawks 52-7, finished with just 397 yards of total offense.
The outputs from TCU (487) and Kansas State (475) were the next highest totals put up against the KU defense this season, but neither played at the pace that Baylor and Texas Tech employ.
Oklahoma State, which totaled just 371 yards and nearly fell victim to a KU comeback, comes close, but weather conditions played a part in that one.
Although the Jayhawks have struggled to match-up with these types of fast-break offenses for the past couple of years, Weis said facing a near carbon-copy last week could help his struggling squad.
"Having just played against that tempo, there will be more plays where guys are more ready to go," Weis said.
Part of the reason for the success enjoyed by these offenses is the fact that each has an experienced and talented quarterback triggering the attack. But in Texas Tech's case, even with a veteran QB like Seth Doege (250-of-361 passing for 2,869 yards, 31 touchdowns, 8 interceptions) calling the plays, there is an element of organized chaos to the wild style.
"I don't have the freedom to just check out of any play," Doege said. "But we do have tags. If we have a run play called, we'll tag it with a pass play and if the defense gives us a certain look we'll go with whatever play's best."
So far this season, Doege said his checks had been a one-way street.
"I can check it to a run," he said. "But I can't check it to a pass."
Regardless of how the plays are called, KU defensive coordinator Dave Campo hinted that the Jayhawks could be in for their toughest test of the season.
"(Texas Tech) is one of those teams that tries to go as fast as it can," Campo said. "In some ways, they might go a little faster (than Baylor). But these two (teams) are warp speed."
Here's a week-by-week look at the total offense numbers surrendered by the KU defense this season:
• South Dakota State — 411
• Rice — 403
• TCU — 487
• Northern Illinois — 455
• Kansas State — 475
• Oklahoma State — 371
• Oklahoma — 397
• Texas — 342
• Baylor — 666
Practice moves inside
The Jayhawks practiced inside Anschutz Pavilion on Wednesday, with the heat cranked up to better simulate what they'll encounter this weekend in Lubbock, Texas.
Saturday's forecast is calling for sunny and 78 at kickoff.
Tech tough up the middle
Although KU's success in the run game has come on runs of all kinds, Weis said his team should prepare for its toughest challenge yet this weekend when facing the Red Raiders' 18th-ranked defense.
"They are as strong as any team we have played up the middle," Weis said. "The middle linebackers are good and the safeties are really good and that is really the core of their whole defense."
Tech ranks 28th nationally against the run (126 yards per game) and 18th against the pass. The Red Raiders have given up 10 rushing touchdowns this season.
Hageman dies at 75
Fred Hageman, a two-time all-Big Eight football center/linebacker, who went on to play in the NFL, died Sunday at the age of 75. Hageman played for KU's 1960 Big Eight champions. For information on Hageman's life, see obituary on page 2A.