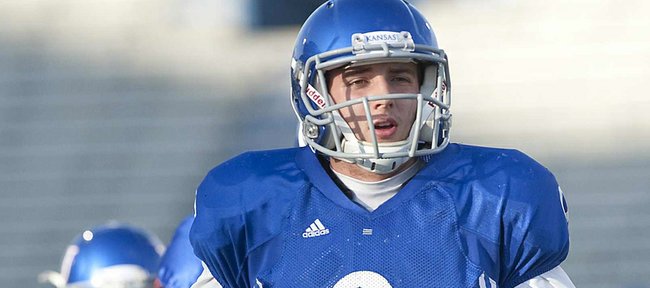 The 2012 Kansas University football season has been tough on KU quarterback Jake Heaps, but not because he has tossed interceptions, taken sacks or misread defenses.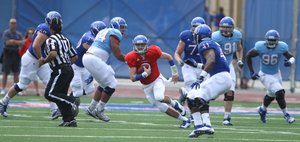 "Jake is very, very frustrated," said KU coach Charlie Weis of the former BYU QB who has sat out the season in accordance with NCAA transfer rules. "He's frustrated that he can't help."
Last December, when the 6-foot-1, 210-pound Heaps became the second former five-star recruit to commit to the Jayhawks in the same day, no one imagined that KU's quarterback play would reach the point where Heaps not only was frustrated, but also longed for. But that point is here. Fellow five-star transfer Dayne Crist struggled and was benched midway through the season. His replacement, red-shirt freshman Michael Cummings, showed signs of life but has been slow to adapt to the starting role. And at 1-8 overall and 0-6 in Big 12 play, KU currently sits in need of an upgrade at quarterback with its best option unable to suit up on Saturdays.
Sounds like the punchline to a cruel joke, but Heaps said the situation had not been all bad.
"As much as I am frustrated that I want to be out there, I know this is helping me improve as a player," he said while talking with reporters for the first time since August. "Me sitting out has made me a much better player than I (would be) if I was to play right now."
During his Tuesday news conference, Weis was asked to describe the ways in which Heaps had improved this season. The junior who will have two years of eligibility remaining starting next season has been there during Weis' Monday night meetings with his quarterbacks. He has taken to the film study and extra time in the playbook made available to him with the pressure of competing off of his plate. Perhaps most importantly, though, he's been able to get a sneak peek into what the guy who recruited him to Notre Dame out of high school is like as his head coach.

"Coach Weis puts a lot on the quarterback," Heaps said. "And that's the fun part about it. ... This has all just been a great process for me, to be able to dissect myself and look back at my game and see what I can improve physically and mentally."
Asked Tuesday what he thought Heaps had gotten out of his first season in Lawrence, Weis smiled then rattled off a two-part answer.
"He's been able to learn the offense," Weis said. "And he's formed relationships with a lot of guys, especially guys that aren't the front-line guys because he spends a lot of time with 'em."
The bulk of those bonds were built while preparing KU's first-string defense for its upcoming opponent each week, as Heaps has handled scout team duties as a way to stay active and contribute to the team.
"Let me tell you something," Weis began. "He's the show team player of the week every week. We never give it to him, but it isn't even close. Every week, he's the guy. That poor defense. You think that they get passes completed on 'em in the game? You should see this guy in practice. That's good and bad, by the way."
Heaps did win the honor once this season — during the first week. After that, though, Weis informed his quarterback-in-waiting that he would not be eligible again. Heaps more than understood.
"It was a tremendous feeling, him saying in front of the team, 'You're the scout team player of the week this week and I expect you to be that every week,'" Heaps recalled. "Although I don't get to play on Saturday, I give everything I have in whatever it is."
While Heaps' time off has allowed him to absorb Weis' offense and gain the trust of his teammates, it also has provided an unexpected benefit for the program.
"He's a hidden gem in recruiting," Weis said. "Because all these guys that are being recruited all want to talk to him."
That recruiting advantage might be more important than all of the other benefits combined. See, there's still time to learn the offense. And Heaps and his teammates soon will have an entire offseason to bond. But getting better players to jump on board can't happen soon enough, and both Weis and Heaps seem willing to do whatever it takes to expedite the process.
"Any time a recruit wants to ask me a question about KU and what it's like here, I'm gonna give 'em an honest opinion," Heaps said. "(Recruiting is) hard, and, as a player, I can give 'em a different perspective. I understand. For me, it's an awesome opportunity not only to get to know future players, but maybe to get that inside track on getting them here."
Recruiting is never far from Weis' mind, and he said his recent conversations with recruits included their experiences with Heaps.
"They ask him anything they want," Weis said. "We never tell him anything to say, and I can't tell you how many recruits I talked to (Monday) night (who) said, 'Yeah, I talked to Jake last week. Yeah, I talked to Jake last week.' Jake's wife must be mad at me right now."
She's not.
"I have a very supportive wife," said Heaps after laughing about Weis' prediction. "Sometimes she'll be like, 'Hey, if it comes down to it, I'll promise to make him some dinner,' or something like that. So she gets it. And whatever we can do to help this program, we're all in."
For now, aiding in recruiting and staying sharp on the field and in the weight room are the only areas in which Heaps can help the KU football program. But the time is coming when he'll have a chance to compete for the starting quarterback job, a job which, if he wins it, will bear the responsibility of helping the Jayhawks bounce back from three of the roughest seasons in school history.
"We're at the point in the season where we can still end this on a positive note, and that's where my focus is," said Heaps before acknowledging that he was aware of the hope people had attached to his name. "With expectations, you can't try to prove people right or wrong. You can't worry about all that. It's based off your work ethic and what you do on the field. Sometimes this game gets stressful and you start worrying about other things, but, at the end of the day, this is football, and this is a game that we all love to play. If you're not having fun, then what's the point of being out there?"