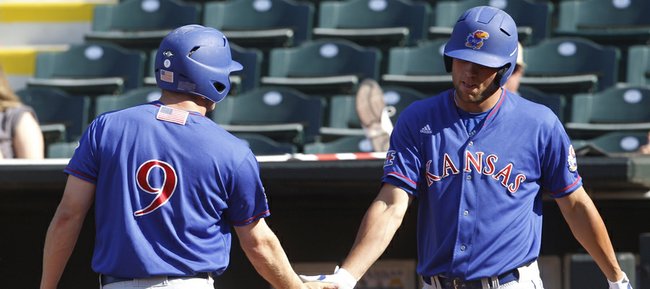 Oklahoma City — A three-run first inning and strong pitching lifted Kansas University to a 4-2 win over Texas and eliminated the third-seeded Longhorns from the Big 12 Baseball Championship on Thursday at Chickasaw Bricktown Ballpark.
The victory was KU's first in postseason play since winning the tournament in 2006.
Kansas' Wes Benjamin (5-7) gave up one run on five hits over six innings to get the win, while Robert Kahana allowed one run during the final three innings to earn the save for the seventh-seeded Jayhawks (23-33).
"One thing we've done well all year is pitch well," KU coach Ritch Price said. "We've pitched well not only in the starting position, but we've pitched well at the back end of the ballgames. We've played well defensively, that's been the strength of our club."
John Curtiss (2-3) gave up all four Kansas runs over 6 2/3 innings to take the loss for Texas (30-22).
KU senior Chris Manship went 2-for-3 from the plate with a double, a triple and a RBI to lead the Kansas offense. Fellow Jayhawk James Stanfield also chipped in two hits in four at-bats and had one RBI.
Texas scored just one run in the first eight innings before Kahana allowed the final run in the ninth.
The Jayhawks will meet sixth-ranked Texas A&M; for the second time in the 2012 conference tournament in an elimination game today at 7 p.m. The Aggies defeated the Jayhawks, 10-4 in the first round on Wednesday, before losing to Missouri, 5-3 on Thursday night.
If Kansas wins tonight, it will face Missouri in a tournament semi-final on Saturday. The Jayhawks would need to beat the Tigers twice to advance to Sunday's Big 12 Championship game.