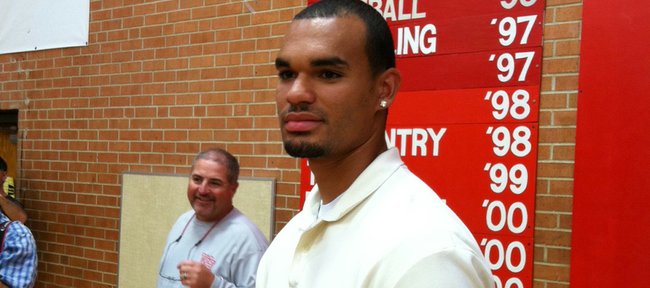 Incoming Kansas University basketball forward Perry Ellis served as one of four valedictorians at Wichita Heights High School's graduation ceremony on Tuesday.
Ellis, a 6-foot-8, 220-pound McDonald's All-American, completed his prep career with a perfect 4.0 grade-point average. He served as secretary of his school's National Honor Society chapter and volunteered for the Wichita Children's Home as well as the Real Men, Real Heroes' Teen Hero program. He also was part of multiple youth literacy-outreach initiatives and worked as a motivational speaker to youth athletes.
The four-time Kansas Gatorade Player of the Year last season averaged 25.8 points and 9.4 rebounds per game for the four-time state champs. He shot 67.0 percent from the field, 43.4 percent from three-point range and 78.3 percent from the free-throw line.
Rivals.com's No. 24-rated player in the Class of 2012 told Jayhawkslant.com he will report to KU for summer school sometime between June 1 and 4.
"A lot of good people around basketball have been through Kansas. I'm thankful that I'm going to be a part of it and I'm ready to get better," said Ellis, who said he will wear his high school number of 34 at KU.
Freeman switches schools: Allerik Freeman, a 6-3 senior-to-be from Olympic High in Charlotte, N.C., on Friday announced on Twitter he'll be playing basketball at Findlay Prep in Henderson, Nev., next season.
Freeman, the No. 25-rated player in the Class of 2013 by Rivals.com, has a final list of Kansas, Duke, Ohio State, Villanova and UCLA. He averaged 17.6 points, 5.8 rebounds, 4.3 assists and 1.3 steals last season for 28-2 Olympic High.
"Findlay is kind of like the Oak Hill (Academy) of the West," ESPN's Dave Telep told the Charlotte Observer. "It's one of those places that a lot of high-level kids in the last five years have opted to attend. Allerik's a high-level, high-major basketball player, and he's going to a place where he's not going to be the only one. I don't know enough about it, but his reasoning probably includes playing with and against other high-level guys on a daily basis."
Findlay went 32-1 last year.
Withey speaks: Kansas University senior-to-be Jeff Withey, in a Q-and-A with ESPN.com's Myron Medcalf, said the Jayhawks were a motivated bunch last season in winning an eighth-straight Big 12 title and reaching the national title game.
"We felt like every time we played, we felt like everyone was saying we were going to lose and not make it very far. Missouri was going to do this and that. Missouri's our rival so we wanted to upstage them, of course," Withey said. "It's just a great way that this whole year went. It went perfect for us. It was awesome."
On returning for his senior season: "I definitely considered it (turning pro). It was definitely a dream of mine to play in the NBA. I thought about it. I talked to my parents about it. I talked to my coaches about it. At the end of the day, I felt like it was better to come and graduate and maybe go a lot higher than I was projected to go." The full interview is available at http://es.pn/JDb8aP
Hanni lands Tech post: Brian Hanni of Lawrence's KLWN on Wednesday was named radio voice of Texas Tech men's basketball.
Hanni, a 2002 KU graduate who is originally from Topeka, spent the last decade broadcasting KU athletics, including eight seasons working the KU women's basketball broadcasts, 10 seasons with KU baseball.
"We're extremely excited to have someone as good and exciting as Brian to continue the very proud tradition of broadcasting Red Raider Basketball," said Tech coach Billy Gillispie. "He has a vast array of experiences that will help make Red Raider Basketball a lot of fun."
Hanni is the fifth voice of Tech hoops since 1953, joining Jack Dale (1953-2003), John Harris (2003-06), Steve Dale (2006-07) and Mark Finkner (2007-12).
In the community, Hanni co-founded and served as a youth leader for the Lawrence Chapter of the Fellowship of Christian Athletes and is the founder and director of the Rock Chalk Roundball Classic, an annual celebrity basketball game raising money for children fighting cancer.