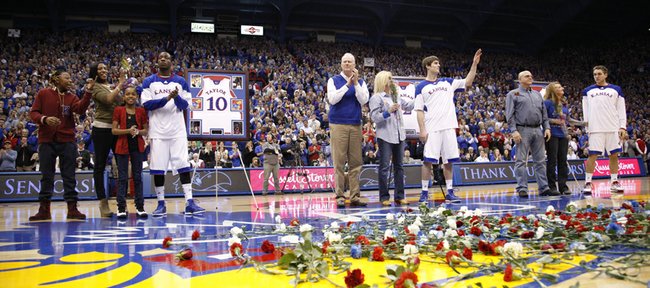 Kansas University senior basketball players Jordan Juenemann, Tyshawn Taylor and Conner Teahan figure to do a lot of reminiscing — and a lot of celebrating — this morning as they participate in graduation ceremonies in and outside of Memorial Stadium.
"It's going to be a great experience walking down the hill with my teammates Conner and Tyshawn," said Juenemann, a combo guard out of Hays High School who majored in exercise science and minored in business.
"There's such tradition at KU in walking through the Campanile and thinking about what you built on in four years — all the hard work in the classroom and for us on the field of play. It'll be great to walk down into Memorial Stadium and hear the benediction and have our families be there on Mother's Day when we get our diplomas and are launched off into the real world."
The three plan to meet for pictures on Jayhawk Boulevard, then take part in the 10:30 a.m. graduation procession together following an introduction by the herald trumpeters near the Campanile.
"I know it's a big deal for myself, Jordan and Tyshawn to be able to finally have all the work we put in the last four, five years to pay off," said Teahan, a fifth-year shooting guard out of Kansas City (Mo.) Rockhurst High. He had a double major in finance and accounting. "This is something I've definitely dreamed about since arriving at KU. I knew I was going to be here the whole time. To be able to walk down the hill is a special experience."
Taylor, a point guard and four-year starter from Saint Anthony High in Jersey City, N.J., majored in African and African-American studies and minored in communication studies.
"I'm one of the first in my family to graduate, so it's definitely a really, really big accomplishment," Taylor said. "And I'm really excited.
"I've been through a lot," the Hoboken, N.J., native added. "Four years is a long time. Nowadays, a lot of people don't even finish school, they just come and they leave. Just to be here four years and to be able to graduate — I'm about to graduate — that's something I'm really happy about. I'm grateful to be here."
Scott Ward, KU's associate athletic director academic and career counseling, beams with pride in recalling a discussion he had with Taylor years ago.
"We met in the office about his goals. He wanted to do this for his mother," Ward said of Taylor, who is expected to be a late-first-round or early- to mid-second-round pick in the 2012 NBA Draft.
"Tyshawn certainly wants to play some more basketball, but this was a major goal of his, to be the first member of his immediate family to graduate from college. It was exciting for his mother, his entire family, when he graduated from high school. It's going to be awesome, so exciting for his family to see him graduate from college," Ward added.
Basketball also is in the future plans of Juenemann, who will play for an Athletes In Action all-star team this summer in Germany and Poland. After the tour is complete, he'll decide whether to keep playing, perhaps for that organization, or begin looking for a job.
"I want to stay in basketball, playing or coaching," Juenemann said. "I need to figure it out. I've done a lot of praying about it. I'm hoping this trip will lead me either way and settle it, which direction to go for sure. I feel I have a good time playing and have the desire. One of the two ... I've got to stay with basketball."
Teahan plans to hit the job market hard in the fall.
"I started to search for jobs before the season started. Then it started, and we got busy, and I decided to put it off," Teahan said. "I have a lot of people I need to contact. As of now, I'm sitting and relaxing, kind of my plan for the summertime.
"I like Kansas City. I love Kansas, period. I don't know if I'll be moving too far away. I definitely would like to stay in the Midwest," Teahan added.
As far as specific jobs ... "Being a financial planner of some sort is something I'm interested in. I also have interest in maybe analyst-type stuff. I can do some accounting-type things. I need to get a CPA first if I want to do that."
Ward would be happy to provide a reference for any of the three seniors. Of course, he hopes Taylor is first able to make millions playing basketball for some time to come.
"Conner, with his two degrees, has positioned himself nicely," Ward said. "Conner put in some hard work to get two degrees. Jordan has a plan for his future and has such a bright future as well."
Ward might shed a tear or two today as he watches thousands of KU students march into the stadium.
"It's my favorite day. I love seeing these guys achieve," Ward said. "This is four, five years of work. I am so proud whether they are student-athletes or not. I love the energy of graduation generated by all the students."
He said it has been a pleasure to watch so many basketball players succeed in the classroom.
"This is Bill Self's program — 100 percent of his seniors are graduating. It's what Bill Self's program does. It's what he does. He wants his seniors graduating," Ward said. "It doesn't happen everywhere. These guys have different plans for their future, but all of them are leaving Kansas with a degree, Conner with two. That's what coach Self's program is about."