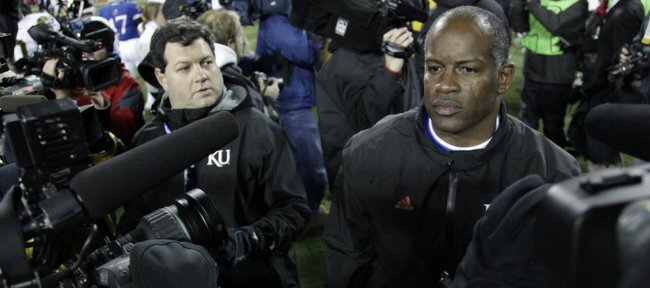 The inevitable roster upheaval that occurs when coaching changes take place in college football makes it particularly difficult to try to forecast starters, just shy of four months from the season-opener.
But for the purpose of looking at Turner Gill's impact on the Kansas University football program during his two-year stay, let's give it a try.
Since it's probably as common as any of the many personnel groupings head coach/offensive coordinator Charlie Weis will deploy, let's go with one running back, one tight end and three wide receivers.
Here's a guess at the 11 offensive starters: Quarterback Dayne Crist, running back Tony Pierson, receivers D.J. Beshears, Daymond Patterson and Kale Pick, tight end Jimmay Mundine, left tackle Tanner Hawkinson, left guard Duane Zlatnik, center Trevor Marrongelli, right guard Gavin Howard, right tackle Riley Spencer.
That's nine Mark Mangino recruits, one Charlie Weis recruit (Crist) and one Turner Gill recruit (Pierson, one of three impressive Gill running back recruits).
Two possible forecast crashers would be receiver Josh Ford and tight end Charles Brooks, junior-college transfers recruited by Weis. Ford's a 6-foot-4, 195-pound burner who could make a long deep target for Crist. Brooks, 6-4, 245, has played more basketball than football, which doesn't make him the next Antonio Gates, but does make him intriguing.
Guessing the 11 defensive starters presents a stiffer challenge, not just because coming up with 11 non-stiffs requires digging deep into the roster.
The forecast: hybrid defensive ends/linebackers Toben Opurum and Michael Reynolds; defensive end Josh Williams, a 6-4, 260-pound high-ceiling athlete who ran out of his welcome in four years at Nebraska and gets a fresh chance to prove to NFL scouts he has matured, learned his lessons, isn't a knucklehead, etc.; junior-college defensive tackles Jordan Tavai and Ty McKinney; linebackers Anthony McDonald, a Notre Dame transfer, and Schyler Miles, a freshman block of granite from Florida; safeties Lubbock Smith and Bradley McDougald; cornerbacks Greg Brown and Tyler Patmon.
That's five Mangino recruits, five Weis recruits (McDonald, McKinney, Miles, Tavai and Williams) and one Gill recruit (Reynolds).
Gill and his staff did draw kudos for recruiting quarterback Brock Berglund (never played a down), running back Darrian Miller (sent packing for multiple team-rules violations) and safety Keeston Terry (transferred to a less-demanding program).
Lew Perkins hired Gill largely because he thought he would ensure the student-athletes would have a "positive" college football experience and because he thought Gill would upgrade recruiting. Two of the 22 projected starters are Gill recruits. Oh well, at least they were the offensive and defensive MVPs of the spring game.