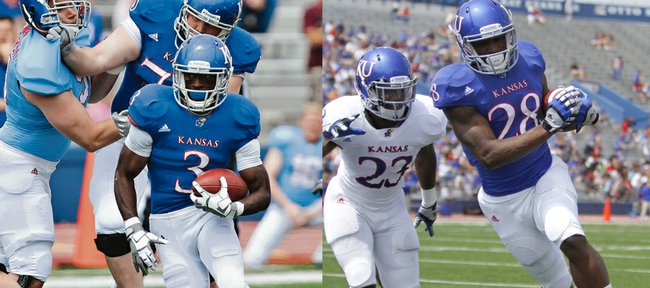 When news broke that two-year starter and leading rusher James Sims had been suspended for the first three games of the 2012 season after an arrest for OUI, people inside and outside of the Kansas University football program began to wonder what that would do to KU's ability to run the ball.
Now, just a couple of days after a 45-0 victory in the annual spring game by the Blue squad — made up mostly of first-stringers — the answer to that question seems a little more clear and the concerns a little less severe.
Running behind the majority of KU's likely starting offensive line, sophomores running backs Tony Pierson and Marquis Jackson rumbled for 217 yards on 17 carries.
Pierson's day was not much of a surprise. The 5-foot-10, 170-pound speed demon from East St. Louis, Ill., showed flashes during his freshman season while sharing touches with three other Jayhawks and, according to KU coach Charlie Weis, Pierson appears to be poised for a breakout year.
During Saturday's end-of-the-spring showcase, he ripped off four runs of 10 or more yards, including an electric, 88-yard TD run, and also caught one pass for 17 yards.
Weis said throughout the spring that Pierson will be a guy who has to touch the ball this fall. Saturday, Weis elaborated.
"I'd say that you want to, on a weekly basis, try to limit his touches to mid-to-high teens," Weis said. "Everyone wants him to touch the ball 20 times, but that's not good coaching. If he carries the ball seven times for 141 yards, I'll take that. If I come in and you call me dumb after a game, I'll say, 'OK, I'm dumb then.' I'll take those numbers. There is going to be a game or two where you have to give it to him, but you want him to be there for the next game. We have enough running backs to spread the wealth a little bit. You don't have to wear him out."
Friday, Weis might not have been as comfortable making that statement. But after watching Jackson, who played wide receiver in 2011, run with good vision and power, Weis emerged from the spring game with a much better feeling about his backfield.
"That was one of the reasons I wanted to get the ball to him a bunch of times today," Weis said of Jackson, who ran 10 times for 76 yards and three touchdowns. "When I moved him there, everybody thought, 'Well, he's just moving him there because of the Sims incident.' But actually, Marquis has big size and is cutting weight to be 215-218 (pounds), and was a high school running back until he was a junior when he was converted to wide receiver."
After playing sparingly at receiver during 2011, Jackson entered the spring fighting for a spot. Weis refused to keep Jackson low on the depth chart.
"I'm looking at this big, good-looking, physical kid saying, 'He looks like a running back. He doesn't look like a wide receiver,'" Weis recalled. "I sat down and talked to him. I said, 'You played running back.' He said, 'Yeah, I was a running back.' I said, 'Good, because you're a running back again.'"
He was a pretty good one Saturday. Jackson, who received the carries when Pierson sat, ran with patience, confidence and good vision throughout the afternoon. He also scored three touchdowns, which gave Weis even more to think about.
"He seemed to make a fairly smooth transition," Weis said. "The only thing I'm going to have to decide is what weight I want him. He is a tweener halfback, but he also could be a fullback. He could very easily be 230 with a couple of cheeseburgers. You could see he's got some natural running instincts. He's a physical presence. I thought he ran the ball hard downhill."
While Pierson and Jackson highlighted KU's rushing attack last Saturday, Sims also played. He finished with an admirable 4.1 yards-per-carry average (14 carries, 58 yards) while running behind the second-string offensive line. Still, with sophomore Brandon Bourbon, who sat out Saturday while still recovering from last season's leg injury, and newcomers Taylor Cox and Tevin Shaw in the mix, the KU backfield is crowded with quality options, and Weis knows it.
"I think we will be fine at running back," he said.