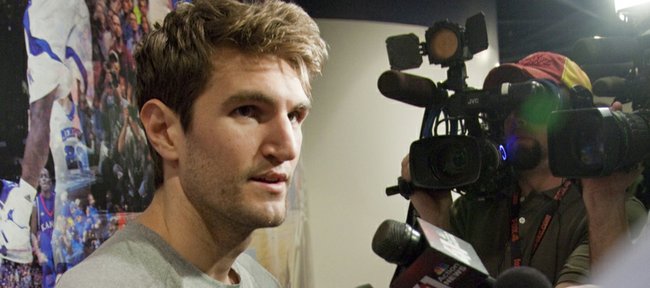 The college basketball dream Jeff Withey lives — preparing to go to the Final Four after swatting so many key shots that helped his team reach New Orleans — started more like a nightmare packed with cruel teases.
His signed out of Horizon High in San Diego to play for Lute Olson at Arizona, and when the Hall of Fame coach retired, Withey wanted out. The school initially told him he would not be granted a release from his scholarship. His father, Mike, was five minutes from hiring an attorney to try to make it happen when his son finally was set free in December 2008.
Because he had enrolled at Arizona, Withey was not eligible to join the Kansas basketball team on the court until second semester of his redshirt-freshman year, on Dec. 29, 2009 against Belmont. Already playing behind Cole Aldrich, Marcus and Markieff Morris and Thomas Robinson in the frontcourt, Withey's workout time lost that fall because of a right-knee stress fracture didn't help. He appeared in 15 games and played 45 minutes in the 2009-2010 season, showing promise by totaling 19 points, 21 rebounds and six blocked shots. Other than in an eight-point, five-rebound effort in 12 minutes of a victory in Ames, Iowa, he never played double-digit minutes.
The departure of Aldrich to the NBA that summer gave Withey a shot at significantly more playing time as a sophomore, but bad luck again hunted down the 7-footer. He broke the metatarsal in his right foot during individual workouts in late September 2010, had surgery and spent several weeks on crutches while his teammates became better.
He needed to gain weight but lost 15 pounds.
"I was stuck in bed," Withey said. "I couldn't really move. It was hard to get to the kitchen. It was hard to get anywhere. My armpits were sore just from crutching everywhere. Coming into that year, I thought I was going to be a big contributor, and then I had the foot problem, and it set me back so far I felt like I just kind of lost my chance to contribute and play. It was really depressing."
Withey reached double-digit minutes in six games and never scored in double figures. He didn't play in two of the four 2011 NCAA Tournament games and played two minutes apiece in the other games, both blowouts.
Now look at him. Midway through Withey's junior season, in February, the U.S. Basketball Writers Association named him the Oscar Robertson national player of the week after he scored a career-high 25 points against Baylor and had a career-best 20 rebounds against Oklahoma State. In his next game, he had 18 points, 11 rebounds and nine blocked shots against Kansas State.
Withey earned Big 12 defensive player of the year honors. Not many 7-footers shoot technical free throws for their teams, but Withey does, thanks to a .794 percentage from the line.
In playing Kansas into the Final Four, Withey blocked 10 shots in a three-point victory against North Carolina State and had 15 points, eight rebounds and three blocks in a 13-point victory against North Carolina's ballyhooed front line. His defensive dominance played a big part in UNC making one of its final 14 shots and none of its last seven. His two blocked shots in the final minutes triggered fast breaks. He earned first-team All-Midwest Region honors, along with Thomas Robinson and Tyshawn Taylor.
Withey credits his volleyball experience — starting on the beach in his middle school years and progressing to indoor volleyball on a club team (which cost his parents $500 a month) — for developing the timing to block shots. He not only blocks shots, he sometimes uses the blocks to start fast breaks by tapping the ball forward. He even has been known to block a shot, catch it and toss it ahead to get KU's speedy guards on their way.
All the setbacks along the way to becoming such a force in college basketball were not time wasted, according to Withey.
"It definitely made me a lot tougher," he said. "When I come out and play, I don't take it for granted at all."
He credited his coach with playing a role in his increased toughness as well.
The most publicized instance of Bill Self's fury aimed Withey's way came in a practice after the center went scoreless in the loss to Missouri in Columbia on Feb. 4. Self made Withey run every step of Allen Fieldhouse, just before the center went on a tear that earned him national honors.
"It definitely makes you pretty upset," Withey said. "After that, I had something to prove to him."
Self still finds ways to prod his center into a foul mood.
"He definitely challenges me all the time, in practice, before the game," Withey said. "He knows how to get me hyped up before a game. Sometimes, I definitely need that. That challenge gets me going. Sometimes it's hard to jump-start my motor. I'm laid-back, so it's hard for me to get, I guess, super angry and ready for games. It's kind of easy now that we're in the tournament."
Self starts the motor. Withey's dunks and blocked shots spark it to a higher speed.
"Those are really emotional plays and those get me fired up and get the fans fired up," Withey said. "Whenever the fans get fired up, that helps me too. I feed off the energy of the crowd."
And the team feeds off his defensive dominance.