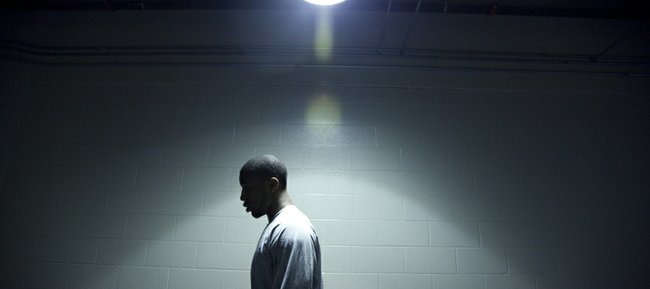 Omaha, Neb. — Kansas University senior guard Tyshawn Taylor sipped on orange Gatorade as he chatted with reporters in a CenturyLink Center hallway Saturday afternoon.
He has been drinking lots of fluids to make sure he doesn't have a recurrence of leg cramps that limited him to 23 minutes in Friday's 65-50 victory over Detroit.
"I'm fine. Hopefully it doesn't happen again, and I'll be out there for my team," Taylor said.
He said it's a good thing KU didn't need him the last 15 minutes of Friday's game. He was hooked to an IV and unable to shake the pain of cramps.
"After the first IV went in, they asked if I was all right. My legs felt tight," Taylor said. "I tried to move. I said, 'Dang.' As a competitor, you want to be out there for your team. If it was a close game, I'd feel worse about myself."
KU coach Bill Self said he thought Taylor would be 100 percent today.
"I think he's fine. He cramped in Hawaii, too, and sat out a good portion of the Georgetown game, and that was a full-body deal. Yesterday it was just his calf. He says his calf is sore," Self said.
Happy birthday, T-Rob: Thomas Robinson on Saturday celebrated his 21st birthday.
"We'll have some cake later on. What more can a guy want than that?" Self said with a smile.
Robinson had no big birthday plans on the eve of KU's NCAA Midwest Regional game against Purdue.
"My pillow. My bed. A few texts, that's it," Robinson said. "I'm not focused on my birthday now. I've got the game to think about. It's just another day."
Of Purdue, he said: "I know they've got (Robbie) Hummel, (D.J) Byrd, and their bigs run the floor and shoot well," Robinson said. "We've got to guard on the wings and guard the three. I have to be locked in maybe more than I have all season," the 6-10 junior added of guarding the 6-8 Hummel.
Another person celebrating a birthday Saturday was Elijah Johnson's dad, Marcus.
"Just sending a couple texts to my dad," Johnson said before answering questions from the media.
He knows Purdue's coach: KU's Taylor played for the gold-medal-winning USA Basketball Under 19 team in the summer of 2009. Purdue coach Matt Painter was assistant coach for that team.
"He's a player's coach. His energy is great, intensity is great," Taylor said of Painter. "He gets guys fired up. He was fun to be around a couple weeks. I enjoyed every minute of it."
He also was around Hummel a bit.
"He was on an older team," Taylor said. "He's a tough kid, a competitor. He's one of the guys you root for and want to do well, but not too well. He's one of the nicest kids I met."
Of Hummel, Robinson said: "He's a great player, somebody I have the greatest respect for."
Tough match-up: The 6-foot-3 Taylor faces a challenge in guarding 5-9 Lewis Jackson.
"I hate it. It's my pet peeve," Taylor said of guarding shorter guards. "But I like a challenge. He's very quick and likes to get in the paint. He's good."
Self on Purdue: "I don't know anybody in our league I'd compare them to, maybe Texas Tech when coach (Bob) Knight was there and Pat (Knight). They run true motion, spread the floor. It will be a big challenge."
Good leagues: KU senior Conner Teahan was asked about playing a team from a conference (Big Ten) considered the best in the country this year.
"I think that's huge, and it brings to our attention how good of a conference they play in," Teahan said. "They played in a lot of big games already, so we know they will be ready to play, and we kind of thought … to be honest, a lot of guys on our team think the Big 12 is right up there also in the country. Baylor, Missouri, Iowa State are great teams, and from head to toe our conference is just as good as anybody's. So being able to prove that would be something that we will focus on tomorrow, also."
Boardwork: Robinson on Friday recorded his 401st rebound of the season, becoming only the fourth Jayhawk to record 400 rebounds: Wilt Chamberlain (510 in 1957), Drew Gooden (423 in 2002) and Clyde Lovellette (410 in 1952).
Divided AD: Curious whether Kansas athletic director Sheahon Zenger will be in Omaha tonight, to watch the KU men take on Purdue, or in Little Rock, Ark., where, starting at 6:50 tonight, KU will face Nebraska in the women's NCAA? Well, Zenger and his family plan to be in Omaha. Debbie Van Saun, KU's senior associate AD/senior woman administrator, will represent department administration in Little Rock.