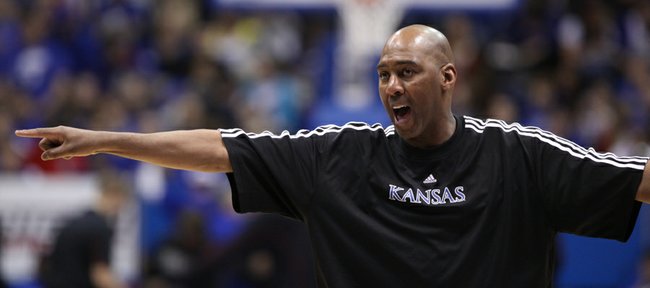 Danny Manning, who has worked on Bill Self's Kansas University basketball coaching staff the past nine seasons, wants to run his own program some day.
When?
That's the million-dollar question.
"You always aspire to get better and to improve. You want to learn each and every day," said the 6-foot-10 former KU All-American/15-year NBA veteran. "I'm in a great spot learning from coach Self and being around (assistants Joe) Dooley, (Kurtis) Townsend and (Barry) Hinson ... so soak up as much as I can and when it happens, it happens."
Manning, 45, who has been a full-time assistant with recruiting duties the past five seasons, said he's been a sponge.
"Coach Self is a great teacher and motivator, but it's his people skills ... the way he relates to the players is outstanding," Manning said. "Coach Dooley is a stats guy. He understands numbers and things like that. Coach Townsend has the uncanny ability to relate to any and every player. Coach Hinson sees things differently because he's been a head coach before, and he has his views. Being around all those guys has helped me, and I've enjoyed it."
Manning, in a 20-minute sit-down interview with reporters Tuesday, said he's discovered that he enjoys recruiting.
"It's fun. Anytime I get a chance to go out and watch ball and try to learn ... every experience is a learning experience. You want to pick something up. You have to have an open mind. That's the thought process for me," Manning said.
He said he also enjoys scouting opposing teams.
"It's tedious, but it's fun," he said. "You try to figure out the strengths and weaknesses of each individual of what they are trying to do offensively, what you can take away, how you can limit them defensively. Those are fun things for me to do because I enjoy ball and I enjoy watching."
And, of course, he enjoys teaching a plethora of moves to KU's big men who have been so quick to praise Manning's influence throughout his nine years here.
"Everybody respects him. If he says something, we listen," said KU junior center Jeff Withey. "We all see him as a role model and that definitely helps. He's a humble guy.
"He doesn't have to teach us all these things that are his secrets. He doesn't have to tell us all his moves. He doesn't have to be doing what he does. To be helping college guys like he does is great."
Manning, who has worked with the likes of pros Marcus and Markieff Morris, Cole Aldrich, Darrell Arthur, Darnell Jackson, Julian Wright, Wayne Simien and Sasha Kaun at KU, explained his philosophy.
"It starts with coach Self's system. He puts big guys in a position to be successful for many, many years," Manning said. "He's done some different things in terms of our offensive schemes and playing inside/out. With his high/low offense, that's something geared to big guys working hard and creating scoring opportunities.
"I like to share with them the different angles and ways to create post position. I think it all starts with footwork. It's something we try to stress each and every day," added Manning, who indicated he likes to put the big men through multiple drills at one time to "create awareness, so they have a sense of knowing when they are on the court — that there are nine other players there."
Junior forward Thomas Robinson, who has developed into the Big 12 player of the year and a first-team All-American under Manning's tutelage, said Manning has done wonders for his own footwork.
"Just slowing me down, getting patient with my moves. With him it's not about speed, it's about getting the move right," Robinson said. "Making sure it works, being patient, slowing it down. With that came better footwork."
KU coach Self said the Jayhawk staff is proud of the fact that all but one player who started 50 percent of games (in at least one season) as a 4 or 5 (power/forward center) the last nine years has advanced to the NBA or Russia's top league (walk-on Christian Moody the only exception).
"Danny does a great, great job," Self said. "In recruiting, they (rival coaches) say we cater to big guys. You know what? It's probably true. We do play inside/out. We still try to open it up to give guards plenty of room to work. But we take pride in developing big guys, and Danny is a big part in that."
As far as this year's big guys? Manning said the Jayhawks have gone to a basic big man package to not overload the players with information on a team with so little depth. Of the progress of 6-foot-10 Robinson, he said: "We thought he could be a talented basketball player. We thought he could help us win a lot of games. We thought if the cards fell right he could have a tremendous year. I can't say I saw a potential player of the year candidate, but he seized his opportunity and definitely made the most of it."
Manning added that he thought Robinson would "be a good pro for a very long time."
Of 7-footer Withey, he said with a smile: "Jeff has the skill-set to play at the professional level. Jeff just needs to gain some damn weight. It gets easier as you grow older, that's for sure."
Manning and his big men are preparing for a big challenge in the 2012 NCAA tournament. First-round foe Detroit (8:57 p.m., Friday, CenturyLink Center, Omaha, Neb.) has a pair of 6-10 players in Eli Holman and LaMarcus Lowe.
"Our whole team is going to get challenged. When you stereotype outside the box and talk about a team that's quote, unquote, a mid-major, not too many are going to be as athletic as this team when we see them warm up," Manning said of the 22-13 Titans of the Horizon League. "They are athletic, well-coached, play hard, are talented."
No rebuttal given: KU's players were asked about the comments of Detroit's Holman, who when asked about KU's Robinson on Sunday said, "Robinson? I can handle Robinson. He has to handle me."
"He's confident. That's good. We'll see Friday," Robinson said with a smile, indicating he hadn't heard the comment until informed by the media.
Stated Withey: "I don't know. We're going to watch a lot of film. I know they are long and athletic. We'll get a good feel for them and let our game speak for us."
Noted Travis Releford: "That's not going to determine how T-Rob plays. Everybody has got to come to play."
Releford said he would never say anything about an opposing player. "You've got to leave your play on the court. That ends up doing most of the talking usually. For someone to say that kind of sucks for them, I think."
Jersey to hang someday: KU coach Bill Self said Tuesday that big things are in Robinson's future.
"It's not official yet, but if he's a first-team All-American, he's going to get his number and name hung in the rafters (of Allen), and he's going to be a lottery pick," Self said. "He's impacted this place in a very positive way, and his legacy will be great forever."
Robinson on Tuesday was named first-team All-America by CBSsports.com a day after the US Basketball Writers accorded him the same honor. He was joined by Kentucky's Anthony Davis (player of year), North Carolina's Kendall Marshall, Michigan State's Draymond Green and Murray State's Isaiah Canaan.
Tyshawn Taylor earned third-team honors from CBS.