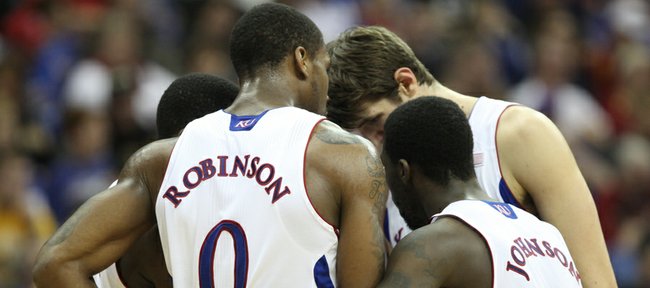 Kansas University's basketball players rested Saturday, catching their collective breath in advance of today's practice and 5 p.m. NCAA Tournament Selection Show on CBS.
"No idea on 1 or 2," KU coach Bill Self said in a text message Saturday night, responding to the question of the day — whether his Jayhawks (27-6) would be awarded a No. 1 seed for the third straight year and fifth in the last sixth years or a No. 2 seed in the 2012 Big Dance.
ESPN bracketologist Joe Lunardi on Saturday night gave KU the last of the four No. 1 seeds, behind Kentucky, Syracuse and North Carolina. His projections were made following Missouri's Big 12 tourney title victory over Baylor.
Lunardi had Michigan State, Ohio State, Missouri and Duke as "next in line" following his top four. However, ESPN analyst Digger Phelps indicated he'd give Michigan State the nod for the final No. 1. The Spartans will meet Ohio State in the Big Ten tourney's title game today. Others listing KU as a 2 seed: Seth Davis of CBS Sports and Sports Illustrated and Gary Parrish of CBS Sports.
Self was asked following Saturday's 81-72 Big 12 semifinal loss to Baylor if there's a big difference between being a 1 and 2.
"I don't know. We've never been a 2," Self said. "I still believe regardless, everybody from a psychological standpoint wants in their mind to be on the highest seed line they possibly can be. At Tulsa we were a 7 (in 2000). I was like, 'How can we be a 7? We're better than that.' It worked out pretty well for us (in reaching Elite Eight). Sometimes when we've been a 1, match-ups don't work that well, either. I think it's more about match-ups than seed line."
The Jayhawks have been a No. 1 seed four times, a No. 3 two times and a No. 4 two times during his first eight years at KU. As a No. 1 seed, KU lost in the Elite Eight last year, lost in the second round in 2010, won it all in 2008 and lost in the Elite Eight in 2007.
"We don't know what the committee is going to do. We can't dictate that," said KU senior point guard Tyshawn Taylor. "I don't think we're going to be on pins and needles. Even as a No. 1 seed like we hope for, if we don't get that, it's not the end of the world because we've still got something to play for.
"Honestly, I've been a No. 1 seed two years in a row, and I don't have a national championship. It doesn't mean that much."
Taylor said he wouldn't be stunned if the Jayhawks were awarded a No. 1 seed despite the fact Missouri, which is 30-4, won the Big 12 tourney title.
"I don't know how they pick it," Taylor said. "I think the overall conference season is what determines who is best in the conference. We are the Big 12 champion, not the Big 12 tournament champion, but we are the Big 12 champion. I think they (committee members) will see that. It's really not that big a deal to me. It looks good being a 1, it's nice, but in the NCAA Tournament, it doesn't matter."
Senior Conner Teahan said he believes KU deserves a 1 seed, "just because we played some great teams and won some big games and showed we're a tough team. At the same time, 1 or 2 seed ... I heard Tyshawn say earlier we've been a 1 seed the last two years, and it didn't get us too far. We've just got to face whoever they put in front of us, respect them and be aggressive."
Teahan said the team would not be upset with a 2 seed.
"If you told us at the beginning of the year that at the end we'd be a 2 seed, I think everybody would have sold out for that," Teahan said. "A 1 seed would obviously be nice, but you know what? Two seed? I don't think it makes too much a difference for us, but I could be wrong."
As far as location of games, it's a virtual certainty KU will play a first-round game Friday in Omaha, Neb. A victory would mean a Sunday game also in Omaha.
As far as the site of possible Sweet 16 or Elite Eight contests? Most figure KU will be sent to either Phoenix or St. Louis. The other two sites are Boston and Atlanta. Phoenix is a Thursday/Saturday regional, St. Louis a Friday/Sunday.
Another title for Heights: KU signee Perry Ellis scored 29 points and grabbed seven rebounds in Wichita Heights' 67-60 Class 6A state title victory over Blue Valley Northwest on Saturday in Wichita. Sophomore guard Clayton Custer had 32 points for NW. Ellis won four state championships during his high school career.
Dooley on Rhode Island list?: KU assistant coach Joe Dooley has been listed as a possible candidate for the head coaching position at Rhode Island, according to CBSsports.com. Other possible candidates: Dan Hurley (Wagner), Steve Pikiell (Stony Brook), Jim Ferry (Long Island), Andy Toole (Robert Morris), Jim Christian (TCU), Al Skinner (formerly of Boston College. Christian played at URI.
All-tourney team: The Big 12 tournament all-tourney team: Kim English (Most Outstanding Player), Phil Pressey (Missouri), Perry Jones III (Baylor), Brady Heslip (Baylor) and J'Covan Brown (Texas).