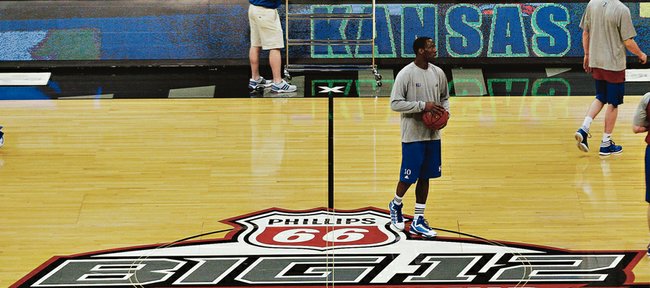 Kansas University's basketball players on Wednesday returned to the scene of their depressing mid-December loss to mid-major Davidson.
The Jayhawks followed a rigorous practice in Allen Fieldhouse with a 35-minute shootaround in Sprint Center, site of today's 2 p.m. Big 12 tournament quarterfinal between KU (26-5) and Texas A&M; (14-17).
"To tell you the truth, I'd not thought about that," KU junior forward Travis Releford said of the Big 12 tournament being held in the same arena as the 80-74 Davidson downer. "It's a whole different ballgame, whole different team. We come in with a different mind-set."
Davidson hit 11 of 33 three-pointers in handing KU its third loss of the nonconference season against seven victories.
Since that day, the Jayhawks have rattled off 19 wins in 21 games, won their eighth-straight conference regular-season title and positioned themselves for a possible No. 1 seed in the NCAA Tournament.
Overall, KU is 13-3 overall in Sprint Center, claiming postseason tourney titles in the downtown K.C. arena in 2008, '10 and '11.
"I think it's another chance for us to get better, to gain momentum going into the NCAA Tournament," Releford said. "The conference tournament is important to us. It shows us what we're getting better at and what we need to work on."
KU, which has won five of the last six conference tourney crowns, today meets an A&M; team that slugged Oklahoma, 62-53, in Wednesday's first-round game. KU beat the Aggies, 64-54, on Jan. 23 in Allen Fieldhouse and 66-58 on Feb. 22 in College Station, Texas.
Elijah Johnson scored 21 points in the road victory on a night Thomas Robinson had just 10 points and 13 boards. Khris Middleton countered with 23 for the Aggies. In the first game, Robinson scored 18 points and grabbed 10 rebounds, while Tyshawn Taylor contributed 17 points for KU. Elston Turner had 24 for the Aggies.
"A&M; played well against us twice," Self said. "A&M; is finally healthy, and that adds to the equation. They play more like us, primarily all man defense. They run some different sets but certainly things our guys will remember because we played them a couple of weeks ago."
Today's winner meets the winner of today's Kansas State-Baylor game at 6:30 p.m. Friday. The final is 5 p.m. Saturday.
"We won the league, and the league is more important than the postseason tournament. I don't care what anybody says. We are going to try to validate our championship. We are going to try to win it," Self said. "I mean, if you play, you might as well try to win. There is no reason to play unless you play to win.
"It will be hard to win three days in a row. We don't have depth, and we're going to have to ride guys hard and play guys a lot of minutes if we are fortunate enough to advance. But it will be good for us. If we are fortunate enough to advance, we play Baylor/K-State. That's a heck of a first two days."
Of course, it's possible KU, which has won five of the past six conference tourneys, could play Missouri in the final. The two teams split during the regular season.
"We're just looking forward to taking it game by game and winning it. That's our main goal," KU senior Conner Teahan said. "We want to be a one seed (in NCAAs). It's not like that's our sole purpose of anything, because we're taking it one step at a time, but we know to get one step closer to that, we have to win this Big 12 tournament. Honestly, we want to play Missouri again. I would love to, but we'll see how that works out."
Self said the players are well rested after getting a day off Sunday and having two consecutive days off each of the previous two weeks.
He indicated Taylor has been sick this week and Releford has been "nicked-up." Releford said his left foot injury (stress reaction in January) has not been giving him any problems. Both Taylor and Releford practiced Wednesday.
"We're fine (health-wise)," Self said.
Of the possibility of playing three games in three days, Releford said: "It's not too difficult because we played every team twice. Preparing isn't as hard as it will be in the NCAA Tournament, because we've seen these teams twice before."
"Playing three games in three days is rough. We definitely need to eat right and take care of our bodies," KU junior Jeff Withey said. "Mentally, it is a lot also. We just have to be thinking that we are going in to win it, and it is going to be tough. But I think that we can do it."