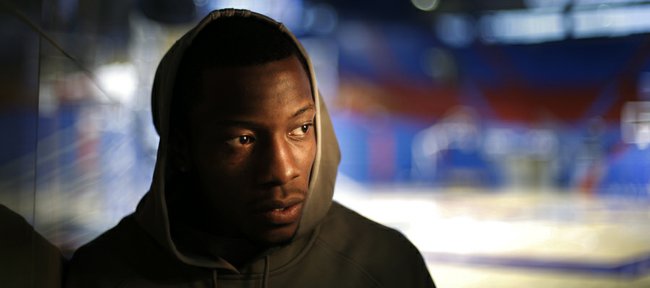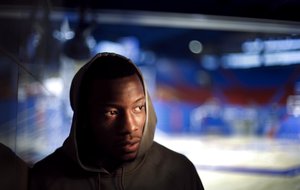 Life is good for Tyshawn Taylor at Kansas University — better, he says, than ever before.
It's a Wednesday in February, and the senior point guard is lounging in a padded chair in an office next to Allen Fieldhouse, talking about how fortunate he feels to have been a part of KU's program for four years.
There's certainly plenty to smile about.
Taylor is averaging a team-high 18.4 points in Big 12 play and might be the biggest reason that the Jayhawks, who entered the season with only modest expectations, are 25-5 and in prime position to grab their third No. 1 NCAA Tournament seed in three years.
Earlier this week, KU coach Bill Self acknowledged as much, saying Taylor has meant as much to his program as any player who has stayed all four years.
"Right now, I'm happiest that I'm still here," Taylor says. "I've been through some things, but I'm still here."
Those who know him say many others in his shoes wouldn't have made it this far.
Taylor's story is one about motivation, about how his family life — he spent most of his childhood serving as the man of his household — might have been the best thing for him, because just look where he is now.
Taylor is one of the best point guards in the country, getting ready for his Senior Night, on the verge of making his NBA dream a reality.
His life wasn't always without its share of speed bumps, much like his KU career and even this season.
But today, as he prepares for his final game at Allen Fieldhouse and a future that is filled with promise, everything finally appears to be falling into place.
★ ★ ★ ★ ★
Tyshawn Taylor knows his father's name — Tyrone Garner — but when asked how to spell it, he says he's not sure.
Taylor was born in Hoboken, N.J., in 1990, and his father was a part of his life until his mother, Jeanell, and her children moved to Florida to be closer to Jeanell's sister.
"I guess it was an 'out of sight, out of mind' kind of thing," Taylor says.
After that, Taylor talked sparingly with his father. The brief times they spoke set him up for disappointment.
The breaking point for Taylor came when he turned 12. His dad called and asked what he wanted for his birthday, and Taylor requested a pair of boots.
Garner promised to send Taylor some Timberlands through the mail.
The package never came. When Garner talked to Taylor again, he told him that he was buying the boots for Christmas and asked which size he needed.
Christmas came and went, and Taylor still never received the gift he was promised.
"I didn't need it," Taylor says. "I wanted to see if he was going to do it, and he didn't."
At the time, Taylor hated his father for lying to him and vowed never to ask Garner for anything again. He realized he had all he needed with his mother and younger sisters, Taquana and Tatiana.
"My mom and my sister (Taquana) have been holding me down forever," Taylor says. "My mom's been my mom and my dad-kind of figure forever in my life. I'm comfortable with that."
Taylor makes it clear that, because he's grown up, he doesn't resent his dad or hate him. But in some ways, he realizes his father helped shape the man he's become.
"I think (for a lot) of my life, everything that I did was pretty much to tell him, 'I told you so,'" Taylor says. "Somebody that I didn't see, didn't know, I was trying to prove him wrong, like, 'I don't need you to be good at something. I don't need you to be a success.'"
★ ★ ★ ★ ★
It's impossible to know where Tyshawn Taylor would be now if Stephanie Crawford hadn't introduced herself while he was playing basketball on the playground in Clearwater, Fla.
Taylor, 8 at the time, returned home and told his mother that Crawford wanted to meet with her.
Crawford, who has coached boys and men's basketball since 1987, talked to Jeanell about Taylor playing for her AAU team, Prime Time.
The women became instant friends.
Crawford, who would load up her eight or nine AAU players in her RV to travel across the area for tournaments, later became Taylor's godmother.
When Jeanell fell on especially hard times, Crawford offered to take Tyshawn into her home to be a guardian-like figure for him.
That arrangement lasted about a year and a half, and Taylor was able to get love and guidance from both his godmother and his mother, whom he still saw frequently.
"We were like good cop, bad cop," Crawford says. "I would put the foot down and drop the hatchet. I would love him up, but I'd also kick him in the (butt)."
When Taylor's report card came back with a few F's, Crawford sat Taylor out of all basketball activities until he was able to bring his grades up. The coach made him come to practice but forced him to sit and watch his teammates play.
"I just thought he was going to die," Crawford says. "He thought that I would let up, and I didn't."
Taylor's butterbean eyes and alligator tears made him tough to discipline. He melted Crawford's heart, but she knew she was doing the right thing.
And 6 1/2 weeks later, Taylor rejoined the team after presenting a report card with A's and B's.
"His grades have never been a problem again," Crawford says.
Crawford — who spent the last three seasons as Hillsborough High's boys varsity basketball coach in Tampa — said she saw a different drive in Taylor than her other players.
The older he got and the more Crawford demanded of him, the hungrier he became to succeed.
Before Taylor made his way to St. Anthony in Jersey City, N.J., for his final three years of high school, Crawford also saw a fun-loving kid with an infectious smile whose personality and self-confidence were developing at a rapid pace.
During one AAU trip to Lakeland, Fla., Crawford took her team to eat at a Hooters restaurant, letting the kids eat at their own table.
A few minutes later, when she turned around, the whole team was gone.
The coach jumped out of her seat to look for her players and quickly found them around a corner.
The team was getting photos taken with the Hooters girls, and Taylor was right in the middle — arms around a couple of them — with a big smile.
★ ★ ★ ★ ★
Last Valentine's Day, Jeanell Taylor opened her house door after hearing a knock.
Standing before her was the man in Jeanell's life, holding a teddy bear, six roses and a white balloon with red hearts on it.
"I love you, Mom," Taylor said after she opened the door.
Jeanell is still touched nearly a month later.
"He just wants to see a smile on my face," Jeanell says.
Tyshawn is especially close with his mom knowing all she did for him growing up.
He was there in Florida when she worked long hours — any time from 8 in the morning to 9 at night — to try to provide for her family.
He was also there when his mom struggled. Tyshawn came home one day when the lights had been shut off because there wasn't enough money to pay the electric bill.
Jeanell still always made time for her oldest child.
"I've seen some tough times, but I've always seen good times," Tyshawn says. "My mom, she's always made it to where we're comfortable and we're good."
And though Jeanell's admittedly emotional, Tyshawn noticed growing up that his mother always tried her hardest never to cry in front of him.
She knew that if she was in tears, Tyshawn would be sobbing right along with her.
Jeanell was 18 when Tyshawn was born, and she made her children promise her that, if nothing else, they would finish high school and get their degrees.
After four years at KU, Taylor is set to graduate in May, majoring in communication studies with a minor in American studies.
When he does, he'll become one of the first members of his family to earn a college diploma.
★ ★ ★ ★ ★
Pick-up basketball isn't supposed to be serious.
It was last summer, though, when fifth-year KU guard Conner Teahan saw Taylor going against the norm: He was using the light-hearted scrimmages to teach teammates and try to make them better. 
"He was taking responsibility," Teahan says, "as this being his team."
Taylor hadn't been as much of a communicator in the past, mostly because he didn't have to be.
Last year's team had seniors Tyrel Reed, Brady Morningstar and juniors Marcus and Markieff Morris. The two years before that, Sherron Collins served as the team's emotional and vocal leader.
Teahan said it was apparent early in the summer that this was a different Taylor. 
The senior was telling his teammates what they needed to do on certain plays, or suggesting a better way to get open in certain situations.
Taylor also wasn't afraid to go to the other upperclassmen, one time telling Teahan to take a couple of extra dribbles or get rid of the ball faster to keep the offense moving.
Before KU had played any games, Teahan also remembers gathering the team in the locker room after a second straight poor practice.
He looked at Taylor and forward Thomas Robinson, saying, "I don't care what happens, but we're not going to be the team that this Big 12 streak ends with."
Teahan looked in Taylor's eyes and knew he felt the same way.
"I'm not going out like that," Taylor said.
At the time, many analysts questioned whether KU was talented enough to continue its streak of seven straight league titles.
"I think Tyshawn took that really personally," Teahan said, "because I think people questioned his ability to lead a team."
No one is now.
Before every game, when the team huddles up, it's either Taylor or Robinson who says the final words.
At halftime, when the Jayhawks need a spark, Taylor's the one who enters the locker room and tells his teammates what they need to be doing ... before Self even has a chance to speak.
Everything from his demeanor to his message impresses Self.
"He's a coach," Self says.
Self has been amazed at how many times that Taylor has chided teammate Elijah Johnson for not being aggressive. And how often he gets into center Jeff Withey, telling him, "You've got to score in there, big fella."
Self says a moment after Monday's game most epitomizes Taylor's growth, as during an ESPN interview, Taylor was asked about Oklahoma State senior Keiton Page's 29-point performance.
Taylor talked about how great Page had been despite the fact that he had just scored 27 points himself, which included 10 straight points during a decisive second-half run.
"He's come a long ways," Self says. "His thoughts are unselfish."
Teahan, for his part, doesn't think fans realize just how much Taylor cares.
That was especially evident a month ago, when Taylor had two missed free throws and two turnovers in the final 90 seconds of a 74-71 loss at Missouri.
The next day, Teahan noticed his phone had a text; Taylor had sent out a message to apologize to his teammates for his poor play down the stretch. He also told them he'd learn from it and would continue to have their backs.
KU hasn't lost since, edging Missouri 87-86 in overtime last week at Allen Fieldhouse — Taylor had nine of the teams 12 points in overtime, including the game-winning free throws — before claiming the outright Big 12 title with Monday's 70-58 victory over Oklahoma State.
"A lot of times people say, 'Well, this place has been good for Tyshawn.' That is true," Self says. "But it's a marriage. And Tyshawn's certainly been good for this place."
★ ★ ★ ★ ★
Tyshawn Taylor retells the story with hardly any emotion, almost as if he's talking about a reunion with an old acquaintance.
Taylor returned to New Jersey this past Christmas, making plans to meet up with his grandmother at her new home.
When he showed up, he was surprised to see an unexpected face: that of Tyrone, his father.
He noticed immediately that he had become taller than his old man. He gave him a hug, and the two talked for a while ... though words didn't come easily.
Tyrone did tell Taylor he was proud of him.
"I think as a younger male, I resented him, and I hated him, and I was like, 'Damn, what if I had a father? I could have been so much better off,'" Taylor says. "Then I think about it now, I probably could have been worse off if he was in my life. Like I said, there's no resentment."
Taylor met up with a lot of his family on his dad's side, including his brothers, two of his sisters and his cousins.
One of his family members took a picture of Taylor with his father.
"I think it was good that I got a chance to see him," Taylor says, "before I start to take these next stages in my life."
Tyrone won't be at Allen Fieldhouse tonight, but those who played the biggest part in Taylor's life will.
That includes Crawford, who made plans to fly in from Florida. She said she wouldn't miss it for the world.
Taquana and Tatiana also will be there, escorting Taylor on the court during the Senior Night celebration.
Taylor's final escort will be Jeanell.
She knows — this time — it'll be OK to let the man in her life see her cry.
"I think she's happy," Taylor says, "just seeing me live my dream."