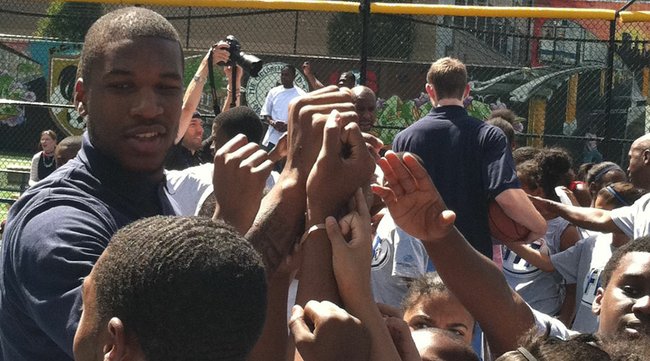 New York — Tuesday night, a little less than two days before the suits and smiles of the NBA Draft take the place of the more familiar high tops and high-fives, former Kansas University standouts Thomas Robinson and Tyshawn Taylor met up for one more game of basketball.
This one, unlike the previous 113 they played together as teammates at Kansas, was a one-on-one battle on the blacktop of New Jersey, and it came a stone's throw from the neighborhood in which Taylor first began to dream his NBA dream.
"It was cool," said Robinson, who is expected to be selected in the top five of tonight's NBA Draft in Newark, N.J. "We always talked when we were in school that he would come to my neighborhood and I'd come to his. We grew up in similar areas, so I felt comfortable. It wasn't anything I'm not used to."
Except that it was.
After catching up, checking out the court and admitting their nerves, something unusual occurred.
"We were just on the court messing around and then I took my hat off and he took his hat off," said Robinson, setting the scene. "Then we started shooting some more, and then I took my phone out, he took his phone out. Then I took my chain off, he took his chain off. And the next thing I knew we were out there playing against each other, sweating."
On paper, the game was a mismatch both ways. Robinson's 6-foot-9, 245-pound frame and 7-foot-3-inch wingspan no doubt posed a problem for the 6-3, 185-pound Taylor, whose lightning-quick first step and superior handles likely made him a nightmare for Robinson, as well.
On this night, Taylor's quicks prevailed.
"Ty won," Robinson said. "He had his whole neighborhood around, though. It was the homecourt advantage."
In many ways the impromptu one-on-one showdown was exactly what these guys needed during one of the more hectic, yet exciting, times of their lives. From the time they were young until just a couple of months ago, both almost always had been in control when it came to basketball. But all of the glitz, glamour and uncertainty that comes with the NBA Draft puts control out of their reach. Their stats are in, careers are closed and individual workouts finished. Now all they can do is wait.
"It's gonna be a very, very long process," Robinson admitted. "I probably won't be there long. Who knows, though. I'm sure I'm still gonna be nervous."
In some ways, Robinson is envious of Taylor's position. Instead of sitting in the green room with the lights, cameras and cheers surrounding him, Taylor, who could be picked anywhere from late in the first round to sometime in the middle of the second, will hear his name called via television, surrounded by as many friends and family members as he can cram into a New Jersey living room.
"It's more comfortable for him because it's here, local, where his family is originally from," Taylor's mother, Jeanell Taylor, said. "It gives him an opportunity to be with his entire family and I think that means a lot to him. He's actually more nervous than anything. Going to (Madison Square) Garden and playing Kentucky and things like
that are totally different from him having to sit there and wait for the teams to call his name."
Added Robinson: "He gets the real, 100 percent feeling of how it's supposed to go. And I honestly think that's one of the best ways to go through it. Once you get your name called, it's probably a better feeling or a relief because you really don't know."
The friends and family members here provide comfort for both Robinson and Taylor. KU coach Bill Self and former KU assistant Danny Manning did not make the trip. But Robinson will be joined at the table in the green room by his nine-year-old sister, Jayla and her father, his best friend from childhood, his AAU coach and Angel Morris, the mother of Markieff and Marcus Morris who has filled a huge void in Robinson's life since the day his mother, Lisa, passed away in early 2011. The Morris twins also made the trek to the Big Apple and will be at the draft, as well.
However, beyond the support of their families, the one thing that makes these two former Jayhawks feel so comfortable with so much on the line is the location where it all will take place.
"Just to be anywhere in the tri-state area is great," said Robinson, a native of Washington D.C. "You're not from here, so you're not a hometown hero, but when you're from the East Coast and you go to a school like Kansas, it's kind of like everybody out here gets behind you. When I come back to New York or Jersey or places in the northeast, I feel a lot of love and it's definitely good to be back."
It's not just the future NBA players who get a kick out of it. Taylor's high school coach, Bob Hurley, said his former point guard's return to the area was the perfect way to close out an amazing journey.
"For him to be coming back to Jersey to be drafted into the NBA is incredible," said the legendary St. Anthony High coach. "We've been talking a lot about it. The guys he grew up with are all excited. The kids we have at St. Anthony's now are all excited, and the coaches are all excited. It's just absolutely great."
Hurley won't be with Taylor tonight, but he will be watching.
"I'll be running home and jumping on the couch and sitting there holding my breath until it happens," Hurley said. "We're proud of him anyway, but it'll be an even bigger moment because we know what the journey's been like. With each kid, it's different each time. And this one is just an incredibly special story for us. We're so excited for him."
As for Robinson, he said he believed the team that picked Taylor would be getting a steal and added that he would not begin his celebration until his close friend and former teammate can join him. "I told Ty I'm not making any moves until his name is called," Robinson said.
Tonight's draft begins at 6 p.m. and will take place at the Prudential Center for the second year in a row because of construction at Madison Square Garden.
What about Jayla?
Throughout the past year, Robinson has talked a lot about his sister and how all of the work he put in was for her future. On Wednesday, Robinson was asked how Jayla was handling the overwhelming scene that is the NBA Draft and he answered with one of his trademark smiles.
"I know what it's like," he said. "It's great. Because right now she's on 5th Avenue shopping. So she's fine. And that feels great. That's why I worked for it. So for her to see it actually happen will be a great feeling."
Like Mike
If Robinson goes to Charlotte at No. 2 like some are predicting, he immediately will be employed by the man widely regarded as the
greatest basketball player of all-time, Bobcats' owner Michael Jordan. When asked if he would be awestruck by the thought of playing for Jordan, Robinson made one key point.
"You're playing for Mike, but you're not playing with him," Robinson said. "So it's still up to me to get out there and work."
T-Rob hearts Kansas
Without hesitation, Robinson needed just one word to describe what his three years in Lawrence meant to him.
"Everything," he said. "The more I'm away from Kansas, the more I miss it and I start to remember things that I forgot I even did. Being at KU was special for me. I'll definitely be back."
What to wear?
One of the most scrutinized elements of the NBA Draft is the fashion sense — sometimes good, sometimes bad — that the players demonstrate.
Although Robinson did not divulge what he would be wearing when his name was called by NBA commissioner David Stern tonight, he did
clarify one thing.
"I've got an idea," he said of his draft-night outfit. "Nothing too crazy. I don't want them to talk about me."
Speaking of Stern, the moment after Robinson hears his name called is something he has been looking forward to since the Jayhawks topped Baylor, 92-74, on Jan. 16 at Allen Fieldhouse. That was the night Robinson became convinced he would be one of the top picks in this
year's draft. 
"I feel great," Robinson said. "And I'm ready. I've worked for mine and I've been able to put all of the adversity behind me. Once I shake David Stern's hand, I'll feel like I did something."