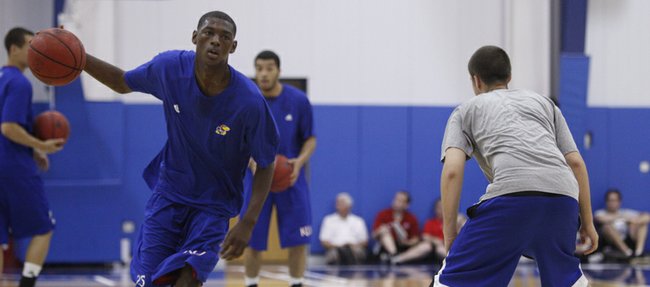 Lanky Milton Doyle, the latest addition to Kansas University's basketball team, exhibited a soft shooting touch from beyond the three-point arc during a high-energy drill Monday at Bill Self's basketball camp in Horejsi Center.
"He's got length and reminds me so much of Tyshawn (Taylor), including recruiting in that he committed to FIU (Florida International), and they had a coaching change, and we were fortunate enough to recruit him after that," KU coach Self said, officially announcing the 6-foot-4, 175-pound Chicagoan's signing of a grant-in-aid agreement.
Taylor, who committed to Marquette before a coaching change then switched to KU where he was a four-year starter, had a similar 6-3, 185 pound frame.
"He's got a lot of upside," Self said of Doyle, who averaged 19.0 points, 7.0 rebounds, 5.0 assists and 5.0 steals per game his senior season at Chicago's Marshall High. "He's a combo guard that can certainly play on the ball. He's also big enough and skilled enough to play off the ball and a very good athlete. I think he'll give us great depth in our backcourt."
Doyle becomes the fifth Jayhawk from Chicago signed by Self at KU. Those include 2010 All-American Sherron Collins, Julian Wright, Mario Little and current freshman Jamari Traylor.
"I'm so appreciative of his family trusting us throughout the recruiting process because it was so quick after the situation at Florida International," Self said. Doyle decommitted after coach Isiah Thomas' firing at FIU in April.
"I have known coach (Henry) Cotton (at Marshall) for a long, long time, and he sings Milton's praises on his talent. Milton would have been a very highly recruited kid had he played AAU last summer, but he didn't because he was injured (wrist), and a lot of people didn't have the opportunity to see him."
Another Chicago prospect: KU is one of 14 schools in the hunt for Chicagoan Jabari Parker, the No. 1-rated player in the recruiting class of 2013.
Parker, 6-7, 215 from Simeon High, told zagsblog.com he has a list of KU, Duke, Michigan State, Kentucky, North Carolina, Ohio State, Illinois, DePaul, Louisville, Northwestern, Missouri, BYU, UConn and Washington. Some believe Duke, Michigan State and Kentucky are the heavy favorites.
Parker said he will cut the list to "about eight" sometime this summer. He plans to make campus visits in the fall and sign with a school in November.
"I'm on a setback not making as much progress as I should be (cutting his list), but I'm looking to making my choice in November. I want to do it for me because I want to get it over with before the season starts," he told SNY.tv and zagsblog.
Parker, 17, is a devout Mormon who has not yet decided whether he will take a two-year mission when he turns 19.
Young leaves Puerto Rico camp: KU senior forward Kevin Young will not be playing for Puerto Rico's national team in the Olympics.
Young, who has been at tryouts in Puerto Rico the past several weeks, was one of 12 players invited to compete in a tourney in Puerto Rico this week. However, he was told he was not yet guaranteed a spot on the national team because several pro players are expected to report to tryout camp soon.
"It was a fun experience, and I gained a lot from it, but I'd rather focus on summer school and Kansas basketball," Young said Monday. He plans to return to Lawrence this week.
Bonnie honored: KU women's basketball coach Bonnie Henrickson is a member of the Northern Sun Intercollegiate Conference Hall of Fame class of 2012. Henrickson competed in the conference from 1981-85 as a forward at St. Cloud (Minn.) State. Henrickson, who appeared in a program-record 122 games, is sixth-leading scorer in school history (1,731).