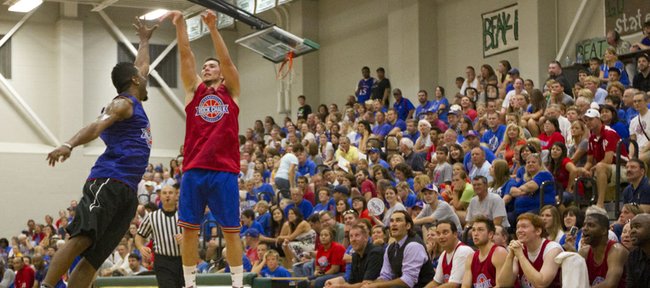 Stretching his 6-foot-4 frame as high as possible, Keith Langford caught a lob pass from former Kansas University teammate Aaron Miles and flushed a resounding dunk in the second half of Thursday's Rock Chalk Roundball Classic at Free State High's gym.
Langford, KU's seventh-leading scorer of all time, also wowed a sellout crowd from the outside, hitting eight three-pointers en route to a game-high 47 points in the KU Alumni Blue Team's 111-110 victory over the Alumni Red squad.
"I said before the game I was going to come out and wanted to have fun, but at the same time I wanted to compete. This is my first time playing since the season ended," said the 28-year-old shooting guard who led Israel Maccabi Tel Aviv to Adriatic League and Israeli League Final Four titles in 2011-12. "I was feeling pretty good man, feeling pretty good."
Langford, who hit a deep three with three seconds left to erase a 110-107 deficit, put on a show in front of his brother, KU junior forward Justin Wesley, who watched from the stands.
"If I got the ball as many times as he did, yes," Wesley said with a smile, asked if he could have scored 47 had he played in the game which featured 35 points from Red team guard Tyrel Reed.
"Just from him being my brother and knowing how he is ... I kind of knew he was going to be aggressive tonight," Wesley added.
Langford shared co-hero honors with the Blue team coach, Bud Stallworth, who won a free-throw contest against Red team coach Scot Pollard to break the tie in lieu of overtime.
"We played around a little bit, but at the end the guys on our bench really wanted to win. It was a situation I had an opportunity to make it happen for them," said Stallworth, who won "bragging rights" over his buddy, Pollard.
Stallworth's free-throw attempt rolled in, while Pollard's misfired.
Langford, for the record, hit 18 of 24 shots and was 3-for-3 from the free-throw line.
"Coach Self (Bill, KU) was on the bench. He said, 'He's just like James Harden,'" KU's Wesley said of his brother's resembling the Oklahoma City Thunder guard on this night.
Langford, who is a free agent this offseason, said he's in negotiation with several European teams.
"Wherever they are paying the most money, that's where I'm playing. That's the bottom line," he said.
Langford definitely thrilled the fans who came out in support of three local families battling cancer.
"In my eyes, I feel I'm one of the better players to play here," said Langford. "Statistically you can look at that, you can look at some of the games I played in. Overall, just to be remembered is the most important thing. Hopefully my name still rings when people come up and talk about the better players who played at KU."
Former KU shooting guard Reed, who played part of the season in Belgium before returning to begin studies in the physical-therapy program at KU Med, hit 14 of 19 shots. He swished five threes and had several thunder dunks, as did Red teammate Julian Wright, who scored 13 points.
"That's a lot more than I had when I was here, I know that," Reed joked of his 35 points. "I got to shoot it a lot more.
"My ankle was bugging me when I was over there," he explained of Belgium. "It never got any better. Now that I've taken a couple of months off, I feel as good as I have since high school. I'm excited about the future."
Highlights: T.J. Pugh, a doctor in Houston who specializes in treating individuals with cancer, spoke to the crowd. "I'm much more comfortable walking around a hospital than a basketball court nowadays," he said with a smile before calling the beneficiaries of the Rock Chalk Roundball Classic — folks bravely fighting cancer — his "heroes." ... Former KU forward Ron Kellogg hit three halfcourt shots in three tries in a shooting display right before the opening tip. ... Lester Earl — he of the chronic bad knees — had several dunks and scored 11 points. ... Christian Moody, who is in his final year of med school residency in Kansas City, had 11 points. ... Russell Robinson (Turkey) had 21 points and Brady Morningstar (Tulsa, of the NBADL) 18. Miles, who had 11 points, played in Russia last season. ... Darnell Valentine played a few minutes before letting a youngster wear his jersey and compete in the game. ... KU football coach Charlie Weis was an honorary coach. ... Neil Everett of ESPN was emcee. He hit one free throw in one attempt.
RED TEAM (110)
Russell Robinson 7-17 2-2 21, Brady Morningstar 6-10 0-0 18, Tyrel Reed 14-19 2-3 35, Nick Bradford 4-6 0-0 10, Jordan Juenemann 3-9 0-0 9, Julian Wright 6-9 1-2 13, Greg Gurley 0-4 0-0 0, Matt Kleinmann 0-1 0-0 0, Youngster from crowd 2-2 0-0 4. Threes: Morningstar 6, Robinson 5, Reed 5, Juenemann 3, Bradford 2.
BLUE TEAM (111)
Jeff Hawkins 3-6 0-0 6, Conner Teahan 3-5 0-0 9, Lester Earl 5-8 1-1 11, Ryan Robertson 3-5 0-0 8, Keith Langford 18-24 3-3 47, Darnell Valentine 0-0 0-0 0, T.J. Pugh 0-0 0-0 0, Christian Moody 5-5 1-2 11, Ron Kellogg 2-4 0-0 5, Aaron Miles 4-6 2-2 11, Bud Stallworth 0-0 1-1 1, Neil Everett 0-0 1-1 1, Youngster from crowd 1-1 0-0 2. Threes: Langford 8, Teahan 3, Robertson 2, Kellogg 1, Miles 1.