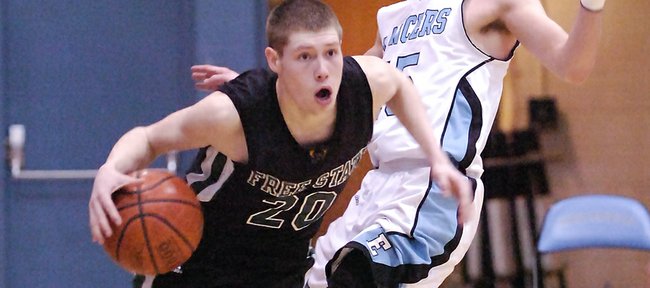 It was several days after Free State High's graduation ceremony that Firebird shooting guard Tyler Self decided to act on his dad Bill's offer to join Kansas University's basketball team.
"It was my mother, him and I eating dinner at a little Mexican restaurant. I said something like, 'I want to play.' They were both kind of surprised. I think they both said, 'Really?' at the same time. It was pretty funny," said Tyler, a 6-foot-2, 160-pounder who told the Journal-World on Monday he'd decided to become a non-scholarship walk-on player on Bill Self's KU team.
Tyler, who averaged 3.9 points and 1.3 rebounds a game for the Firebirds (7-14) a year ago, chose KU over dad's alma mater, Oklahoma State, where he would not have tried to walk on the hoops team and instead would have solely concentrated on his career path in business.
"I just love Kansas so much. I think it'll be an amazing experience," said Tyler Self, whose sister, Lauren, is starting her senior year at KU.
Both Selfs are looking forward to four years of what they hope are special times for KU's basketball program. Set to begin his 10th season, Bill Self has led KU to eight straight conference titles, one national title and a national runner-up appearance.
"I don't know if he has ever officially been my coach," Tyler said of his dad. "Growing up, he'd help me all the time. He's been way in the background. He doesn't want to interfere with anybody else or anything like that at all. We're always talking after the games about different things."
Bill Self said that, indeed, he has stayed out of the way of Tyler's coaches.
"I have never tried to pressure Tyler athletically," Bill Self said Monday. "In high school, junior high, I always let his coaches coach him. This time, I actually get to do it.
"I am very pleased that he has decided to walk on. It'll be a lot of work, but it's a great opportunity for him and even a better opportunity for me to be able to see my son and be around him."
Self is the latest son of a KU coach to join the program. Evan Manning, son of new Tulsa coach and former KU assistant Danny Manning, will be a freshman walk-on this year. Niko Roberts, son of KU assistant Norm Roberts, is a junior on the squad.
"I think that KU is just an awesome place. I honestly don't see how anybody would want to go anywhere else," said Tyler, who was a Free State starter until hurting his ankle in a game last winter. He regained his starting spot once his ankle fully healed. "I am excited to be part of the team, to do whatever I can to contribute. I think 'excited' is the right word for it."
"It'll be great," noted Bill. "I haven't had a chance to spend as much time with him as I'd like, but this is a great opportunity. He loves KU. He loves the guys on the team. He'll be a nice asset to our program, primarily through practice. He'll be good in practice and a great teammate."
By the way, it's unlikely Bill and Tyler will be playing any one-on-one basketball during breaks in practice.
"Not in a while," Tyler said of the last time the two squared off in the gym or driveway. "I think he knew when to quit playing me as I got older because I don't think he wants to lose."