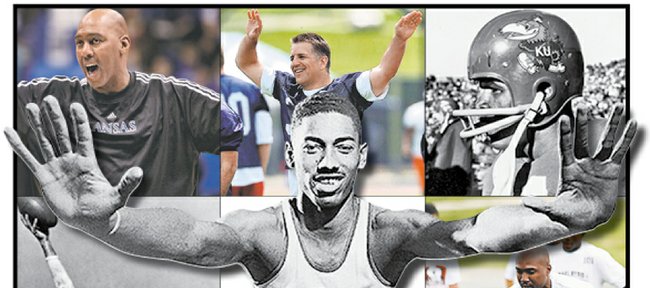 Throughout the summer, we've brought you a different set of lists from five staff members who have covered Kansas University sports at different times during the past four decades.
From fun and fantasy to favorite and ferocious, these lists have taken us back in time and highlighted some of the biggest and best names in KU sports history. Six weeks in, we've had great variety and something different from everyone's memory bank each week. But this week, in the second-to-last edition of our summer series, we come in contact with the first unanimous selection.
The topic? Greatest KU athletes of all-time.
While there are some different takes and interesting picks on the lists below, one KU legend was an easy pick for all five of us.
Who? Wilt Chamberlain.
While Chamberlain made it onto all five lists because of his pure dominance, the rest of the picks varied depending on each person's definition of greatness. That said, three other former KU athletes landed on at least three of the lists, making this edition, by far, the week with the fewest total names.
Matt Tait
Wilt Chamberlain — Whenever I'm talking about Wilt and his place in the conversation about basketball's all-time greats, one thought always comes to mind: "They changed the rules because of this guy." His greatness stretched far beyond athletics.
Danny Manning — Anyone who remembers watching him play knows where Manning ranks. The 1988 college player of the year capped his KU career as the men's program's leader in scoring and rebounding and went on to become the top pick in the NBA Draft. Also earned a spot on the 1988 U.S. Olympic team, which won a bronze medal in Seoul, South Korea. Had he avoided injuries, Manning would have gone down as one of the top pro players of all-time, as well.
Ray Evans — An All-American in both football and basketball, Evans is often overlooked when talking about KU's greats. He shouldn't be. During the 1942 season Evans became the only player in NCAA history to lead the nation in both passing (1,117 yards), and interceptions (10), and his interception totals — which include a career mark of 17 — remain school records to this day. Not only was Evans a stud in college, but he also went on to play pro football (Pittsburgh Steelers) and basketball (New York Knicks) and also received an invite to play for the New York Yankees. He is the only player in KU history to have his jersey retired in football (42) and basketball (15).
Todd Reesing — This choice will probably be more easily accepted 20 years from now, but I'm not afraid to include him today. Reesing single-handedly elevated the KU football program to new heights and figures to own all of KU's major passing records for a long, long time. Few Jayhawks — in any sport — have been the kind of must-see attraction Reesing was every Saturday.
Andrew Hartsock
Otto Schnellbacher — The "Double Threat from Sublette" led KU's basketball team in scoring two years — and five years apart, 1943 and 1948 — was a four-time first-team all-league hoops pick, and, oh yeah, was KU's first football All-American who went on to be a two-time Pro Bowler.
Isaac Byrd — Byrd was drafted in baseball twice — out of high school and after his junior year at KU — and had a short minor-league baseball career, but he chose to pursue a job in pro football, returned to KU and was drafted into the NFL, where he played six seasons, including a start in Super Bowl XXXIV.
Lynette Woodard — A four-time All-American, Woodard averaged 26 points per game and remains college women's basketball all-time scoring leader at 3,649 career points. She was a two-time Olympian and captain of the USA's first gold-medal-winning Olympic team in 1984. She also was the first female Harlem Globetrotter.
Wilt Chamberlain — This is the third time I've picked Chamberlain for this summer series, but I swear it's not part of some posthumous bromance, nor is it the result of the fact a large framed print of Wilt hangs above my desk at work (I swear, I didn't put it there). I simply can't think of any Jayhawk more worthy of any best-of award. Wilt was, simply put, transcendent.
Tom Keegan
Wilt Chamberlain — Length and strength, grace and style, he remains one of the greatest athletes of all-time. His basketball talent was too enormous for the rules as they were written, so the rules were re-written to give the rest of the world a fighting chance. The lane was widened. Offensive goal-tending was instituted. To prevent Wilt from leaping behind the line toward the goal for an easy bucket, the rules of how free throws could be shot also were altered. If he played today, Wilt still would be ahead of his time.
Jim Ryun — Although he didn't amass the Olympic medals that discus-thrower Al Oerter, Ryun did as much as any American in history to give track and field a high profile. He mastered the mile, the greatest of all individual sporting events, with a signature kick and did it with the word "KANSAS" splashed across his chest. If not for the "Wizard of Oz" being such a big hit on the big screen, it's possible every person outside the state would feel obliged to make a Jim Ryun reference every single time Kansas becomes the topic of conversation.
Lynette Woodard — The answer to the often-used tricky trivia question — who is the leading scorer in Kansas basketball history — Woodard has kept her distance from Kansas women's basketball in recent years, which is a crying shame.
Danny Manning — The way Magic Johnson played point guard in a power forward's body influenced many, many players who followed him. Even as long ago as Manning played, he remains the best illustration of a big man influenced by Magic. He is the leading scorer and rebounder in Kansas men's basketball history and had 20 30-point scoring games in his final two seasons, but passing the ball is what Manning did best. His vision was remarkable. As remarkable as he was physically, so strong for a man his build, so agile, fluid, coordinated for a man his height, Manning's mental abilities surpassed his physical gifts on the basketball court.
Jesse Newell
Wilt Chamberlain — A shoo-in; one of the greatest basketball players of all time.
Gale Sayers — A shoo-in; one of the best running backs of all time.
Lynette Woodard — The greatest women's athlete in KU history and was the first woman to play with the Harlem Globetrotters.
Jim Ryun — Hard to go without Danny Manning, but Ryun completes the list after setting numerous world records.
Gary Bedore
Wilt Chamberlain — Revolutionized the game.
Danny Manning — He could do it all. He was a great passer and team player. Maybe even too unselfish.
Jim Ryun — He was truly dominant in track and field.
Gale Sayers — I mean, have you seen clips of his six-touchdown game against the 49ers?