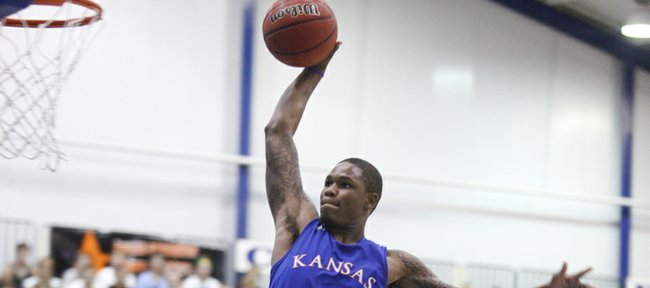 Kansas University basketball coach Bill Self, who lavished praise on red-shirt freshman Ben McLemore during an interview at the July 8 MLB All-Star Celebrity Softball Game in Kauffman Stadium, again lauded the Big 12 freshman of the year candidate — this time on ESPNU.
"Ben's talent level is off the charts," Self said Friday on Katz's Korner, a show hosted by ESPN basketball expert Andy Katz. It was broadcast from the AAU Super Showcase in Lake Buena Vista, Fla.
"He's good. I mean, he's as talented as just about anybody we've had come through there. Now he doesn't know how to plug himself into a game yet," Self cautioned of the 6-5, 185-pounder from St. Louis.
"We had a scrimmage the other day. We're practicing to go to Europe. We had some possessions and it was like the 50th possession before he took his first shot. He doesn't know how to plug himself in and he's so unselfish, but he's a Brandon Rush type. He's a guy who could be a tremendous player for us and hopefully an all-league performer really early in his career."
McLemore and Jamari Traylor (6-8, 215, Chicago) practiced but did not play in games last season after being named partial qualifiers by the NCAA.
"The eligibility center ruled they could go to school but they could not participate," Self said. "We thought that was a pretty tough ruling, but I really believe the kids — they never once batted an eye. They never once complained. They were sad. They've both taken 36 hours approximately — 34-36 hours thus far. Both have above a 3.0 grade point average so they learned from not getting an opportunity to play and focus on academics."
Earlier, at the celebrity softball game, Self said: "Ben should be as good as anybody we've ever had at stealing us extra possessions. I think he'll be the best defender we've ever had. I also think he's as athletic as anybody we've ever had, and he can shoot. Fitting in the pieces and getting him to understand how to play, he's not quite there, obviously. If he keeps improving at the same rate, he'll make a lot of money."
Okie State to contend?: Self, who has led the Jayhawks to eight straight regular-season Big 12 titles, lists a darkhorse candidate for the 2012-13 crown.
"When you mention schools, my alma mater ... I think Oklahoma State is going to be terrific. I think on paper they have the best team," Self said.
"I think they have the most talent. With the kids they signed and the kids returning ... they had a good player sitting out last year who tore his ACL. I really like their talent level."
OSU returns 6-7 sophomore LeBryan Nash to go with the country's No. 10 prospect nationally — Marcus Smart, a 6-4 freshman from Flower Mound, Texas. J.P. Olukemi, a 6-6 senior, is coming off ACL surgery.
Self said he was in favor of the Big 12 staying at 10 teams following the addition of TCU and West Virginia to make up for the loss of Missouri and Texas A&M.;
"A lot of people still think, 'Well, you need to go to 12 or go bigger. That's the thing everybody needs to do.' I don't understand why bigger necessarily means better," Self said. "When you have 10 teams in your league and six are going to the NCAA Tournament, that's not a bad percentage. Obviously there's more revenue to share between 10 than there would be 12 or 14 or whatever. I like the number we are at."