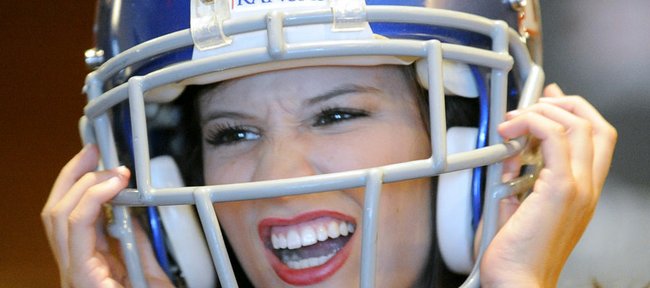 Dallas — This week's revealing of the Kansas University football media guide provided a glimpse at a couple of position changes and player departures that had not previously been reported.
Perhaps the biggest of them all was Piscataway, N.J., freshman Tevin Shaw's being listed as a safety instead of a running back. Tuesday, coach Charlie Weis explained how Shaw landed on defense.
"I told him that he would start fairly far down on the running-back depth chart, but he would start very high up on the safety depth chart," Weis said. "So I asked him where he'd rather play. He's one of those rare guys who's been an all-state player at both positions. So I gave him the choice. I didn't move him."
Other noteworthy changes include: wide receiver Erick McGriff's no longer being part of the team and junior Randall Dent's moving from defensive line to offensive line.
Ready to report
All but two of KU's newcomers have made it to Lawrence and are ready to report to camp Wednesday. Although Weis did not name the two who are not in town, a quick glance revealed that defensive linemen Ty McKinney and Jordan Tavai were the two players who had not yet made it.
The reason? Both have been busy finishing classes. Despite their absence, which Weis said could extend past next week, both remain committed to Kansas.
"They're in place to be done on the 29th, but it might take another week or two," Weis said. "But it's not because they're not gonna be here. We're at the mercy of the junior colleges. If I'm betting a dollar, I'm betting against it."
Weis added that their late arrival would not do anything to change what's expected.
"Oh, no, they'll be playing," he said.
Two-way players
Seniors Toben Opurum and Duane Zlatnik drew mention as possible two-way players. But Weis stopped short of saying either would play both offense and defense.
"Don't be surprised on goal-line and short-yardage situations to see him on offense," Weis said of Opurum. "And don't be surprised to see Duane Zlatnik playing an interior guy on goal-line defense, either. You have to wait until you have the bodies so you can do some of this stuff, but we'll wait and see how it goes."
Weis said he hadn't considered shifting Opurum back to running back.
"He's one of our better defensive players," he said. "I don't need a running back. I need defensive linemen."
Opurum, remember, started his KU career as a running back and was recruited by Weis to Notre Dame as a fullback. As for Zlatnik, he's known as one of the strongest guys on the team.
Mizzou chatter
Although the absence of Missouri and Texas A&M; went largely unnoticed this week, a couple of Jayhawks were asked about not seeing their former Border War rivals around the halls of the Westin this week.
"I wouldn't say we miss them," Opurum said of Mizzou. "But I would like to have an opportunity to play them again, to keep them quiet."
A couple of minutes later, Opurum expanded on the thought.
"We've lost two good programs," he said. "But we were able to bring in two quality teams to replace them. It's going to be different, but I think it's a bigger challenge for (TCU and West Virginia). We've gotta prepare to face two new teams, but they have to prepare to face eight or nine."
Notre Dame transfers
This spring, quarterback Dayne Crist's transfer from Notre Dame was chronicled in just about every way imaginable. Since then, two of Crist's former Notre Dame teammates — tight end Mike Ragone and linebacker Anthony McDonald — have joined him in Lawrence.
Tuesday, Weis gave a update on both guys.
"You mean my blockheads," he quipped. "Yeah, both these guys really like being here. They're doing well in school, which is always a little bit of a concern when you're bringing in fifth-year guys. Hey, look at; anyone that's taken a fifth year somewhere else, they're doing that to enhance their value to play on Sunday. They're not doing it because they want to go to another school all of a sudden."
New director of ops
Although he will remain closely connected to the football program throughout this season, George Matsakis, who served as KU's director of football operations under Mark Mangino, Turner Gill and Charlie Weis, has changed roles and will now serve as the assistant to the athletic director.
Matsakis, who was a college roommate of KU athletic director Sheahon Zenger's, is in his 11th season at KU and also has made stops at Houston, Wyoming and Kansas State.
Taking Matsakis' spot is Kevin Green, who worked on Weis' staff at Notre Dame in 2008 and 2009 and spent the past two seasons as the chief financial officer for Hannah & Friends, the Weises' non-profit organization for people with special needs.
"When I got let go, if you were a Weis guy, yeah, you might as well start packing your boxes about five seconds after I was gone," Weis said. "I told him if I took a head job, he'd be back and ready to go so he'll be in there running the operations."