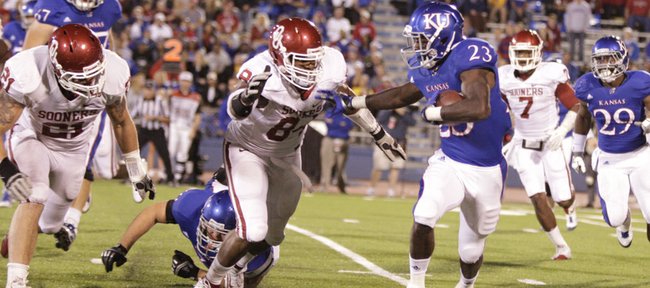 Although he gave no official comment, it's a safe bet that Kansas University football coach Charlie Weis was neither surprised nor disappointed when he saw the results of the Big 12 preseason media poll, released Thursday.
Not only were Weis' Jayhawks picked to finish dead last in the league for a second consecutive season, but they were placed at the bottom emphatically. KU, which finished winless in Big 12 play a season ago, finished with 46 points in the voting. Ninth-place Texas Tech, which won in Lawrence last season, finished with 116, and eighth-place Iowa State received 121.
Although the preseason poll positioned his new team in a spot many consider to be insulting, Weis took the job at Kansas knowing what he was stepping into. He said as much at his introductory news conference in December, going as far as to say he would not have minded if KU had gone winless overall in 2011 so the bar would be set even lower.
But whether expectations are high, low or somewhere in the middle, Weis is the kind of coach who deals in reality, and the media's vote reflected the reality for KU.
"It isn't like everyone's loading up all their marbles to play Kansas right now," Weis said during a recent evaluation of the upcoming schedule. "It isn't like they're saying, 'Oh, let's see, we've got Kansas on the schedule, that's our big game.' So you have an opportunity when you're in that role for people to sit there and say, 'Well, we got Kansas before we get into the real games.'"
Therein lies the reason Weis most likely was not upset about being picked to finish 10th. While some will sit and stare at KU's spot in the rankings and see a team at the bottom, Weis chooses to look at it as a team with nowhere to go but up.
"From our standpoint, that gives you an advantage," he said. "It gives you an advantage every week. Because every week you have an opportunity to go beat one of those guys. Every week."
As for the rest of the poll, perennial power Oklahoma was tapped as the heavy favorite to win the league. The Sooners, who return standout quarterback Landry Jones, received 396 points and 32 first-place votes. Big 12 newcomer West Virginia, which features the league's preseason pick for offensive player of the year, quarterback Geno Smith, came in second with 339 points and seven first-place votes.
Texas (291) was picked third, followed by defending Big 12 champion Oklahoma State (267) fourth, fellow Big 12 newcomer TCU (260) fifth and last year's surprise of the conference, Kansas State (257), sixth.
TCU and K-State each received one first-place vote.
The bottom of the barrel began with Baylor (162) in seventh, followed by Iowa State, Texas Tech and Kansas.
Here are some more facts about this year's vote:
Although Kansas State was ranked well below where it finished the 2011 season, the Wildcats actually were given more credit by the Big 12 media this preseason than last. KSU was picked to finish eighth in the 2011 preseason poll.
West Virginia and TCU will begin their inaugural season of Big 12 competition after joining the league on July 1. Both won their previous conference titles last year, with WVU winning the Big East and TCU winning the Mountain West for the third consecutive season.
Oklahoma State claimed its first Big 12 title in 2011 during the Big 12's first season of round-robin play.
Oklahoma leads the Big 12 with seven Conference championships (2000, '02, '04, '06, '07, '08, '10).
The last time KU was not picked to finish last in the league came in 2010, when the Big 12 still had 12 teams and was separated into two divisions. The Jayhawks were picked fourth in the North that season.