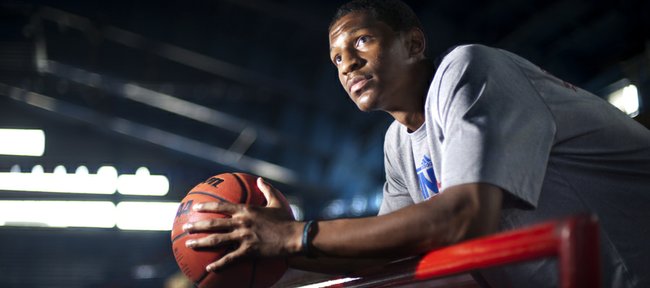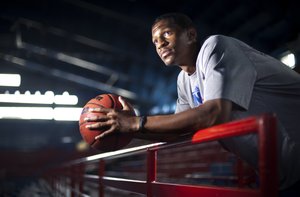 Andrew White was feeling fidgety.
His mother, Sheryl, had just left the Kansas University campus, and White figured he needed to do something productive on his first night by himself in Lawrence last month.
So White, KU's 6-foot-6 freshman guard, made his way to the Jayhawks' practice gym, working by himself with the shooting machine just before midnight.
He hoisted 150 three-pointers.
And made 135 of them.
"On the offensive end of the court," White said, "shooting a basketball is what will get me on the court."
So far in the summer, White has been determined to stay sharp at his best skill.
The native Virginian and product of Miller School in Charlottesville has developed his own shooting routine called "500 Drill." He has 10 locations marked on the court, five of them from 17 feet away and the other five from three-point range.
White starts by putting up 50 shots from one of the two-point range locations, then extends out to the three-point line to take 50 shots there.
After that, he rotates back inside to a different spot for 50 more two-pointers, following that with 50 threes. He stops when he gets to 500 makes.
The whole process takes just under an hour, and White's goal is to make 80 percent of his shots.
Just last week, he made 500 of 592 —good for 84.5 percent.
"A lot of people say, 'I shot this amount of shots,' (but) I go off my makes and my percentage, just because that's a little more realistic," White said. "Anybody can shoot 1,000 shots, but not many people say, 'I shot 1,000 shots at 80 percent.' So I pride my game offensively on the jump shot, and that's just something … it takes a lot of repetition."
White, who shoots on his own three or four times a week, has his own rules for the drill as well. For example, he'll take 50 or 100 shots to warm up, but once he decides to start, there's no reset button. If he misses the first 10 shots, he doesn't start over.
The freshman estimates that he hits his 80-percent goal about one-third of the time.
"I try to put myself in the game on every shot. I try to shoot them all the exact same way, get them off with speed so that when I shoot five or 10 in live practice, the plan is for them to go in," White said. "That's why I do that. It's a big psyche thing. I feel like if I make 500 shots at 80 percent, there's no reason why, dead tired in practice with coach screaming at me, I shouldn't be able to make shots."
White credits much of his shooting success — he made 49 percent of his threes as a senior at Miller School last year — to his father, Andrew White Jr.
During his early high school days, the Whites would make the 10-minute trip to the local YMCA nearly every day.
Andrew Jr., who was a shooting specialist at Div. II basketball Morehouse College, would start his son an inch from the hoop, having him flick his wrist to mimic the follow-through on his jump shot.
Pretty soon, Andrew III would back up to the perimeter, where he'd shoot flat-footed three-pointers. Andrew Jr. even would instruct his son on how to push the ball straight to have better accuracy on half-court shots.
Andrew III heard a few points of instruction often. "Right side" was meant to remind him that the ball needed to line up with his right knee, his right foot and his right eye. "Nine and three" reminded him the location his hands should be on the basketball — at 9 o'clock and 3 o'clock — just before repositioning to hoist a free throw.
There was also, "Got to make the jumper" — a saying that Andrew III says he still hears often.
"Both of us have noticed that the jump shot is a lost art," White said. "A lot of people can dunk. A lot of people can rebound, dribble a million different ways. But there's not a whole lot of pure jump-shooters out there. So that's what I hope to be this year."
White's teammates already have taken notice of his shooting ability.
A few of them have even been yelling out "Ray Allen" — referring to the Miami Heat sharpshooter — when White puts up a shot during summer practices.
"That's because I've been making them and probably shooting them a lot," White said with a laugh. "I guess that's a good nickname to have. I'll take it."
As for the 500 drill, White said he hopes one day to break 90 percent.
"It seems crazy, but one at a time, I should be able to get that eventually," White said with a smile. "I'm just 6 percent off."