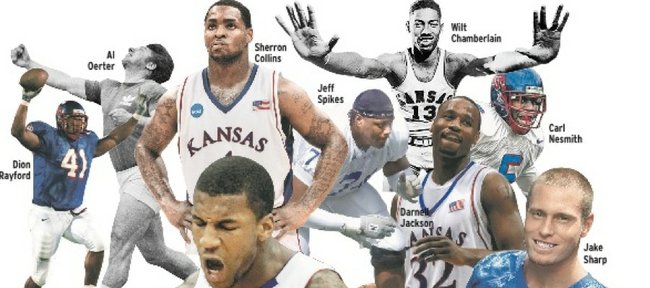 All in all, we're a pretty friendly group of reporters. We enjoy our jobs, love our families and like to have a good time away from work with a number of different hobbies.
The things we do and the places we go don't necessarily conjure up images of trouble, but it's a crazy world out there, and you never know when you might need a little help to get out of a sticky situation.
Luckily, for the next installment of our summer series, which takes a look back at some of the most memorable Jayhawks from the past, KU has had no shortage of tough guys come through Lawrence.
With that in mind, here are our lists of the top four Jayhawks we would pick to be our bodyguards in hostile territory. Whether it's muscle, scrappiness or intimidation that's needed get out of a tough spot, these guys surely have you covered.
Matt Tait
Joe Mortensen — You've heard of the saying, "If looks could kill?" Well, the former KU linebacker, who actually was one of the nicest dudes I've ever covered, has that down pat.
Jake Sharp — Not only is Sharp incredibly fast and strong, he's also a little bit crazy — the good kind — which makes him a guy you want on your side every time.
Carl Nesmith — They called this man "The Butcher," for goodness sake. And he loved to lower the boom from his spot at safety in the late '90s.
Sheahon Zenger — There's more to getting out of a tough situation than brute strength. I'll put Zenger's mind up against anybody.
Andrew Hartsock
Jeff Niemeier — Catcher on KU's only College World Series baseball team (in 1993), Niemeier was built like a tank, and everybody knows you don't jack with the catcher.
Dion Rayford — Former KU defensive end was big, fast and strong. Just mentioning the word "chalupa" would send him into a blind rage (or Taco Bell drive-thru window, whichever was closer).
Wilt Chamberlain — I've been around some big dudes and been made to feel awfully small, but I recall when Chamberlain returned to KU to have his jersey retired in 1998, and all I could think was, "That's one large human." Even the biggest big men get dwarfed inside Allen Fieldhouse, but not Wilt.
Mark Mangino — I've been around some big dudes and been made to feel awfully small, but … the thing that makes me want Mangino around me in a brawl is not his stature but his bulldoggedness. I would NOT want to cross him.
Tom Keegan
Keith Loneker — Running into him makes me think of massive retired slugger Frank Howard leaning against the batting cage in Anaheim Stadium while working as a coach for whatever team was visiting that mid-1980's night. "Frank Howard, one of the nicest men in baseball," then Angels manager Gene Mauch said before one of his long, signature pauses. "Thank God!" Keith Loneker, one of the nicest men in Lawrence. ... Thank God!
Bill Nieder — I used to type so much faster. Then I met Bill Nieder and shook his hand. More than 50 years after winning a silver medal in the 1956 Olympics and a gold in 1960 in the shot put, Nieder helped to subdue a terrorist on a commercial flight.
Al Oerter — Outstanding at throwing heavy metal objects, the late, great winner of the gold medal in the discus in four consecutive Olympic Games, Oerter certainly wouldn't have any trouble throwing humans.
Aqib Talib — Just in case things get really out of hand.
Jesse Newell
Thomas Robinson — He probably has the best build of any KU men's basketball player in the Bill Self era.
Jeff Spikes — I wouldn't have any problems with Spikes — at 6-foot-6, 325 pounds — protecting my blind side.
Mason Finley — Pictures don't do this KU shot put/discus thrower justice; rumor is that he's approaching 6-foot-9 and 400 pounds, and from being around him, I would guess that's not too far off.
Andrea Hudy — She is there for intimidation; with the glare she gives when she's mad, I'd feel pretty safe.
Gary Bedore
Darnell Jackson — He's big and strong and an immovable object
Keith Loneker — He's a Hollywood actor, but no prima donna. He'd flatten anybody attempting to cause trouble.
Sherron Collins — I still think he should try boxing. He reminds me of the late Joe Frazier — similar build/bulldog attitude.
Scot Pollard — He's big and looks menacing but has such a good personality he'd probably say something funny to calm any situation.