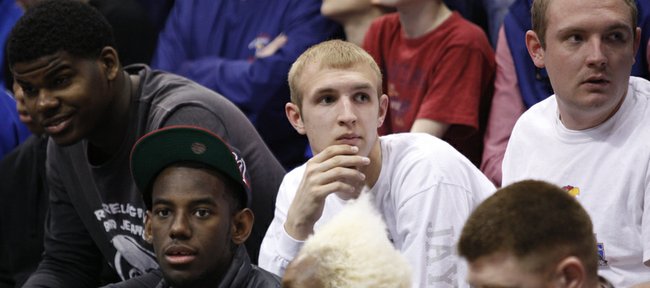 Future Kansas University basketball player Conner Frankamp suffered a hairline fracture in a bone in his left foot in an AAU basketball tournament Sunday in St. Louis.
Frankamp, a 6-foot-1 senior point guard from Wichita North who plays for KC Run GMC, told the Journal-World in a phone interview that he is expected to miss four to eight weeks of basketball. He's going to be re-examined on Tuesday, but at this point thinks he'll definitely miss the rest of the summer season.
"I went up for a layup, and a kid (from Oklahoma team in third-place game) took me out," Frankamp said. "I came down, and my foot went backwards. It's a good time for me to rest, but I sure will miss playing."
Frankamp recently helped the U.S. Under 17 basketball team to a gold medal at the FIBA world championships in Lithuania.
"It was an unbelievable summer, a dream come true. It's been one of the best summers of my life even though I hurt my foot," Frankamp said.
Earlier Sunday, Frankamp joked on Twitter: "Well a broken bone in my foot isn't a good present the day before my birthday. I can't believe I turn 17 tomorrow (today)."
Summer league: Former KU forward Markieff Morris scored 21 points and grabbed nine rebounds in the Phoenix Suns' 99-74 summer league victory over the Knicks Sunday in Las Vegas.
Darnell Jackson with Kings: Former KU forward Darnell Jackson is serving as a mentor for his 16 Sacramento Kings teammates who are playing NBA summer league basketball in Las Vegas.
"You're going to Vegas," Jackson told cowbellkingdom.com. "You've got gambling, you've got clubs, partying, beautiful women around and it's open to the public.
"Everybody's out auditioning," added Jackson, 26, who played last year in Ukraine after playing for the Kings two seasons ago. "You're auditioning not just for the Kings, you're auditioning for every team in the NBA. So you have to be respectful, on the court and off the court. Just be professional whatever you're doing."
Jackson's leadership skills just might land him a spot on the Kings' roster.
"At the end of the day, everybody's a human being (and) everybody makes mistakes," Jackson said. "You've just got to tell them. Some guys are stubborn, some guys listen."
Of his year in Ukraine, Jackson told the Sacramento Bee: "Not going to lie — it was the hardest experience I ever had in my basketball career. But it was a great experience. It was a challenge."
Jackson averaged 3.2 points and 1.6 rebounds while playing a little more than eight minutes a game for the Kings in 2010-11. With the lockout in effect, he signed with B.C. Donetsk of the Ukrainian League.
"I think the biggest thing that helped me over there is finding who I really am as a person and a basketball player," Jackson told the Bee. "Being over there yourself for a few months, it was hard. Having my girl come over with me helped me a lot. I was calling home every day: 'I'm quitting, I'm quitting, I'm coming home.' But the biggest thing I love is, I love challenges. The coach I had was always prepared, every day, and everything was full-speed. I loved it, and the guys were in shape. I just thank the Lord I'm back home in the States."
Recruiting: Demetrius Jackson, a 6-1 senior point guard from Marian High in Mishawaka, Ind., tells Rivals.com he plans to visit KU and Illinois in August. He's also considering Notre Dame and Louisville. KU and Louisville have not yet offered scholarships.
Jacque to Magic?: Former KU guard Jacque Vaughn is front-runner for the head-coaching position with the NBA's Orlando Magic, the Orlando Sentinel reports. Others who have interviewed: Philadelphia 76ers associate head coach Michael Curry, Utah Jazz assistant coach Jeff Hornacek and Phoenix Suns player development coach Lindsey Hunter. Vaughn, 37, was an assistant with the San Antonio Spurs the past two seasons. He played 12 seasons in the NBA, including a stint with Orlando in 2002-03.