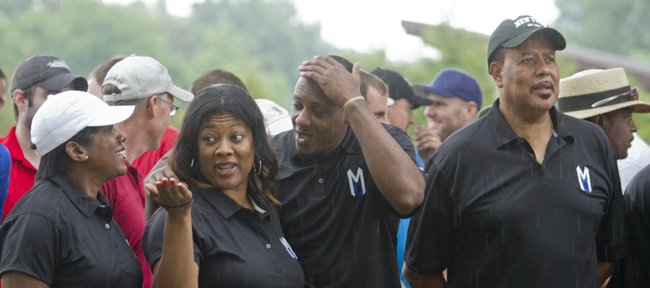 Kansas University basketball assistant coach Kurtis Townsend was happy to support a former Jayhawk on Friday, attending Mario Chalmers' National Championship Classic golf tournament at Alvamar with new KU director of basketball operations Doc Sadler.
"It's huge, not only because (Mario) comes back and it's a great organization and a great cause, but the fact that these people here just love him," Townsend said. "To come back and make this like his second or third home now … it means a lot to the program and to our guys."
Chalmers' tournament benefits cancer research and community-based youth programs.
Former KU basketball players Brady Morningstar and Jeff Hawkins also joined Chalmers at the event.
"Everyone around here looks up to him," Townsend said of Chalmers. "It's just great to have him back. I would support anything he ever did here. I haven't been able to make it because of recruiting, but I just happened to have today off, so it worked out well."
Speaking of recruiting ... Townsend played a big part in the Jayhawks' landing 6-foot-3 guard Rio Adams from Rainier Beach High School in Seattle, serving as his lead recruiter.
Adams reported to KU's campus last week.
"It's great to have him here. He had a long journey," Townsend said. "I think he's still not out of the woods yet academically and stuff, but it's great that he's here, and he's happy to be here. I think he's going to do a good job for us."
One of Townsend's most vivid memories of Adams came while watching him at a tournament in Las Vegas.
"I think he had about 38 (points). He couldn't miss, and he had already committed here," Townsend said. "He just kept looking at me after every shot. What I did realize is that he was one of those guys that wasn't afraid to take a big shot.
"He was like a cornerback in football — didn't remember the play before. He could just flick water off his back, and he could just go. But (he was) a clutch player, and more than that, a great kid."
Townsend said Adams had another memorable performance during his senior season.
"He had an unbelievable game, because I was kind of always putting in his head, 'Hey, we may want to play you at the point,'" Townsend said. "He made some unbelievable no-look passes and made sure that I saw him to let me know that, 'Hey, I'll play wherever you need me to play.'"
Townsend, who will begin his ninth year on KU's bench in the fall, believes Adams will provide the Jayhawks with depth.
"He gives us a guy that can play both (guard) positions. He's a scorer," Townsend said. "He's athletic, but he can also play the backup point. If, God forbid, something happened to Elijah (Johnson) or Naadir (Tharpe), he can play both spots.
"He just gives you another athletic, tough, strong, good kid."