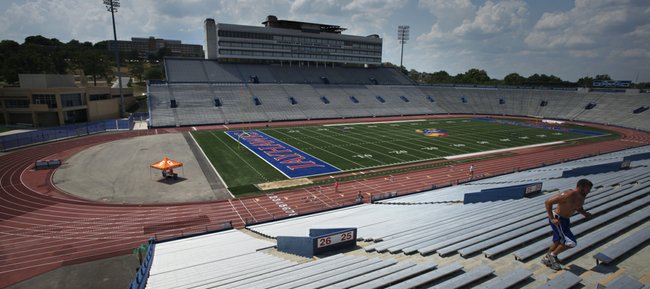 When Kansas University athletic director Sheahon Zenger someday decides to give Memorial Stadium a makeover, it won't be at the request of new football coach Charlie Weis.
Although he has yet to coach a game in the place, Weis recently offered a positive review of his new home stadium.
"I mean, sure, would you like to have suites on the other side and take the track out and sink the field a little bit more and have the stands closer to the field? Sure. Great," Weis said. "That would be wonderful. But I have no complaints with this place."
Neither do the dozens of people who have come through his office since he took over last December. Although Weis can see what Memorial Stadium could one day become, he said he was happy to leave the daydreaming to the fans and would gladly live with the picture-perfect view from his corner office at the Anderson Family Football Complex.
"People love this view," said Weis, from a story above the field, looking out from the southwest corner of the venue. "They love what the stadium looks like from this office. There isn't one person who's come in here who hasn't said, 'That's awesome.' I'm talking recruits, their parents, everyone. So when everyone else is complaining about the place, everyone that walks in here says, 'God, what a view. What a place.'"
That includes Zenger, who, believe it or not, is still just in his second year on the job. During his first 18 months in town, Zenger has hired and fired a few coaches, successfully helped navigate KU through the uneasy waters of conference realignment and done everything in his power to change the way KU athletics is viewed, both by those inside the walls and the even larger faction of people on the outside.
It's tasks such as those that forced Zenger to push renovations — at nearly all of KU's facilities — to the back burner, but that does not mean stadium plans have been forgotten.

"We will do something very special with Memorial Stadium," Zenger said. "But we want to make sure we honor what we have, and we want to make sure we do it right, because we only get one chance."
The point of contention for most includes removal of the track that surrounds Memorial Stadium's playing surface. In order to do that, Zenger and company first need to complete the ongoing search for a new home for KU's track programs. Until that is settled — something that seems to be drawing closer each month — nothing can or will be done to Memorial Stadium, Zenger said.
Even when that day arrives, Zenger made sure to emphasize that any changes to any of KU's athletic facilities would be made with the idea of paying tribute to the past as a top priority.
"Our history is what makes us different at the University of Kansas," Zenger said. "Whether it be our traditions or what we've done competitively, and whether it be in basketball, track and field or football, we have a rich, rich legacy at the University of Kansas. And we want to be very careful as we plan for the future that we always move forward without damaging that legacy."
Zenger, who also made sure to point out that he and his department were excited about the possibilities and eager to get to work, compared the current Memorial Stadium conundrum to the uncertain future that faced the Jayhawks' basketball facility not long ago.
"I think we would all regret had we, years ago, built some sort of coliseum or arena to replace Allen Fieldhouse," he said. "And I also think we would regret doing anything to Memorial Stadium that does not maintain the significance of that stadium's place in the history and lore of Kansas football and our commencement ceremonies. We have a historic stadium, and anything we do to that football stadium is going to honor what I think is one of the greatest locations in the nation for a football stadium. We have one of the true stadiums left in the Midwest."