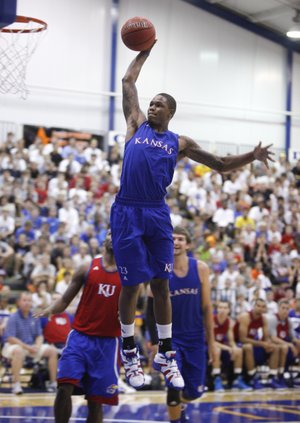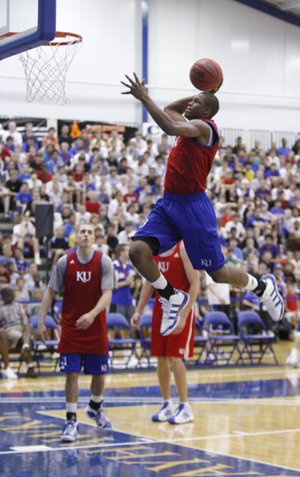 Several readers have commented to me before that they can often pick with a great success rate which Journal-World photographer shot a particular photo on a given day without looking at the credit.
It's true; quite a many distinguishable differences exist from one photographer to the next, starting with what lens each prefers, how close we are from our subjects when we shoot and how we tend to compose our images. All of these points of consideration help define a style or how we make visual sense of our surroundings.
This idea became uncomfortably clear to me when KUSports.com editor Jesse Newell brought down two printouts of Ben McLemore dunking during the Bill Self basketball camp at the Horejsi Center. One was from June 2012 and the other from June 2011, both shot by me. I maintained a smile while Jesse marveled at the similarities between the two.
"You can even see the same advertisement," he said.
While he was pointing this out, I was thinking, "Man, I really need to start moving around a bit more."
Jesse inadvertently gave me a helpful reminder of how important visual variety is for photographers — and especially photojournalists — who have to find new and interesting ways to cover cyclical events. But even the casual shooter can improve the quality of his or her takes by experimenting with different focal lengths, distances or shooting from a drastically different angle.
Familiarity can be comforting — I guess that's why we consciously or unconsciously gravitate to the spots where we've previously achieved some success. But the same choices time and time again can also lead to predictability.