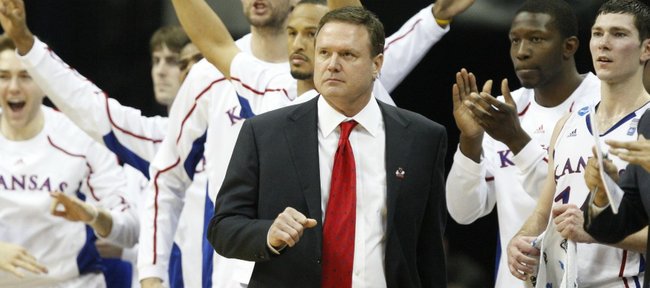 Kansas City Royals greats George Brett, Bo Jackson and Mike Sweeney, as well as MLB sensations Ernie Banks, Andre Dawson, Rollie Fingers, Rickey Henderson, Ozzie Smith, Dave Winfield, Joe Carter and Mike Piazza, will compete in Sunday night's All-Star Legends & Celebrity Softball Game at Kauffman Stadium.
Oh, yes — so will 10th-year Kansas University basketball coach Bill Self.
"With those guys, they probably need a big stick," Self said with a smile. "I'll be a fish out of water."
Actually, Self was a good softball player back in the day.
"We had a big-time team in Stillwater (Okla)," Self recalled. "Seven, eight years after graduation, we pretty much ran that city league down there."
Thus, Self should be able to hold his own with the non-MLB participants: Emmy Award winner Eric Stonestreet, Chiefs quarterback Matt Cassel, "Mad Men" star Jon Hamm, "Glee" actor Chord Overstreet, "American Idol" contestants Haley Reinhart and David Cook, "Desperate Housewives" actor James Denton, soccer's Carlos Bocanegra, comedian Horatio Sanz, country singer David Nail, UFC light heavyweight champion Jon Jones, "Extreme Makeover" carpenter Paul Dimeo and USA Softball pitcher Jennie Finch.
"I hope I get at least one at-bat," said Self, who said he has "gone to the cage with my son in the past five years (but) haven't hit a softball in 20 years. The tendency could be I'd be a little nervous and get out on my front foot a little prematurely. I better work on staying back."
As far as the other part of the game — defense — Self doesn't know where he'll play in the field.
"If they put me there, I'll play there," he said of the pitcher's mound. "I don't think they are going to want me to pitch. Jenny Finch is also playing. I would think (out of) Self/Finch, maybe she'd get the starting nod on that as well."
Self, who will wear jersey No. 08, signifying KU's 2008 national title, hopes he plays for the good guys.
"I'm an American Leaguer all the way," he said of the AL-NL matchup.
The softball game will be played after the 4 p.m. SiriusXM All-Star Futures Game, featuring some of MLB's best young prospects.
The softball game will be televised by ESPN approximately 9:30 p.m. Monday, immediately following the State Farm Home Run Derby, which begins at 7 p.m.
"It should be a lot of fun. I always watch those, not in its entirety," Self said of the annual softball game.
Other all-star week events to take place Sunday:
• MLB All-Star Charity 5K & Fun Run presented by Nike, 7:30 a.m., Power and Light district.
• MLB All-Star Sponsor Zone at Kauffman Stadium Lot H, 12-8:30 p.m.
• Chevy Test Track at Kauffman Stadium Lot J, 12-8:30 p.m.
Tyshawn signs: The Brooklyn Nets announced Friday they have signed second-round draft pick Tyshawn Taylor of KU.
Terms were not disclosed. He was the No. 41 overall pick in the 2012 NBA Draft.
Taylor and former KU forward Julian Wright will be teammates on the Nets' summer league team, which will play games July 9-13 in Orlando, Fla.
Former KU forward Darnell Jackson may be playing for the Oklahoma City Thunder's summer league team, also in Orlando. He's listed on the team roster at NBA.com.
Frankamp in semis: Future KU guard Conner Frankamp scored seven points and had five steals as the United States pounded Canada, 113-59, in Friday's quarterfinals of the FIBA Under 17 world championships in Lithuania.
Frankamp, a 6-foot-1 guard from Wichita North High, hit three of eight shots and one of five threes. He also had three assists against one turnover in 23 minutes.
The U.S. will meet Spain (4-2) in today's semifinals at 10:10 a.m., Central time. The game will be shown on FIBATV.com.