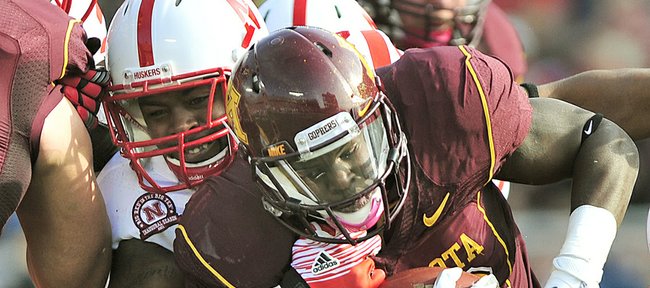 Throughout the offseason, new Kansas University football coach Charlie Weis and his coaching staff talked plenty about the group of defensive linemen headed to campus this summer that, they believed, would significantly upgrade the position.
Last week, during a sit-down with a small group of reporters, Weis went one step further and talked at length about one of them — former Nebraska defensive end Josh Williams.
"He hasn't gotten nearly as much ink as you would've expected him to," Weis said. "I mean, this guy was a front-line player for a top program for years."
He also encountered his share of trouble, but Weis said he was not concerned with Williams' past, which includes being dismissed by Nebraska in February and alleged theft and assault charges in his hometown of Denton, Texas, in 2008.
"It isn't important what you guys know, it's what I know," Weis said. "I did the whole background check, and I said to him, 'You come here, here's the deal. And that's the way it's gonna operate. So if you want in on that, we have a good shot down here.'"
Williams, a 6-foot-4, 260-pound strong-side end from Ryan High, played in all 13 games for the Cornhuskers last year, starting two. He finished the 2011 season with 15 tackles, one for loss, and one blocked kick. He played in 29 games with Nebraska, finishing his NU career with 27 tackles.
Once regarded as one of the top prep talents in Texas, Williams has a shot to play in the NFL, many have said.
"When you're a fifth-year guy, you come here for a different reason now," Weis said. "You come here because this is your last opportunity. It's not because they love coach Weis or they love KU. This is their last opportunity. And if they want to have an opportunity to play on Sunday, this is their last chance."
There are at least a few elements about the opportunity at KU that made coming to Kansas attractive to Williams. For starters, one of his good friends — wide receiver D.J. Beshears — is a senior at KU. The two attended the same high school in Texas.
"That helped because Beshears could say, 'Here's what Weis is doing,'" Weis said. "(Williams) had a guy first-hand giving him an account of what was happening down here. It was easy to get a host for him when he came here on a visit. I kinda knew who to ask for that one."
Beyond the link to Beshears, who graduated from Ryan High in 2009, one year after Williams, KU's new defensive end also had a previous connection to defensive-line coach Buddy Wyatt, who spent time recruiting him out of high school.
"He and Buddy had a relationship from way back," Weis said. "That's one of the reasons why Buddy Wyatt was kept here. It's easy to just clear house when you come into a place and just let everyone go. But I can't tell you how many recruits I've talked to in this whole process that had good things to say about Reggie and Buddy."
Williams, like a few other KU newcomers, graduated in May and will be eligible to play immediately because of the fifth-year transfer rule that allows recent graduates to play without penalty after enrolling at a new school. He is expected to compete for a starting role right away.
"There's a lot of guys coming on that defensive line," Weis said. "… But I think he'll be really big."