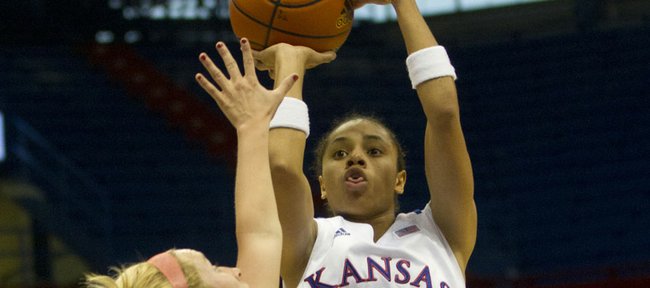 As a prep star at Sequoyah High in Tahlequah, Okla., Kansas University point guard Angel Goodrich was an avid Oklahoma Sooners fan.
She loved the school color, the teams, the coaches and the culture. She loved it so much that she initially hoped to join the OU program after high school. However, as the recruiting process went on, Goodrich became more intrigued by the opportunity at Kansas, and eventually she signed with the Jayhawks, a move that would make OU the enemy for at least the next few years.
That certainly will be the case at 7 tonight, when the Sooners come to town for a Big 12 showdown with KU. The match-up pits two teams who sit in a four-way tie for second in the conference at 5-3 against one another, and Goodrich said she was not looking at the game as anything other than an opportunity to gain separation at the top of the standings.
"I've been to their school, and I know (OU coach) Sherri Coale, and their team," Goodrich said. "But it's just any other game. I'm going in and thinking about what I need to do to get my team ready for this game."
By all accounts, that starts on defense, where the Sooners (13-6 overall) are averaging 72.3 points per game (third in the conference) and shooting a league-best 38 percent from three-point range.
"Their team is really, really good in transition," KU coach Bonnie Henrickson said. "You better get back and deny the three. Because if you don't deny them the three-point line, they're gonna catch it and shoot it and make it."
The Sooners are led by guard Aaryn Ellenberg, who is fourth in the conference in scoring at 16.9 points per contest. Ellenberg, whom Henrickson calls one of the elite guards in the conference, is supported by the strong play of Joanna McFarland, who leads the Big 12 in three-point percentage (55 percent), Whitney Hand, who averages 12.2 points per game, and Morgan Hook, who has made a team-best 29 three-pointers this season and averages 10.9 points and 4.1 assists per game.
Henrickson and the Jayhawks are more than familiar with OU's lineup. Because of all the film she has watched of last year's loss to OU in the past two days, Henrickson might be a little more familiar with the Sooners than she would like.
"(Ellenberg) had 21 in the first half against us here last year," Henrickson calmly pointed out. "Her and Hand had 37 of their 43 at the half."
KU (16-4) enters tonight's game just a few days removed from a 74-46 loss at No. 1 Baylor. Despite the lopsided loss, the Jayhawks said they had been upbeat since the Baylor game and were looking forward to tonight's opportunity.
"You don't want to dwell on that loss," junior forward Carolyn Davis said. "So I think it's good that we had to move on right away and start preparing for Oklahoma."
Henrickson said tonight's game was important for her team solely because it's the next one on the Jayhawks' schedule, not because of the jumbled mess in the Big 12 standings.
"We're in a little bit of a gridlock. There's a bunch of us in that pack right now," Henrickson said. "But the most important thing for us is to not worry about that. That all will take care of itself. We have to figure out how to beat Oklahoma and be prepared to beat Oklahoma, which, in itself, is a handful because this team is really talented."
Added Davis: "They're gonna come in hungry and ready to take that spot from us. We're even right now. They're coming in thinking they can beat us, and we have to go in thinking the same way."
Probable Starters
KANSAS (16-4, 5-3)
G — Angel Goodrich, 5-4, jr.
G — Natalie Knight, 5-7, fr.
G — Monica Engelman, 5-11, jr.
F — Carolyn Davis, 6-3, jr.
F — Aishah Sutherland, 6-2, sr.
OKLAHOMA (13-6, 5-3)
G — Aaryn Ellenberg, 5-7, soph.
G — Morgan Hook, 5-10, soph.
G — Whitney Hand, 6-1, jr.
F — Kaylon Williams, 6-3, fr.
C — Nicole Griffin, 6-6, soph.