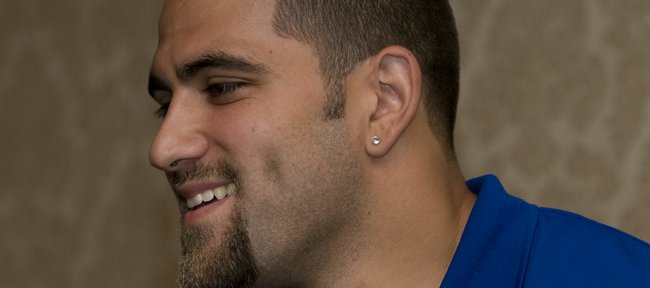 Former Kansas University linebacker Mike Rivera had one close call with the Super Bowl and feared it might be his last.
He never expected a second chance.
A year ago, Rivera, a 2008 KU graduate and current member of the New England Patriots' practice squad, was with the Green Bay Packers for all but one game of the regular season. He left because the Miami Dolphins had activated him, which meant that he would suit up for the Dolphins' final game of the 2010 regular season. The move was a no-brainer for Rivera, still trying to make it at the NFL level. But once that game ended, the Shawnee native sat back and watched his former teammates roll their way to a Super Bowl championship, one he would have been a part of had it not been for the call from Miami.
Now, just one year later, the pain and disappointment of that missed opportunity is gone, as Rivera finds himself making Super Bowl plans with the Patriots, who will take on the New York Giants on Sunday in Super Bowl XLVI.
"It's unbelievable," Rivera said by phone. "Who would've thought after going to Miami and going through camp there and then getting released, that I'd be in this position?"
Rivera was the last one who saw it coming. In fact, Super Bowl dreams aside, Rivera said he thought being cut by Miami might have ended his pro career.
"I've definitely had some ups and downs, and I wasn't sure if things were going to be over," said the three-year NFL pro, who has been with five teams in that time. "When I got released from Miami, I really thought I may not get another chance, and I was looking into other options."
So convinced was Rivera that his dream might have ended that he actually returned to KU and enrolled in graduate classes and started thinking about what career he would turn to next.
"Then, about halfway through the season, I got a few workouts and ended up getting picked up by the Patriots," he said. "It's pretty amazing to be a part of all this. Being a part of the Green Bay program was amazing, too. And they went and won it, and I wasn't there, but the next year, to have it happen again, it's unbelievable."
Although Rivera has not appeared in any games for the Patriots, he said he felt like a part of the team, a part of the Patriot family, immediately. New England is known for having one of the best-run organizations in sports, and Rivera said he realized right away why the franchise had been so successful.
"It didn't take long at all," he said. "You come in and work hard and pay attention, and you learn, and you're accountable for your actions. That's just the way it goes. You don't even have to say it, it's just kind of understood."
Rivera said those expectations and the superb treatment of the franchise's players easily extended to the guys on the practice squad.
"You do everything that everybody else does, you just don't get to play in the games," Rivera said. "But we had plenty of guys on practice squad this year who contributed on the field at some point. I want to be on the field, too, but I do my part to contribute, and they definitely make you feel like part of the team. You're part of the family."
Although the Patriots are making their fifth trip to the Super Bowl in the past 10 years, Rivera said you'd never know it from looking around the locker room.
"I think it means more than anything to these guys," he said. "They put their hearts and souls into what they do, and they work harder than anybody. And I don't think anybody here takes it lightly. It's definitely something that's appreciated."
While that certainly holds true for guys like quarterback Tom Brady, head coach Bill Belichick and team owner Robert Kraft, the opportunity means just as much to guys like Rivera.
"Getting a chance to go to the Super Bowl ... I couldn't imagine anything better in the sports world," Rivera said.
With plenty of work still to do before game day, Rivera is more concerned with soaking up the Super Bowl experience and is not worried about his NFL future. That includes all talk about getting a ring if the Patriots win the big game.
"I'm pretty sure. I mean, I don't want to ... but I think I'll definitely get one," said Rivera, hoping not to jinx things. "As for my future with the team, I really don't know yet. I guess that's something we'll deal with once the season comes to an end. It's just amazing to be a part of this and to be in this position."
Weis still loved in New England
Rivera said the KU football program still was near and dear to his heart, and that's what made the first couple of weeks in December so special.
In the days that followed KU's hiring of former New England offensive coordinator Charlie Weis, several players and members of the Patriots organization sought out Rivera to tell him stories about his alma mater's new head coach.
"It's pretty cool," Rivera said. "And it's interesting because I'm here, and I'm hearing all about how he was, and it's just neat that he's at KU now. Everybody still likes him up here, and when he first got hired, they were talking about him a lot."
Harris named to all-rookie team
Denver Broncos defensive back Chris Harris, a first-year, undrafted free agent and 2011 KU graduate, has been named to Pro Football Weekly's all-rookie team.
Harris, who finished fourth among NFL rookies in tackles this season, with 72, played in all 16 games for the Broncos and made four starts at nickelback. Sixty-two of Harris' tackles were solo stops, and he added six pass break-ups and one interception to his stat line while helping the Broncos advance to the second round of the playoffs.